Events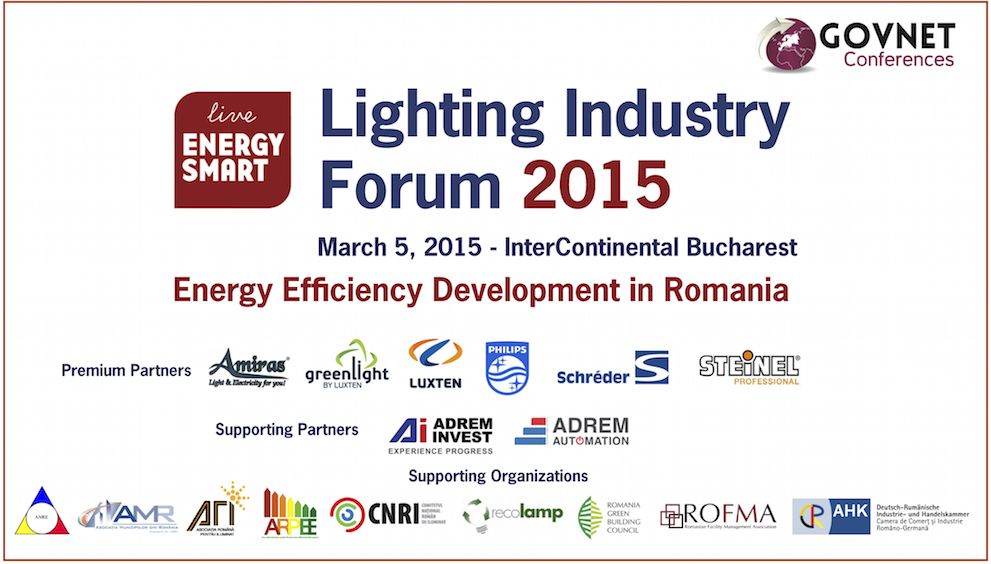 Lighting Industry Forum 2015
March 05, 2015, HOTEL INTERCONTINENTAL, BUCHAREST
Implementing energy efficiency solutions as a key-element for the sustainable development of modern Romania represents an obligation undertaken and implemented by applying the provisions of the 2012/27/EU Directive.
The development of energy efficiency projects in the field of lighting and the means by which modern solutions can help public institutions or private companies streamline costs will be debated by energy experts, government authority representatives and private sector executives at the 2015 edition of the Romanian Lighting Industry Forum.
We are looking forward to meeting you at the most important conference dedicated to present solutions for energy efficiency in lighting, to discuss challenges and opportunities of developing and implementing programmes forsustainamble energy use.
Language: English and Romanian (with simultaneous translation provided)

Registration: Conference participation fee is 149 € + VAT/ person.
The fee includes the participation in the conference sessions, coffee breaks and lunch, as well as the conference proceedings documents.
All registration fees mentioned above exclude 24% Romanian VAT.

Registration conditions: The program and the speakers are subject to change. Should the conference be cancelled due to force majeure, unavailability of the conference venue, speakers being prevented or for other good cause, the organizer reserves the right to cancel the conference. In case of cancellation all participants will be informed promptly. In this case, all registration fees will be reimbursed.

Payment: Payment can be made by bank transfer prior to the event. Please take into consideration the limited seats availability, therefore we recommend that registrations are made prior to the week of the event.

Hotel: Exclusively for you we have got a limited number of rooms available at special rates in the InterContinental Hotel Bucharest. In order to accommodate you together with the other participants, please reserve your room by no later than one week before arrival.
Program
08:30 - 09:00

Registration

Inregistrarea participantilor si cafea de bun venit

09:00 - 11:00

FIRST SESSION

Strategii, perspective si politici de iluminat in Romania

Moderator: Dorin Beu – Presedinte, Consiliul National Român pentru Iluminat

Maricel Popa – Secretar de Stat Ministerul Economiei, Comertului si Turismului

Tema prezentare: Eficienta energetica, factor de competitivitate economica

Corneliu Radulescu – Director General, Directia de Eficienta Energetica ANRE

Tema prezentare: Alinierea Romaniei la standardele Uniunii Europene pentru legislatia in domeniul eficientei energetice

Cicerone Stan – Director Autoritatea Nationala pentru Reglementarea si Monitorizarea Achizitiilor Publice

Tema prezentare: Dialogul competitiv, o alternativa la licitatiile pentru contractele de eficienta energetica

Andrei Cristian – Director General Adjunct, Directia Generala Monitorizare si Întretinere a Infrastructurii Rutiere CNADNR

Tema prezentare: Perspectivele proiectelor de Iluminat Public Rutier in Romania

Dorin Beu – Presedinte, Consiliul National Român pentru Iluminat (CNRI)

Tema prezentare: Echilibrul luminii

Valentin Littera – Director Departamentul pentru Iluminat Public din cadrul Primariei Municipiului Bucuresti

Tema prezentare: Proiect de modernizare si dezvoltare urbana – eficienta în iluminatul public. Studiu de caz

Dan Vatajelu – Presedinte, Asociatia Româna pentru Iluminat (ARI)

Tema prezentare: Iluminat pentru viitor - eficienta energetica, reglementari, perspective

11:00 - 11:30

Networking Coffee break

11:30 - 13:30

SECOND SESSION

Obtinerea eficientei si a sustenabilitatii energetice prin solutii de iluminat moderne

Moderator: Adrian Ion - Publisher GOVNET Conferences

Bogdan Balaci– Director General, SEE Philips Lighting

Tema prezentare: Shaping the future with Philips Connected Lighting

Marilena Maierean – Director General, Energobit Schreder Lighting

Tema prezentare: Iluminat Inteligent

Victor Hoffmann – Director General, Steinel Management

Tema prezentare: Tehnologia Senzorilor pentru Iluminat

Laurentiu Stancu – Manager Proiect, Amiras C&L

Tema prezentare: Solutii tehnice si tehnologice cu aplicatii în iluminatul cu LED-uri dezvoltate la Amiras C&L din Târgoviste

Dan Alexandru Croitoru – Sef Serviciu Tehnic Proiectare, Luxten

Tema prezentare: Masuri active de eficienta energetica. Utilizarea aparatelor de iluminat tehnologie LED si implementarea unui sistem integrat de telemanagement in cadrul sistemului de iluminat public

Razvan Todor – Business Development Manager, Adrem Invest & Adrem Automation

Tema prezentare: Solutii complete Adrem de eficienta energetica pentru iluminatul municipalitatilor

Sorin Boros – Manager Logistica, Recolamp

Tema prezentare: Managementul deseurilor de echipamente de iluminat in România

13:30 - 14:30

Networking Lunch

Romanian Lighting Industry Forum 2015 - Networking Lunch
Speakers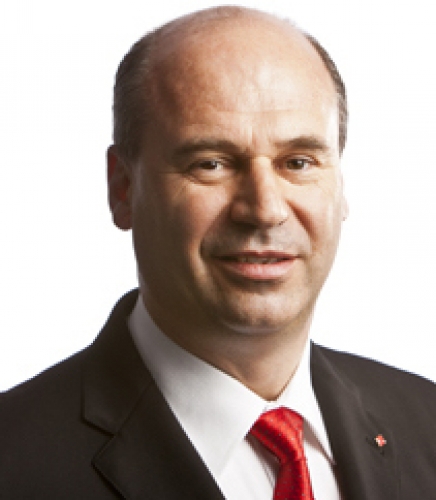 Maricel Popa
State Secretary, Ministry of Economy, Commerce and Tourism
Mr. Maricel Popa is State Secretary in the Ministry of Economy, Commerce and Tourism since 2014. Previously he was State Secretery in the Department for Energy between 2013 and 2014.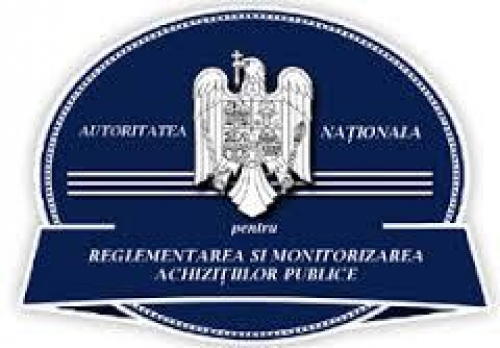 Cicerone Stan
Director ANRMAP
Mr. Cicerone Stan is director within the National Authority for the Regulation and Monitoring of Public Acquisitions.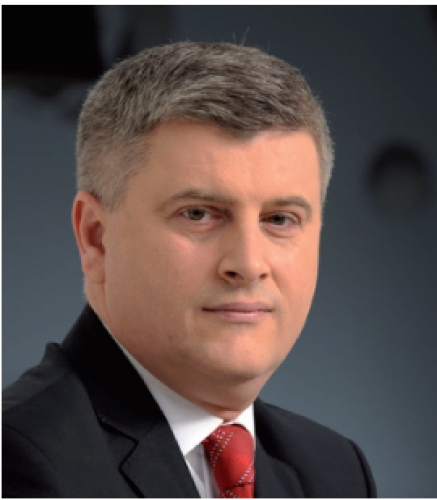 Bogdan Balaci
General Manager for South-East Europe Philips Lighting
Starting June 2014, Bogdan Balaci joined Philips Lighting as the new general manager for South-East Europe. His main objectives are to develop the business strategically and operationally, including strengthening the company's position as the industry leader in innovative lighting solutions. He is based in Romania and has over 15 years' management experience in the IT market.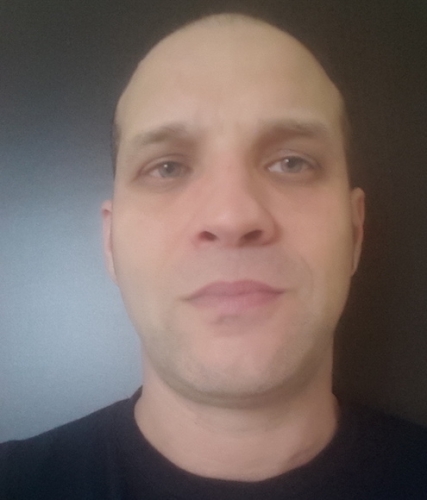 Valentin Littera
Head of the Public Lighting Department Bucharest Municipality
Mr. Valentin Littera is the head of the Public Lighting Department within the Bucharest Municipality.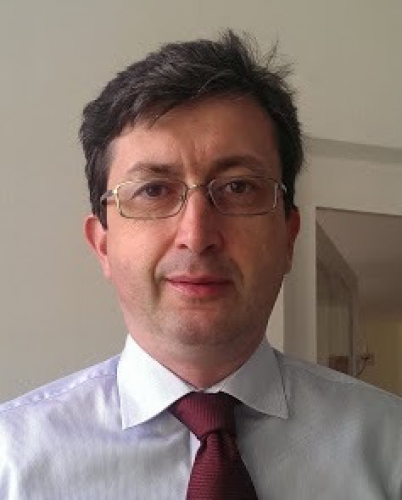 Dorin Beu
President of the Romanian National Lightning Commitee
Dorin Beu is the President of Romanian National Lighting Committe (www.cnri.ro) since 2013. He is the manager of Lighting Engineering Laboratory of Technical University of Cluj-Napoca and chief-editor of Ingineria Iluminatului review. Director of Transylvania Chapter of Romanian Green Building Council (www.rogbc.org) and has teach sustainable lighting in Croatia, Estonia, Latvia, Greece and Portugal.
Marilena Maierean
General Manager of Energobit Schréder Lighting
Ms. Maierean is a graduate of the Faculty of Power Engineering, University of Politechnics, Bucharest with a strong professional experience in energy efficiency studies, at The Institute for Power Engineering Studies, Bucharest. Maierean has a Doctor's degree in Civil Engineering, at the Technical University of Cluj-Napoca; thesis: Lighting of the Urban Public Spaces. She is also a member of the Board of Directors of CNRI (Romanian National Committee on Illumination), since 2013 and Vice-president of ARI (Romanian Lighting Association), since 2014.
Victor Hoffmann
Managing Director Steinel Romania
Mr. Hoffmann is a graduate of the Transilvania University in Brasov, holding an MBA degree in engineering at the same University. He holds the position of Managing Director at Steinel Romania since 1994.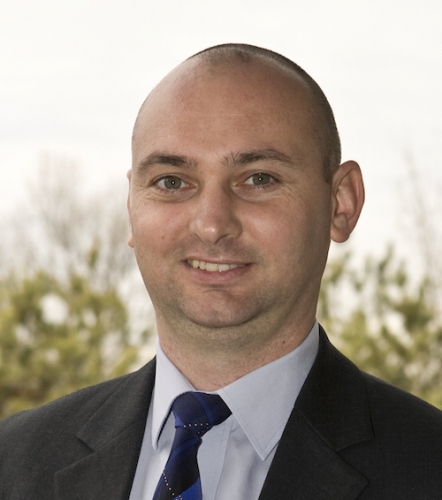 Sorin Boros
Logistics Manager Recolamp
Sorin Boroș is a graduate of the University Petru Maior Targu Mures, Faculty of "Managerial Engineering and Technology". In January 2008, he joined Recolamp as the Logistics Manager and within the Association he has developed a national collection network of over 10.000 collection points that, up to this date, assured the recycling of over 1.800 tones of lighting equipment waste. Sorin is also a memeber of National Organization of Romanian Scouts since 1995 and between 2005 and 2008 he was the President of the organization.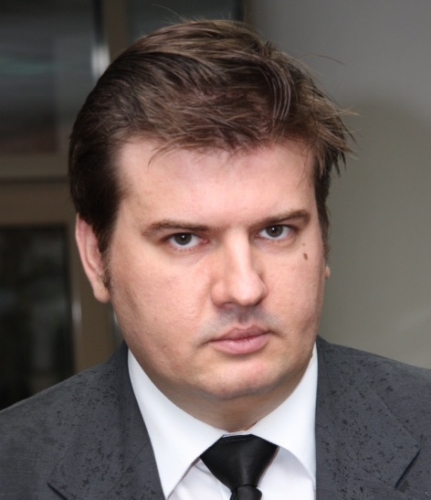 Dan Alexandru Croitoru
Head of Technical Design at Luxten Lighting
Dr. Eng. Dan Alexandru Croitoru has been the Head of Technical Design at Luxten Lighting Company since 2009
Mr. Dan Alexandru Croitoru graduated from the Faculty of Electrical Engineering at University Politehnica Bucharest (1999) and he holds a PhD in Engineering (2006). He designs and approves electrical projects (medium voltage and low voltage) for civil and industrial targets.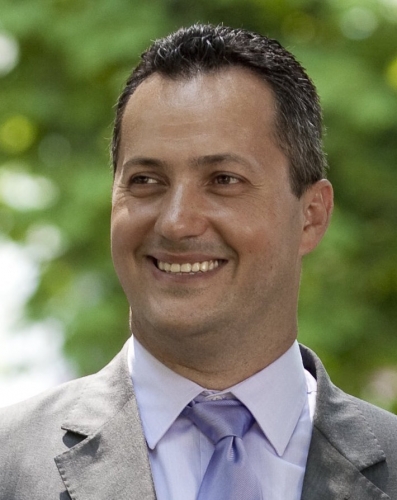 Dan Vatajelu
President Romanian Lighting Association
Mr. Dan Vatajelu is the President of ARI Romania since March 2014. Mr. Vatajelu graduated from the "Traian Vuia" Institute Timisoara and is also Member of The Romanian National Lighting Commitee since October 2012.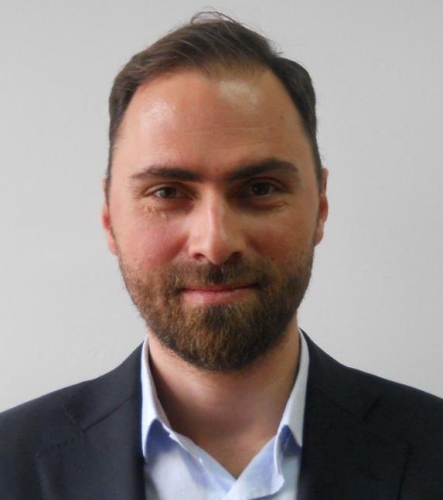 Razvan Todor
Business Development Manager for Adrem Invest & Adrem Automation
Razvan Todor holds the position of Business Development Manager for Adrem Invest & Adrem Automation. He graduated Transylvania University of Brasov and has earned a degree in Electrical Engineering and Computer Science. His main objective is to develop the strategic direction of energy efficiency for municipalities.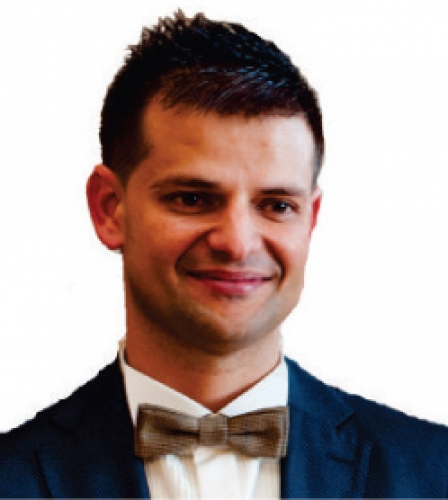 Laurentiu Stancu
Technical Manager at Amiras C&l Impex
Drd. Eng. Laurentiu Stancu is Technical Manager at Amiras C&l Impex Srl. He is a graduate of Valahia University in Targoviste and has earned a degree in Computer Sciences.
Sponsors
Supporting Organizations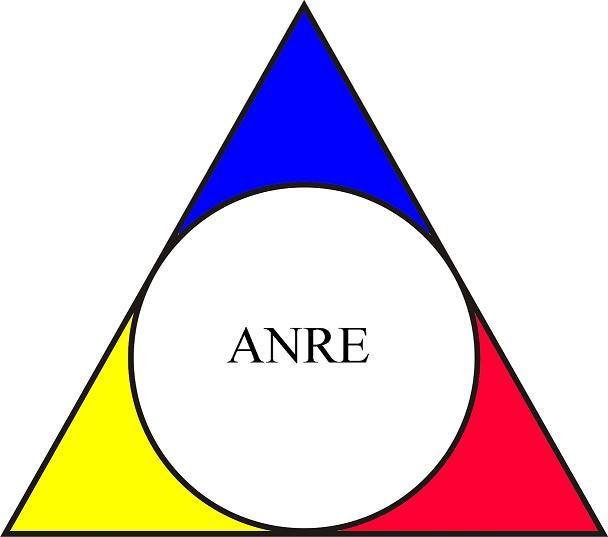 Regulatory Authority for Energy ANRE
The Regulatory Authority for Energy ANRE is an autonomous administrative authority with legal personality, with the responsability of developing, approving and monitoring the application of the national mandatory regulations necessary for the functioning of the energy sector - electricity, heating and natural gas, ensuring efficiency, competition, transparency and consumer protection.

Romanian National Lighting Committee
CNRI - Romanian National Lighting Committee is the national committee of International Commission on Lighting. CNRI aim is to promote lighting, support cooperation and exchange of information The committee is involved in longlife learning programs and since 2013 has introduced a new profession - lighting specialist. CNRI was founded in 1957.

Asociatia Romana pentru Iluminat
The Romanian Association for Lighting (ARI) is a private legal entity, independent, apolitical, non-governmental, non-profit. A.R.I. is a nationally representative structure in the field of professional lighting, uniting entities active in the lighting industry in Romania.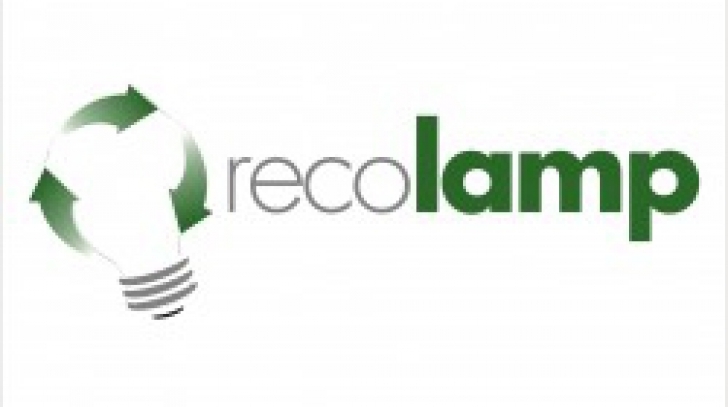 RECOLAMP
Recolamp Association commits to take over from the lamp producers in Romania their responsibility regarding the management of waste generated by the products delivered on the market and also to create a background to recycle it in safety conditions for the environment and for human health.
In order to decrease pollution, Recolamp association commits to carry its activity efficiently and responsibly towards the environment. Moreover, all its efforts of envisage the collection and the recycling in compliance with the regulations of the European legislation, by making people aware of the necessity to adopt a friendly behavior towards the environment.

ROFMA
ROFMA (Romanian Association of Facility Management) is a non-profit professional association that aims to bring together all the specialists in property and facility management to create a unified vision aligned to the European level and to give support to educational, informational and legal members.
WORLD ENERGY COUNCIL
WEC-RNC is a founding member of the World Energy Council, from 1924. WEC-RNC mission is to promote the sustainable supply and use of energy for the benefit of all. WEC-RNC members are: important national companies, trade companies, energy producers, suppliers and distributors, national electricity and heat regulatory authorities; non-working organizations, decisions makers; governmental agenties, energy users, research and development institutes, universities etc
ROMANIAN MUNICIPALITIES ASSOCIATION
The Romanian Association of Municipalities (AMR), previously named the Romanian Federation of Municipalities (FMR), was set up in 1990 by 30 founding associate members (municipalities) as an organization dedicated to local authorities support and representation. The Romanian Association of Municipalities includes presently 103 municipalities and the six districts of Bucharest Municipality - 109 members (all cities with the status of "municipiu" in Romania).
Romania Green Building Council
The Romanian Green Building Council is a non-profit, non-political association encouraging the market, educational, and legislative conditions necessary to promote high performance construction that is both sustainable and profitable. The RoGBC is an inclusive organization recognizing the important involvement of a wide array of companies and organizations including: Real Estate Developers, Investors, Banks and other Financial Services, Facilities Managers, Construction Manufacturers, Expertise and Technology providers, Professional Firms (Architects, Engineers, Consultants, Lawyers, Etc.), Academia, and NGOs, among other stakeholders.
Co-organizer
ARPEE
The Romanian Association for Promotion of Energy Efficiency (ARPEE) is a legal entity that has as a purpose to promote, develop and sustain the activities in the field of energy efficiency in Romania. As founding members ARPEE has nine Romanian private legal entities: ABB, Alstom Power, Dalkia, Elcomex, EnergoBit, GDF Suez Energy, Lafarge, Petrom, PwC.
Media partners
Venue
Hotel Intercontinental
BUCHAREST
Phone: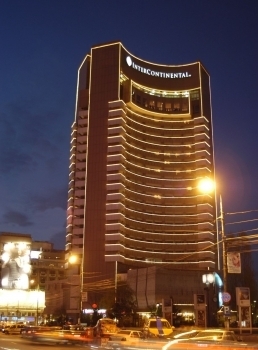 The Romanian Lighting Industry Forum 2015 will be organized at the InterContinental Hotel in Bucharest.

InterContinental Bucharest is a five star hotel that provides a highclass background for conferences, receptions and other types of events. Located right in the center of Bucharest, it is within walking distance from the Old City – Bucurestiul Vechi. The main subway station and the central bus station are just across the street. There are also taxi ranks directly in front of the hotel.

Special accommodation rates and hotel reservation

Summit participants benefit from special accommodation rates. Please send your accommodation requests directly to:
Mrs. Simona Sercan – Senior Convention Sales Manager
e-mail: simona.sercan@interconti.ro
Tel:+4021.305.10.18
Fill in the hotel reservation form attached to benefit fom the special delegate rates at the Intercontinental Hotel.
Registrations for this conference are closed.
For any details regarding the next edition please send us an e-mail at : sales@govnet.ro