Events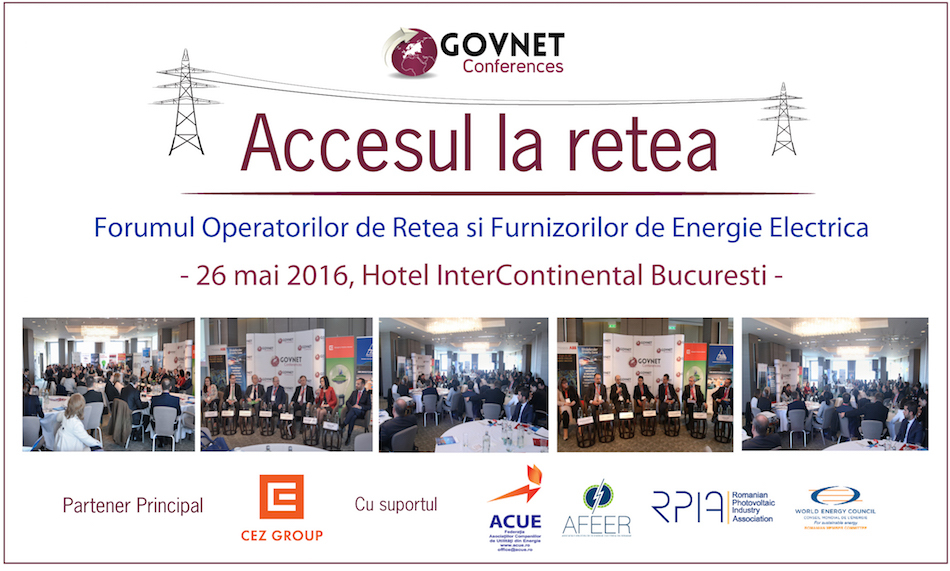 Accesul la Retea - Forumul Operatorilor de Retea si Furnizorilor de Energie Electrica
May 26, 2016, HOTEL INTERCONTINENTAL, BUCHAREST
Provocarile oferite de liberalizarea pietei de energie precum si reglementarile privind transportul si distributia energiei electrice vor fi temele centrale de dezbatere in cadrul conferintei "Accesul la Retea - Forumul Operatorilor de Retea si Furnizorilor de Energie Electrica " organizat de Govnet Conferences impreuna cu Asociatia Furnizorilor de Energie Electrica din Romania AFEER, Federatia Asociatiilor Companiilor de Utilitati in Energie ACUE, Asociatia Romana a Industriei Fotovoltaice RPIA, World Energy Council si CEZ Group.
Participantii din segmentul operatorilor de retea si furnizorilor de energie vor avea oportunitatea de a prezenta aspecte de reglementare si operare a retelelor electrice de transport si distributie, asigurarea unor conditii echitabile tuturor participantilor la piata de energie electrica precum si o analiza a situatiei actuale a impactului liberalizarii pietei asupra consumatorilor casnici.
Limba de desfasurare si prezentare: Romana si engleza, cu traducere simultana
Registration: Conference participation fee is 98 € + VAT/ person.
The fee includes the participation in the conference sessions, coffee breaks and lunch, as well as the conference proceedings documents.
All registration fees mentioned above exclude 20% Romanian VAT.

Registration conditions: The program and the speakers are subject to change. Should the conference be cancelled due to force majeure, unavailability of the conference venue, speakers being prevented or for other good cause, the organizer reserves the right to cancel the conference. In case of cancellation all participants will be informed promptly. In this case, all registration fees will be reimbursed.

Payment: Payment can be made by bank transfer prior to the event. Please take into consideration the limited seats availability, therefore we recommend that registrations are made prior to the week of the event.

Hotel: Exclusively for you we have got a limited number of rooms available at special rates in the InterContinental Hotel Bucharest. In order to accommodate you together with the other participants, please reserve your room by no later than one week before arrival.
Program
08:30 - 09:00

Registration

Inregistrarea delegatilor si cafea de bun venit

09:00 - 10:30

PRIMA SESIUNE

Operarea retelei de transport energie electrica din Romania - eficientizare si tendinte de dezvoltare

Analiza situatiei actuale a retelei de transport a energiei electrice in Romania - provocarile SEN
Tendinte de dezvoltare si operare a retelelor de distributie a energiei electrice
Operarea retelelor de transport si distributie a energiei electrice - provocarile operatorilor de retea
Distributia energiei electrice trebuie sa devina SMART
Provocarile actuale ale pietei de energie electrica - de la producator la consumator

Sesiune Q&A

10:30 - 11:00

Pauza de cafea si discutii

11:00 - 12:30

A DOUA SESIUNE

Producatorii si furnizorii de energie in relatia cu operatorul de retea

Impactul reglementarilor actuale pe piata de energie
Analiza provocarilor pe piata consumatorilor casnici ca efect al liberalizarii
Imbunatatirea transmiteri de date intre furnizorul de energie electrica, distribuitor si consumatorul final
Tehnologii moderne si concepte in operarea eficienta sistemelor de transport energie electrica
Solutii de minimizare a pierderilor din retelele de transport si distributie a energiei electrice
Exportul de energie electrica - cand unde si cum?

Sesiune Q&A

12:30 - 13:31

Pranz de Networking
Speakers

Numele vorbitorilor va fi disponibil in perioada urmatoare.
Pentru orice detalii referitoare la conferinta va rugam sa ne contactati la adresa: sales@govnet.ro sau numarul de telefon 0372. 900. 670
Echipa Govnet Conferences
Sponsors
Premium Partners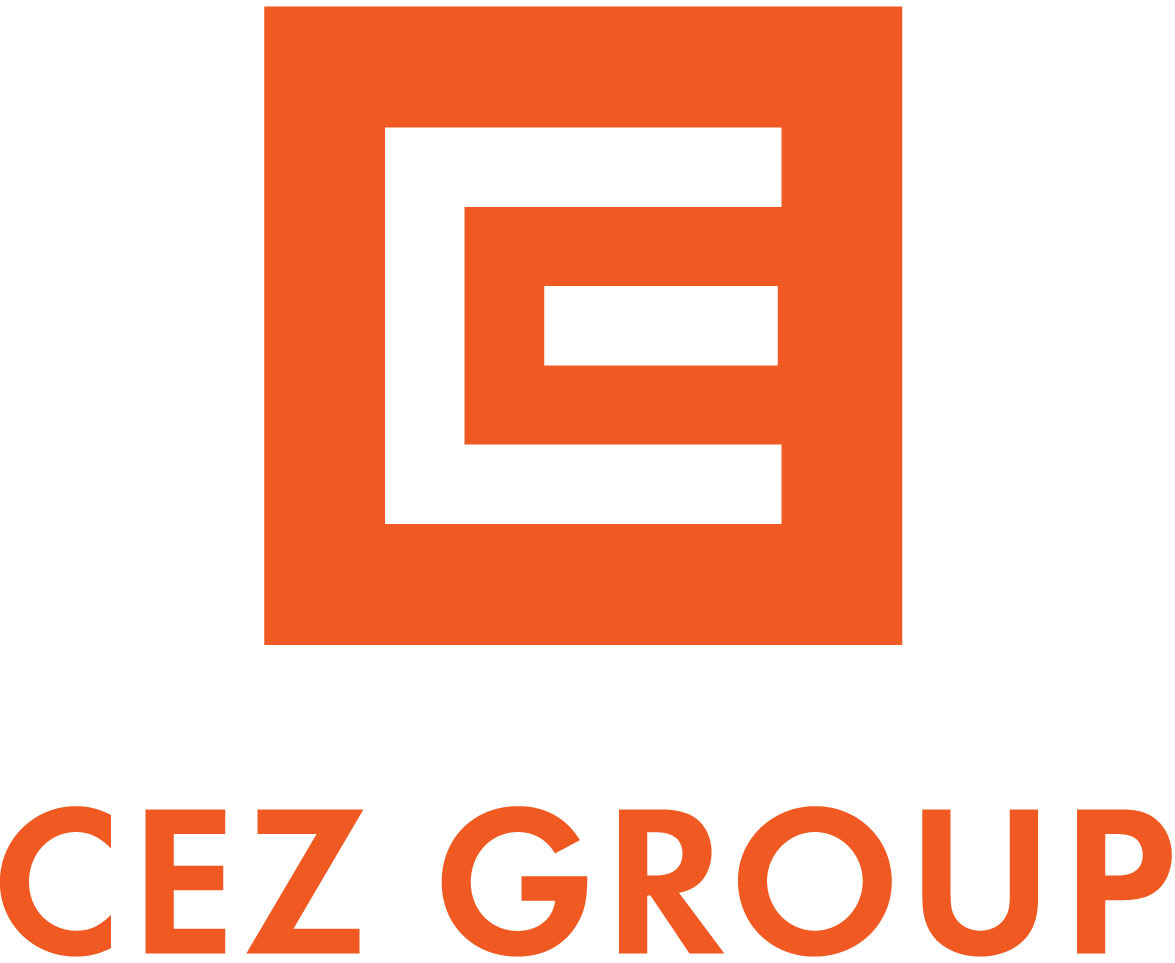 CEZ Group
CEZ Group has been present on the Romanian market ever since 2005, when it took over the power distribution company Electrica Oltenia SA, which, after the process of transformation, supplies with electricity the following seven counties: Argeş, Dolj, Gorj, Mehedinţi, Olt, Teleorman and Vâlcea. CEZ Group's business in Romania is represented by its 8 companies – CEZ Distribuţie, CEZ România, CEZ Vânzare, CEZ Trade, Tomis Team, MW Team Invest, Ovidiu Development and TMK Hydroenergy Power.
Supporting Organizations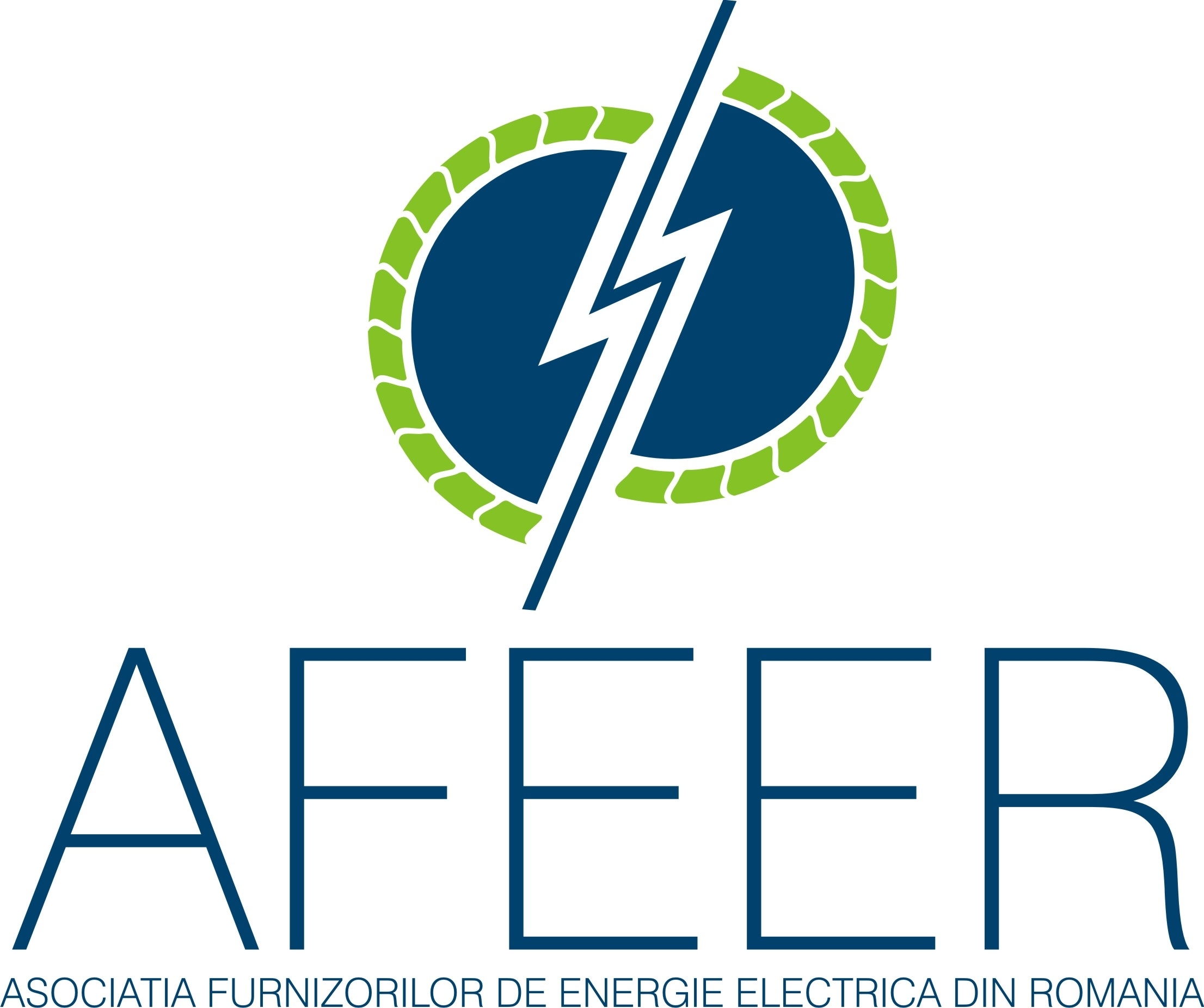 AFEER
The Association of Electricity Suppliers in Romania is a nonprofit, independent, nongovernmental interprofessional association, whose main purpose is to define and support a common position of its members in matters related to the electricity supplying industry, as well as to represent its member electricity suppliers in front of the administration authorities and bodies with competences related to the electricity supplying industry, both in Romania and abroad, including for improving communication among social partners in approaching the matters related to the electricity supplying industry.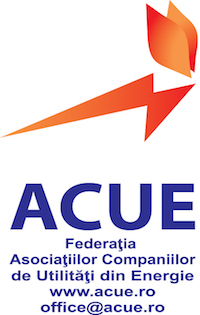 Federatia Asociatiilor Companiilor de Utilitati din Energie ACUE
Established in May 2012, ACUE Federation has about 25 members, among which many groups from the energy such as E.ON Romania, Engie Romania, Distrigaz Sud Retele, ENEL Romania, CEZ Romania, Electrica SA, C.N.T.E.E. TRANSELECTRICA, Electrica Furnizare, Congaz, WIEE, WIROM GAS, GAZ EST, with a total of about 30,000 employees and an annual turnover of over EUR 5.4 billion.
WORLD ENERGY COUNCIL
WEC-RNC is a founding member of the World Energy Council, from 1924. WEC-RNC mission is to promote the sustainable supply and use of energy for the benefit of all. WEC-RNC members are: important national companies, trade companies, energy producers, suppliers and distributors, national electricity and heat regulatory authorities; non-working organizations, decisions makers; governmental agenties, energy users, research and development institutes, universities etc
Media partners
Venue
Hotel Intercontinental
BUCHAREST
Phone: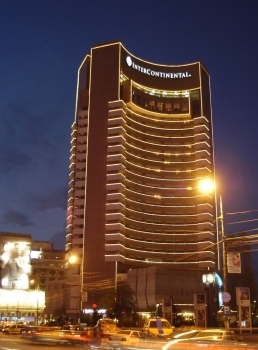 Access to the Grid 2016 will be organized at the InterContinental Hotel in Bucharest.

InterContinental Bucharest is a five star hotel that provides a highclass background for conferences, receptions and other types of events. Located right in the center of Bucharest, it is within walking distance from the Old City – Bucurestiul Vechi. The main subway station and the central bus station are just across the street. There are also taxi ranks directly in front of the hotel.

Special accommodation rates and hotel reservation

Summit participants benefit from special accommodation rates. Please send your accommodation requests directly to:
Mrs. Simona Sercan – Senior Convention Sales Manager
e-mail: simona.sercan@interconti.ro
Tel:+4021.305.10.18

Registration:
Conference participation fee is
98 € + VAT/ person.
The fee includes the participation in the conference sessions, coffee breaks and lunch, as well as the conference proceedings documents.
All registration fees mentioned above exclude 20% Romanian VAT.
Data protection policy
The use of our website is possible without providing personal information. Data that a user enters into our contact form is used by Govnet Conferences solely for contacting purposes. Our web sites do not record any personal data (e.g., names, addresses, telephone numbers or e-mail addresses) unless you voluntarily provide such information (e.g., by registering, in surveys, etc.), have given your consent or we are permitted to do so by laws governing the protection of your privacy.
The conference organiser will collect and store your personal data for the preparation and execution of the conference as well as to inform you about future projects related to your sector and line of work. Your contact data will only be used for matters directly involved in the conference organisation process and for follow-up purposes.
If you have any questions or request about our privacy policy and the processing of your e-mail and related personal data, do not hesitate to write us at: sales@govnet.ro