Events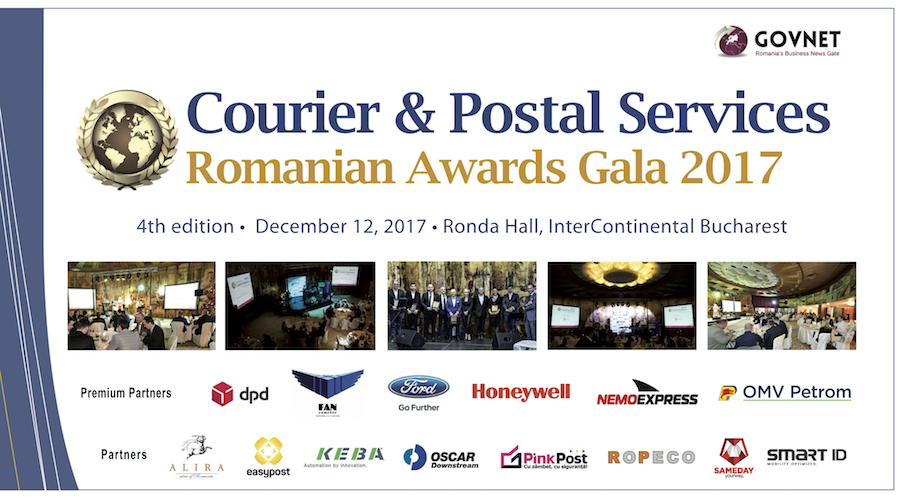 Courier & Postal Services Business Awards 2017
December 12, 2017, HOTEL INTERCONTINENTAL, BUCHAREST
The Romanian Courier and Postal Business Awards 2017 gala is the perfect meeting platform to celebrate and reward achievements, success stories and dedication of companies and personalities that keep the Romanian Courier and Postal Services sectors on the move.
Besides giving the industry a chance to recognize the outstanding achievements of a chosen few, the event will also offer the perfect occasion to celebrate in the somptuous surroundings of a five star hotel in Bucharest another year of industry growth with the top management of the sector and its business providers from the entire supply chain.
Join us on December 12, 2017 at the Ronda Ballroom, Hotel InterContinental Bucharest to celebrate the courier industry champions of the year!
Overall Courier and Postal Service Awards 2017
Deal of the Year
Courier and Postal Services Firm of the Year
Manager of the Year in Courier and Postal Services
Business growth of the Year in Courier and Postal Services
Outstanding Program
Investment of the year
Best website
Best Courier Web Application
Social impact program of the year
Operational Business Awards
Innovative technology supplier for courier and postal services
Most innovative industry service
Courier and Postal service Car of the Year
Awards Gala participation fee:
Conference participation fee is - 98 € + VAT/ person.
Company Corporate table of 6 - 490 € + VAT.
The fee includes the participation in the Awards Gala dinner.
All registration fees mentioned above exclude 19% Romanian VAT.
Registration conditions: Should the event be cancelled due to force majeure, unavailability of the venue, speakers being prevented or for other good cause, the organizer reserves the right to cancel the event. In case of cancellation all participants will be informed promptly. In this case, all registration fees will be reimbursed.
Program
19:00 - 20:00

Awards Gala Opening welcome Cocktail

Organised in the elegant surroundings of the InterContinental Hotel Bucharest, the Ronda Ball­room will be the place to network over a glass of fine drinks with top management representatives of the courier and postal services sector.

20:00 - 20:30

Awards Gala Dinner

A special three course menu will complement the Awards Gala Ceremony with a special fine dining moment prepared by the Chef of the InterContinental Hotel.

20:30 - 21:30

Courier Business Awards Gala Ceremony

The Awards ceremony will recognise and reward the success stories and dedication of companies and personalities that keep the Romanian Courier sector on the move, giving the industry a chance to recognise the outstanding achievements of a chosen few.

21:30 - 22:00

Awards Gala Dinner - Networking time

The participants will have the opportunity to congratulate the winners and further strengthen the ties of future business ventures over a glass of wine during the after Awards Ceremony Networking time.
Speakers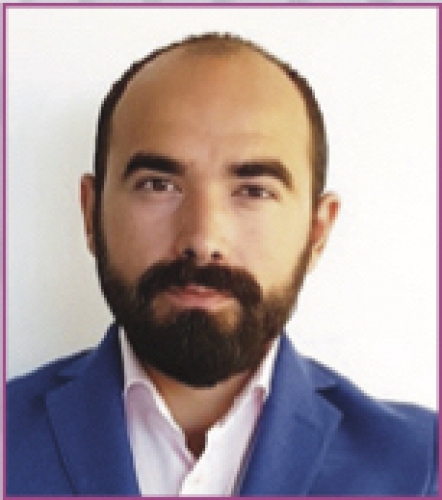 Florinel Chis
President Romanian Online Shops Association
Florinel Chis is an E-commerce expert and Entrepreneur with over a decade of experience in delivering end-to-end solutions for major Online Retailers. He is representing the Romanian E-commerce at both national and EU level as the Executive Director of ARMO - Romanian E-Commerce Association.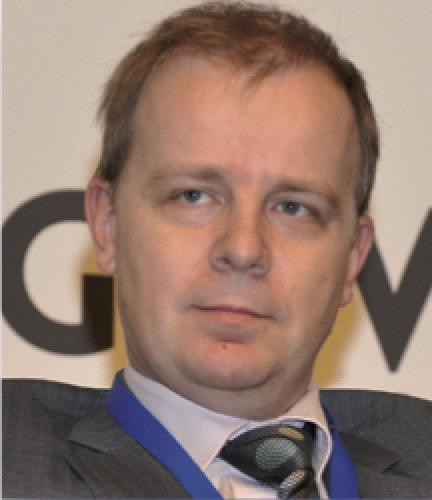 Octavian Badescu
Entrepreneur
Octavian Badescu is an entrepreneur and the founder of fast delivery courier company, Sameday Courier. He has a managerial experience of over 10 years in the fast courier business and established companies in areas such as online retail sites, direct marketing and market research. In 2012, he made the exit of Retailplus Eastern Europe, selling the company to the world leader in market research - AC Nielsen.
In 2017 he sold his shares in SAMEDAY Courier, to online retailer eMag.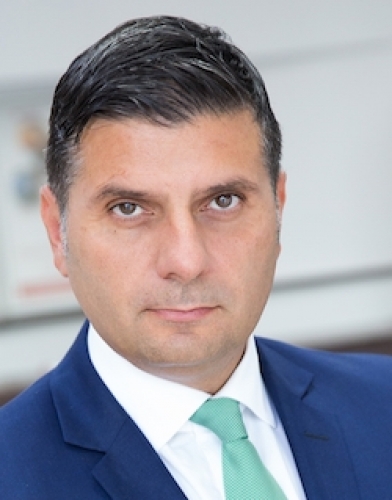 Alexandru Petrescu
President of the National Credit Guarantee Fund for Small and Medium-Sized Enterprises
Alexandru Petrescu is the President of the National Credit Guarantee Fund for Small and Medium-Sized Enterprises (FNGCIMM) from July 17 this year.
He is also the former Minister of Economy and Business Environment, and has a managerial experience of over 15 years in leading companies, both locally and internationally. He has held leading positions in prestigious financial institutions in the financial and banking system of Great Britain and in important Romanian companies, holding until 2016 the position of general manager of C.N. Posta Română S.A.

Ramona Jurubita
Deputy Senior Partner KPMG
With over 18 years of experience and also as Head of Tax & Legal practice in Romania, Ramona advises clients on the complex and frequently changing fiscal and legal environment. With her detailed knowledge of Romanian and international tax and law, Ramona's lightning sharp brain, quick reactions, and strong managerial skills are what is needed in these times of commercial uncertainties. She also frequently meets and consults with tax authorities on significant tax issues and regulations. She is a regular conference host, presenter and moderator, and has been featured in the media around various hot topics impacting the business environment.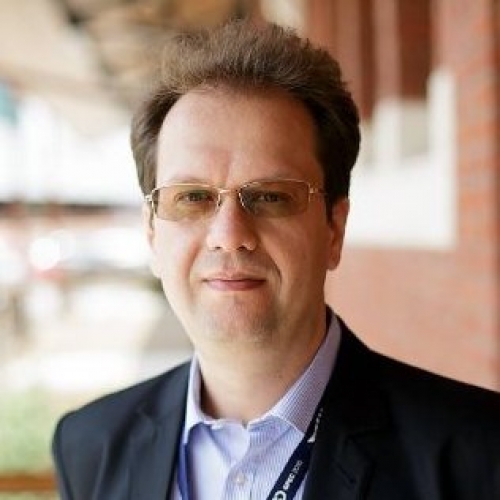 Liviu Taloi
Community Manager GPeC
Liviu Taloi was part of the team who launched today's most powerful Romanian online store – eMag.ro, where he was a PR Manager for 3 years. Since 2006, Taloi founded the company WebAudit specialized in providing consultancy in electronic-commerce for Romanian online shops. In the last 3 years, Liviu Taloi offered consultancy to more than 20 Romanian online shops. Most of them are now leaders on their market niche.
Venue
Hotel Intercontinental
BUCHAREST
Phone:
The Courier and Postal Services Awards Gala 2017 will be organized at the InterContinental Hotel in Bucharest.

InterContinental Bucharest is a five star hotel that provides a highclass background for conferences, receptions and other types of events. Located right in the center of Bucharest, it is within walking distance from the Old City – Bucurestiul Vechi. The main subway station and the central bus station are just across the street. There are also taxi ranks directly in front of the hotel.

Special accommodation rates and hotel reservation

Summit participants benefit from special accommodation rates. Please send your accommodation requests directly to:
Mrs. Simona Sercan – Senior Convention Sales Manager
e-mail: Simona.Sercan@ihg.com
Tel:+4021.305.10.18

Registration:
The participation fee in the Awards Gala evening ceremony is
98 € + VAT/ person.
The registration fees mentioned above exclude 19% Romanian VAT.
EARLY BIRD DISCOUNT: 15% for registration and payment by December 1st, 2017.
Data protection policy
The use of our website is possible without providing personal information. Data that a user enters into our contact form is used by Govnet Conferences solely for contacting purposes. Our web sites do not record any personal data (e.g., names, addresses, telephone numbers or e-mail addresses) unless you voluntarily provide such information (e.g., by registering, in surveys, etc.), have given your consent or we are permitted to do so by laws governing the protection of your privacy.
The conference organiser will collect and store your personal data for the preparation and execution of the conference as well as to inform you about future projects related to your sector and line of work. Your contact data will only be used for matters directly involved in the conference organisation process and for follow-up purposes.
If you have any questions or request about our privacy policy and the processing of your e-mail and related personal data, do not hesitate to write us at: sales@govnet.ro