Events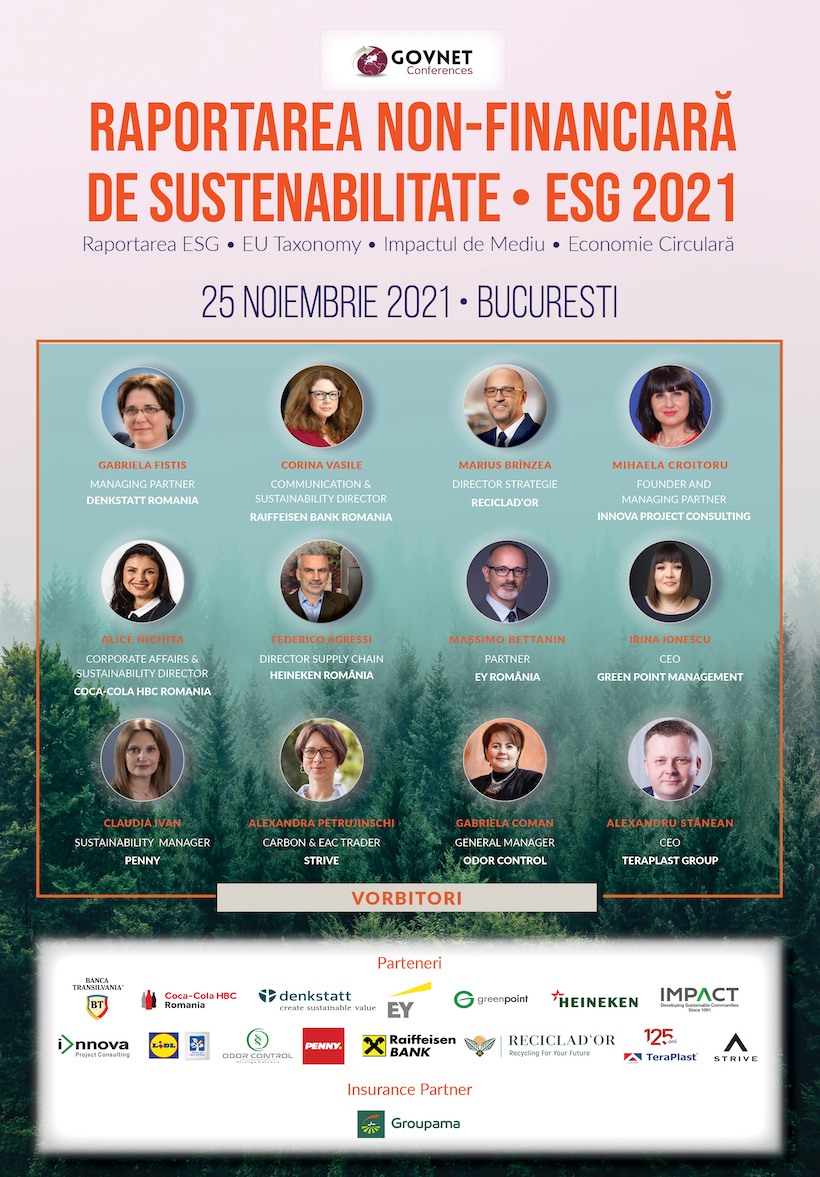 ESG • Raportarea Non-Financiară de Sustenabilitate 2021
November 25, 2021, E-CONFERINTA PLATFORMA ZOOM,
ESG • Raportarea Non-Financiară de Sustenabilitate 2021
Raportarea ESG • EU Taxonomy • Impactul de Mediu • Economie Circulară
Investițiile responsabile care tin cont de impactul factorilor de mediu, sociali și de guvernanță (ESG) asupra performanței financiare a companiei, sunt concepte cheie pentru orice companie.
Protejarea mediului, siguranța și protecția angajaților și comunităților, precum și obligativitatea raportării nefinanciare, devin din ce în ce mai populare și în România, în ton cu dialogul purtat la nivel global în ceea ce privește dezvoltarea sustenabilă.
Pentru a reduce cât mai mult impactul negativ al activității economice asupra mediului înconjurător și a crește impactul social pozitiv, sunt însă necesare modificări la nivel strategic pentru multiple sectoare de activitate, atât pe plan operațional, cât și la nivelul investițiilor.
INFORMATII GENERALE
Limba de desfasurare si prezentare: română
Condiții de înregistrare: Programul și temele sesiunilor de discutii pot fi modificate. În cazul în care apar motive de forță majoră, sau reglementari ale autoritatilor care interzic sau limiteaza accesul la conferinte, organizatorul își rezervă dreptul de a anula evenimentul in format fizic, fiind organizata transmisia exclusiv online. În cazul anulării, toți participanții vor fi informați cu promptitudine iar taxele de participare rambursate.
Program
10:00 - 10:05

Inregistrare

Prezentarea vorbitorilor si cuvant de bun venit




HOST: Adrian Ion - General Manager, GovNET Conferences




10:05 - 11:30

SESIUNEA 1 – RAPORTAREA NON-FINANCIARĂ – OBLIGAȚIE ȘI OPORTUNITATE

Viitorul raportării datelor ESG și armonizarea cadrului de raportare. Care sunt cele mai semnificative evoluții?

Strategia de Sustenabilitate ESG - Instrument indispensabil pentru competitivitate

VORBITORI:

Marius BRÎNZEA

– Director Strategie,

Reciclad'OR

Topic: Sustenabilitatea - de la general la specific

Corina VASILE

- Communication and Sustainability Director,

Raiffeisen Bank Romania

Topic: Principles of Responsible Banking și raportarea non-financiara în companii

Mihaela CROITORU

- Fondator și Managing Partner,

Innova Project Consulting

Topic: Dezvoltarea unei culturi a sustenabilității în România

Massimo BETTANIN -

Partener Schimbări Climatice şi Sustenabilitate,

EY România

Topic: Strategia de sustenabilitate ca instrument de îmbunătățire a competitivității unei companii

Claudia IVAN -

Sustainability Manager,

PENNY

Topic: Rolul raportării non-financiare și impactul pe care îl are în business și societate

Alexandra PETRUJINSKI

- Carbon & EAC Trader,

STRIVE

Topic: Noutati privind piața voluntară a carbonului și introducere în dezvoltarea proiectelor de reducere a emisiilor




11:30 - 13:00

SESIUNEA 2 – IMPLEMENTAREA CONCEPTELOR DE PERFORMANȚĂ ESG

ESG și rentabilitatea investiției - încorporarea datelor ESG în deciziile de investiții

Principii și beneficii aduse de implementarea standardului de evaluarea a impactului social
Performanța investițională și cum poate un program ESG să îmbunătățească un portofoliu de investiții

VORBITORI:

Federico AGRESSI - Director Supply Chain, HEINEKEN România

Topic: Amprenta de carbon și călătoria către neutralitatea emisiilor de carbon: de ce este importantă și de ce acum

Alice NICHITA - Public Affairs & Communication Manager, Coca-Cola HBC Romania

Topic: 30 de ani de optimism in România - raportul de sustenabilitate al Sistemului Coca-Cola

Irina IONESCU - CEO, Green Point Management

Topic: Viitorul sistemului de preluare a raspunderii producatorului si raportarea Non financiara pentru OIREP-uri

Gabriela FISTIȘ - Managing Partner, denkstatt Romania

Topic: Efectul multiplicator al achizițiilor durabile de-a lungul lanțului valoric – studiu de caz, Autonom Group

Gabriela COMAN- General Manager, ODOR Control

Topic: Calitatea aerului prin tratarea mirosurilor neplăcute reprezintă axa a sustenabilității

Alexandru STÂNEAN - CEO, TeraPlast Group

Topic: Lucrând pentru comunități, dincolo de datorie. Acțiuni care susțin un viitor mai bun.




13:00 - 13:00

SESIUNE Q&A
Speakers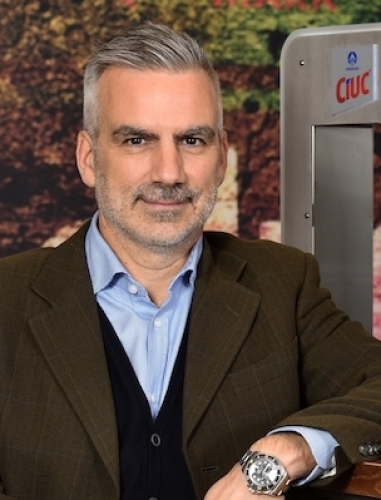 Federico Agressi
Director Supply Chain HEINEKEN România
Cu o vastă experiență în lanțul de aprovizionare E2E în companii internaționale de FMCG, Federico s-a alăturat companiei HEINEKEN în 2008, în calitate de manager de fabrica în Italia și a acumulat experienta în mai multe țări, atât în Europa, cât și în Africa. Începând cu 2018, Federico face parte din HEINEKEN România, în calitate de Director de Lanț de Aprovizionare.
El a condus și coordonat programe de turnaround, reproiectarea lanțului de aprovizionare, îmbunătățirea continuă a operațiunilor existente, utilizând pe scară largă TPM și managementul schimbărilor. Pasionat de dezvoltarea oamenilor și a echipelor, Federico pune întotdeauna un mare accent pe colaborarea interfuncțională ca "ingredient cheie" pentru a accelera performanța.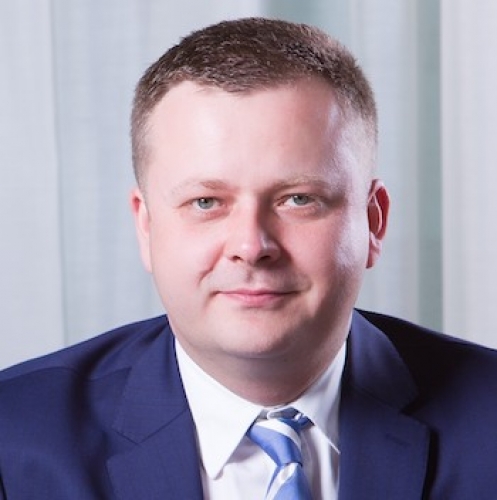 Alexandru Stânean
Chief Executive Officer, TeraPlast
Alexandru Stânean s-a alăturat echipei TeraPlast în 2007, ocupând, de-a lungul timpului, diferite funcții în cadrul Grupului TeraPlast, precum Director General Adjunct, Director Operațiuni, responsabil cu dezvoltarea externă. În 2008, a făcut parte din echipa responsabilă pentru IPO-ul TeraPlast. În prezent, domnul Stânean este Chief Executive Officer al TeraPlast, aflat la al treilea mandat.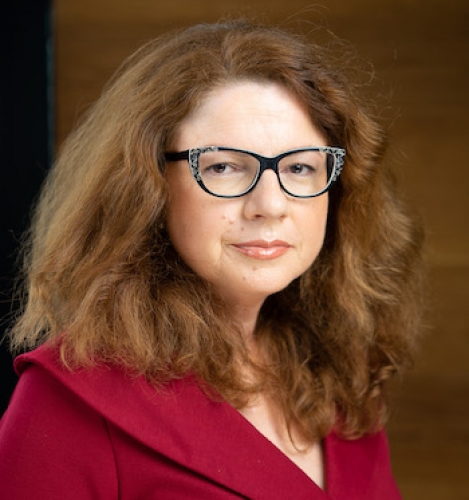 Corina Vasile
Director de Comunicare și Sustenabilitate la Raiffeisen Bank România
Corina este Director de Comunicare și Sustenabilitate la Raiffeisen Bank România. Are aproape 20 de ani de experiență în domeniul relațiilor publice și comunicării și mai mult de 8 ani în mass-media. Corina este, de asemenea, vicepreședinte la Global Women in Public Relations România (GWPR România) și membru al Consiliului de Administrație al Camerei de Comerț al Diversității din România (RDCC).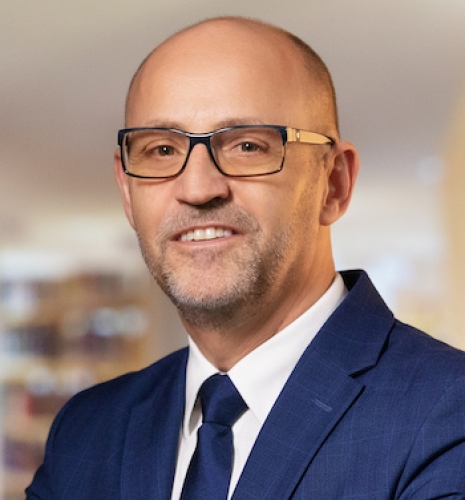 Marius Brînzea
irector Strategie Reciclad'OR
Marius Brînzea are peste 26 de ani de experiență managerială și a lucrat în diverse funcții de conducere, atât în ​​România, cât și în străinătate.
De-a lungul timpului s-a specializat în dezvoltarea strategiilor competitive (INSEAD - Fontainebleau), și a strategiilor de Economie Circulară (Universitatea din Cambridge) și inovarea modelelor de afaceri (Strategyzer-Zurich).
În ultimii 15 ani, Marius Brînzea a fost implicat, la nivel național și european, într-o serie de proiecte strategice specifice Responsabilității Extinse a Producătorilor: economie circulară, managementul deșeurilor de ambalaje și ambalaje, programe de educare a consumatorilor și activități de advocacy. În perioada în care a fost consultant de strategie, a fost implicat în mai multe proiecte transfrontaliere în Europa și America de Sud, în diverse sectoare industriale.
În prezent, Marius Brînzea este director de strategie al Reciclad'OR. Pe lângă responsabilitățile specifice funcției deținute, acesta acționează în grupurile de lucru ale celor mai mari asociații de profil din lume: International Solid Waste Association (ISWA) și Prevent Waste Alliance.
Marius Brînzea a dezvoltat, în cadrul Reciclad'OR S.A., Formarea în Economia Circulară, singura formare de acest gen din România. De la lansare și până în prezent, zeci de companii naționale și multinaționale au beneficiat de expertiza înaltă oferită pe parcursul trainingului.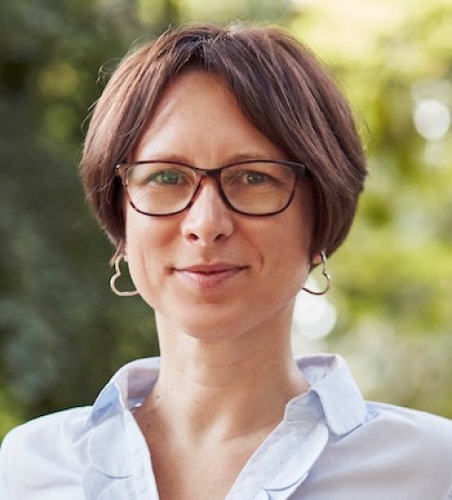 Alexandra Petrujinschi
Carbon & EAC Trader, STRIVE
Alexandra Petrujinschi s-a alăturat companiei Vertis în urmă cu aproximativ 4 ani. Astăzi, ea este Carbon & EAC Trader în brandul de acțiune climatică al Vertis, Strive.
Pasiunea și grija Alexandrei pentru mediu au început în universitate, când a urmat cursuri la Al.I. Facultatea de Geografie a Universității Cuza și specializată în Știința Mediului. Ea este expertă pe piețele europene conforme, precum și pe piețele voluntare de carbon. Cunoștințele extinse ale Alexandrei în aceste subiecte îi permit să ajute și să ghideze organizațiile în tranziția lor către o economie cu emisii reduse de carbon. În afara biroului, Alexandra continuă să aibă grijă de mediu: este vegetariană și salvează animalele fără stăpân.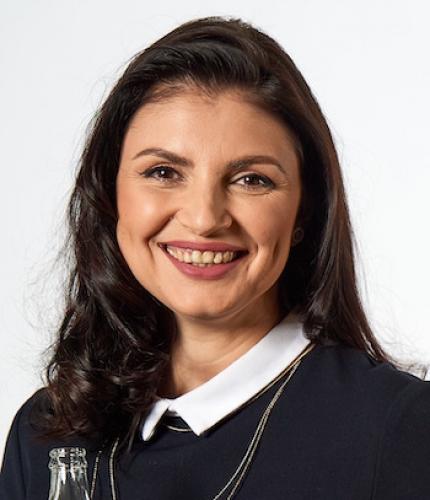 Alice Nichita
Corporate Affairs & Sustainability Director , Coca-Cola HBC Romania
Alice Nichita deține poziția de Corporate Affairs & Sustainability Director în cadrul Coca-Cola HBC România, creând premisele adecvate pentru creșterea sustenabilă a afacerilor prin construirea unei identități corporative puternice și sprijinirea comunităților locale, precum și reprezentând compania în industrie și asociații de afaceri. Alice este președinte al Asociației pentru Băuturi Răcoritoare și Vicepreședinte al Asociației de Ambalaje și Mediu și al Federației pentru Apă Minerală.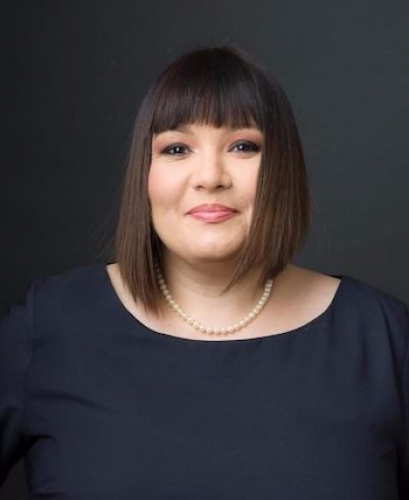 Irina Ionescu
CEO Green Point Management
Irina are o experienta de peste 20 de ani in pozitii de senior leadership, atat in Romania cat si la nivel regional, pentru companii multinationale si organizatii de industrie. In perioada 2014-2020, a avut roluri cheie in Public and Corporate Affairs si a contribuit decisiv la crearea premiselor pentru o crestere de business sustenabila, dezvoltand branduri corporate puternice si creand proiecte si programe nationale de dezvoltare durabila.
De peste sase ani este implicata in mod activ in studiul si proiectarea sistemelor de colectare separata a deseurilor de ambalaje si in promovarea reciclarii ca proces vital pentru Romania in indeplinirea angajamentelor europene. A reprezentat industria FMCG in prima linie, in calitatea de Presedinte al Asociatiei Nationale pentru Bauturi Racoritoare din Romania, conducand dezbateri atat cu autoritatile si producatorii, cat si cu reprezentatii magazinelor retail pe teme majore asa cum este infiintarea sistemului garantie-retur pentru ambalaje la nivel national.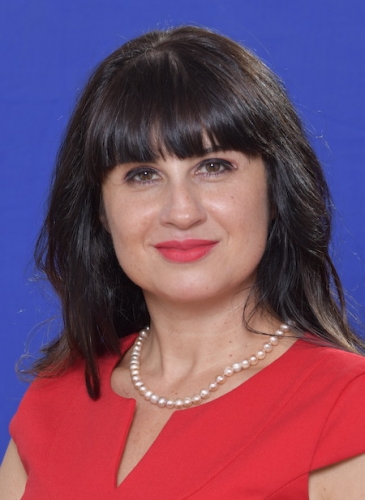 Mihaela Croitoru
Fondator si Managing Partner, INNOVA Project Consulting
Mihaela este Fondatorul și Managing Partner al INNOVA Project Consulting, una dintre cele mai importante companii de consultanță pentru dezvoltare durabilă din România înființată în 2013. Mihaela are peste 15 ani de experiență în managementul afacerilor atât în organizații publice, cât și private. În cadrul INNOVA, Mihaela a coordonat diverse contracte de consultanță privind integrarea sustenabilității și realizarea Rapoartelor Non-financiare și de sustenabilitate conform Standardelor GRI - Global Reporting Initiative și Directivei UE nr. 95/2014 pentru diferite companii din România active în sectoare precum: petrol&gaz, minerit, IT&C, financiar, chimic etc.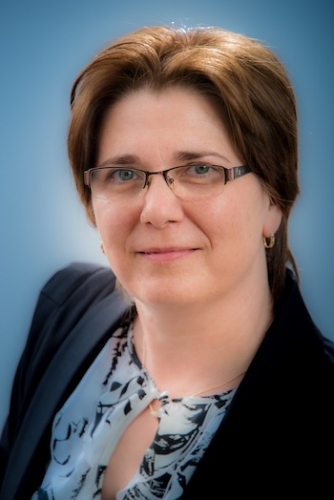 Gabriela Fistis
Managing Director, denkstatt Romania
Gabriela Fistis are o diplomă de licență în inginerie chimică și un master în tehnologii nepoluante la Universitatea Politehnică din Timișoara. Ea și-a încheiat cu succes studiile de doctorat în 2018 în domeniul Inginerie și Management cu teza intitulată "Sustenabilitatea sistemelor organizaționale – un posibil model strategic". Cu experiență relevantă în industrie și consultanță, Gabriela Fistis are o experiență de peste 21 de ani în consultanță și formare în domeniul sustenabilității (consolidarea capacităților), folosindu-și expertiza în diferite tipuri de proiecte în calitate de Project Manager și expert în domeniul dezvoltării durabile. Cu o vastă experiență de peste 21 de ani, care a trecut atât prin sectoarele de cercetare, cât și de consultanță industrială și de management, ea se concentrează în prezent pe găsirea de soluții pentru a atinge performanța managementului sustenabilității atât cu organizații private, cât și cu instituții de stat. Este trainer profesionist pentru programul de formare European ECQA Certified Sustainability Manager și a făcut parte din echipa internațională de traineri care au pregătit primii Sustainable Managers din România.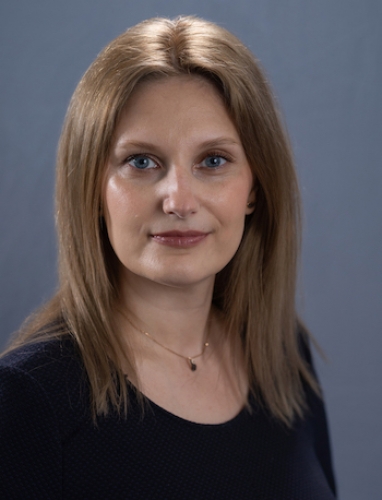 Claudia IVAN
Sustainability Manager, PENNY
Claudia Ivan este Certified Business Sustainability Manager și are misiunea de a accelera soluțiile de sustenabilitate și inovația în materie de eficiență energetică în cadrul PENNY România. Fiind un factor de decizie, aceasta coordonează strategia de sustenabilitate a companiei și conduce echipe inter-funcționale în proiectarea, dezvoltarea și implementarea soluțiilor durabile de aproape cinci ani. De-a lungul carierei sale, a activat în finanțe și management de proiect în companii multinaționale și a contribuit la obținerea de rezultate pozitive în afaceri prin organizare eficientă și prioritizarea proiectelor organizaționale cheie. De asemenea, Claudia este convinsă că mediul de business poate juca un rol important în societate. Dacă dezvoltarea interferează cu oamenii și mediul, este mai distructivă atunci când afectează comunitatea și resursele naturale. Pentru a exista durabilitate, cei trei piloni, mediu, social și economic, trebuie să fie în echilibru.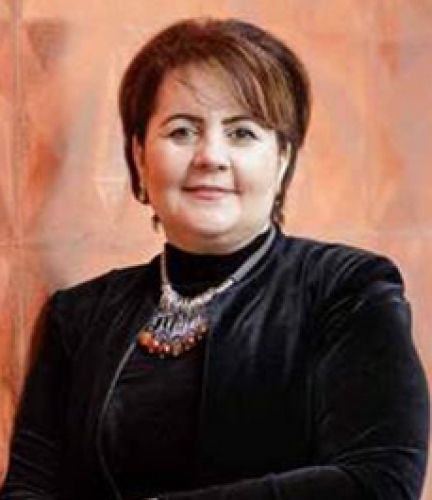 Gabriela Coman
General Manager, ODOR CONTROL
Gabriela a dobandit experienta profesionala in 20 ani de activitate in companii multinationale, din care 10 ani Country Manager, si continuata intr-un antreprenoriat caruia i-a pus bazele, inca din 2003, alaturi de Marian Coman, Presedinte Framinor Grup. Compania a reusit sa dezvolte in cei peste 15 ani de activitate – in Romania, dar si in Europa – solutii profesionale de igiena: a suprafetelor, a mainilor, dar si a aerului, in parteneriat cu cei mai renumiti lideri mondiali din aceste industrii. Activitatea s-a dezvoltat intr-un model integrat si complementar, reusind sa ajunga azi o companie europeana, cu filiera completa: curatarea aerului de mirosuri neplacute provenite de la orice sursa, indoor sau outdoor, odorizare/ambientare, aroma branding: Premium scenting.
Massimo Bettanin
Partener Schimbări Climatice şi Sustenabilitate, EY România
Massimo Bettanin are peste 25 de ani de experiență în consultanță pe probleme sociale, de mediu, de securitate și sănătate a muncii în Italia, Africa de Sud și Africa Subsahariană, precum și experiență practică în coordonarea de echipe de consultanță și a unor departamente din domeniul social, cel al sănătății și securității muncii și de protecția mediului (SSSM). Massimo Bettanin și-a desfășurat activitatea profesională într-o varietate de sectoare, printre care energie, industria cimentului, industria minieră, producție, industria celulozei și hârtiei și transporturi. De asemenea, are experiență în coordonarea unor importante proiecte de transformare de business.
Opțiuni de participare la Forumul ESG • Raportarea Non-Financiară de Sustenabilitate 2021
- PENTRU PREZENTA ONLINE - Participarea este Gratuită.
Sesiunea ONLINE va fi transmisa pe platforma ZOOM incepand cu ora 10:00, iar codul de acces va fi transmis individual in data de 24 noiembrie 2021.
Protecția datelor și partajarea detaliilor de contact
Organizatorul conferinței va colecta și stoca datele dvs. personale pentru pregătirea și executarea conferinței, precum și pentru a vă informa despre proiectele viitoare legate de sectorul dumneavoastra de activitate. Datele dvs. de contact vor fi transmise doar partenerilor implicați direct în procesul de organizare a conferinței ca parteneri în scopuri de urmărire. În cazul în care doriți ca datele dvs. să fie eliminate trebuie să trimiteti o solicitare in scris catre Govnet, pe adresa sales@govnet.ro.
Dacă aveți întrebări despre politica noastră de confidențialitate și despre prelucrarea e-mailului și a datelor personale conexe, nu ezitați să ne scrieți la sales@govnet.ro