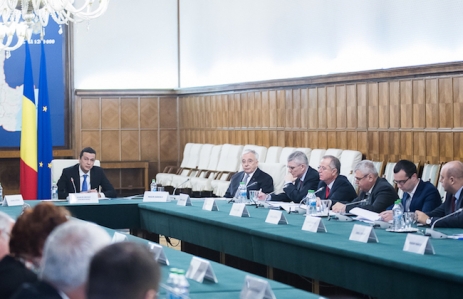 Source: www.gov.ro
Prime Minister Sorin Grindeanu declared that the switchover to the euro will be possible only after the Romanians' incomes get close to earnings in other European Union member states.
"Let's make sure that this monetary convergence is done in parallel with the convergence of incomes. We believe that the switchover to the euro can be done only after the Romanians' incomes get close to earnings in other EU member states," Grindeanu told the meeting of the interministerial Committee on the switchover to the euro, held at the Victoria Palace of Government quoted by Agerpress.
The PM mentioned that Europe is currently witnessing intense debate on the future of the European construction, but in Grindeanu's opinion this should be seen as an opportunity and not an obstacle.
"The debate dwells on a multi-speed Europe, but this should not be a reason of differentiation, but should rather show that we are all headed in the same direction. And I think that today's meeting has exactly this purpose. We must prove that Romania is determined to further support the EU cohesion policies and show that we all have the same goal — a stronger Union where member states have the same target," Sorin Grindeanu said.
The Premier also pointed out that the task of the Romanian authorities is to make the transition to the euro "as smooth as possible for the citizens."
"We must learn from the practice of countries that have already switched to the euro from a position similar to that of Romania. We're talking about a major change which naturally encounters resistance, reluctance, but this is exactly why we are here today and will be here for in the future, to prepare this process as rigorously as possible," Grindeanu said.
Governor of the National Bank of Romania Mugur Isarescu, Finance Minister Viorel Stefan and Minister of Economy Mihai Tudose also attended the meeting at the Victoria Palace.