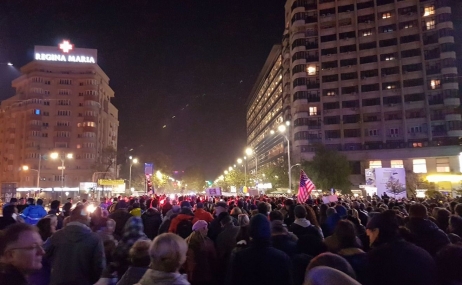 Over 20,000 people gathered on Sunday in Bucharest and other major cities of Romania to protest against the draft laws on justice. Under the slogan "We don't want to be a nation of thieves!" they demanded the resignation of Justice Minister Tudorel Toader and directed messages against the rulling coallition PSD-ALDE and parliamentarians seen as tools of the corrupt.
The protest began in Victoria Square and then the protesters went to the march to the Parliament.
PNL, USR and the Romania 100 Platform, launched by former PM Dacian Ciolos joined the protests.
"Romania 100 Platform is not backing the PSD-ALDE modification proposals to the Justice Laws. They are not the outcome of some responsibly assumed reforms, but a shield of a oligarchy that has to bury criminal files and to defend its political clientele's interests" a release published by Romania 100 Paltform's reads.