Events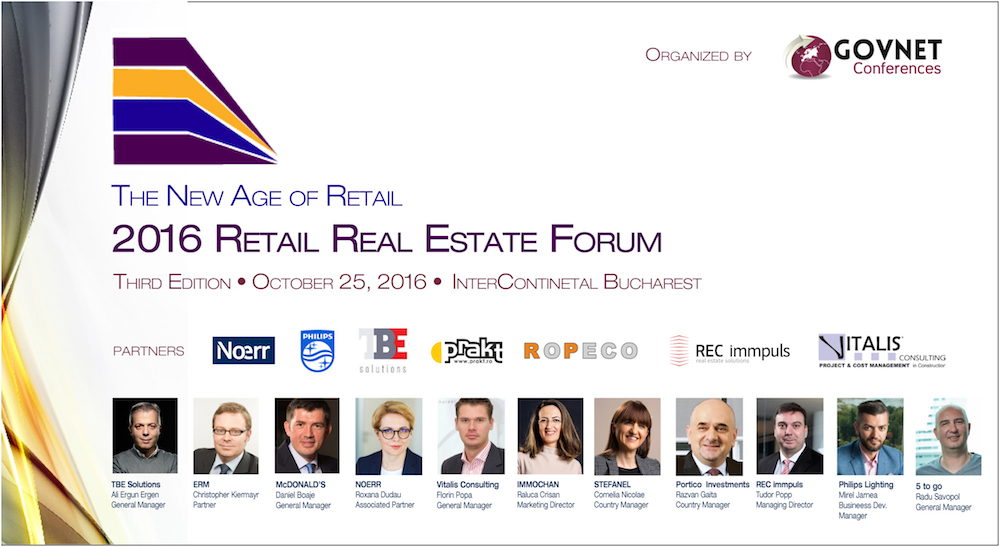 Retail Real Estate Forum 2016
October 25, 2016, HOTEL INTERCONTINENTAL, BUCHAREST
The New Age of Retail - Retail Real Estate Forum 2016
With the ever changing consumer habits and challenging market environment, shopping centers and retailers need to work creatively to make consumers to open their wallets. We are currently experiencing a fundamental change in shopping habits.
The trend in retail development is moving away from closed traditional malls towards open and community involving formats, blending into neighborhoods in modern urban developments. New concepts in successful shopping center projects should reflect the living, working and cultural aspects of target consumers.
Join representatives of shopping centers, developers, retailers, real estate consultants, project managers and industry professionals to openly debate on the new retail development trends.
Who will attend:
Management of shopping centers and retail developers

Top representatives of the most important retailers active in Romania

Senior real estate consultants

Representatives of banks and financial institutions

Representatives of the authorities regulating the construction sector

Lending and Credit Managers

Representatives of project management companies
Language: English and Romanian (with simultaneous translation provided)

Registration: Conference participation fee is 89 € + VAT/ person.
The fee includes the participation in the conference sessions, coffee breaks and lunch, as well as the conference proceedings documents.
All registration fees mentioned above exclude 24% Romanian VAT.
Registration conditions: The program and the speakers are subject to change. Should the conference be cancelled due to force majeure, unavailability of the conference venue, speakers being prevented or for other good cause, the organizer reserves the right to cancel the conference. In case of cancellation all participants will be informed promptly. In this case, all registration fees will be reimbursed.

Payment: Payment can be made by bank transfer prior to the event. Please take into consideration the limited seats availability, therefore we recommend that registrations are made prior to the week of the event.

Registration conditions: The program and the speakers are subject to change. Should the conference be cancelled due to force majeure, unavailability of the conference venue, speakers being prevented or for other good cause, the organizer reserves the right to cancel the conference. In case of cancellation all participants will be informed promptly. In this case, all registration fees will be reimbursed.
Substitution and cancellation policy
After registering for the Event, if you cancel your attendance more than one week prior to the date of the Event, you will receive a full refund of the amount of your payment. If you cancel within one weeks of the date of the Event, you will not be eligible for a refund; however, substitutions can be arranged with no extra cost from within a company or organization. No refunds for no shows. Cancellation requests must be received in writing.
Data protection and sharing of contact details
The Conference Organizer will collect and store your personal datafor the preparation and execution of the conference as well as to inform you about future projects related to your sector and line of work. Your contact data will only be passed on to partners directly involved in the conference organization process as partners for follow-up purposes. If you have any questions about our privacy policy and the processing of your e-mail and related personal data, do not hesitate to write us at sales@govnet.ro
Program
08:30 - 09:00

Delegates Registration and Wellcome Coffee

09:00 - 10:30

FIRST SESSION

Today's retail model - challenges of developing shopping centers




Where and how to develop retail? Trends in shopping center development
Next target for retail development - small cities retail
Engaging communities in shopping center environments
Environmental challenges of a retail project. Turning around a brownfield development
Project management - where to invest resources
Refurbishment and upgrading shopping centers




Speakers:

Ali Ergun Ergen - General Manager, TBE Solutions
Christopher Kiermayr - Partner and Head of ERM Central Europe Transaction Services practice
Tudor Popp - Managing Director, REC Immpuls
Raluca Crisan - Director Marketing , Immochan
Razvan Gaita - Country Manager, Portico Investments
Florin Popa - General Manager, Vitalis Consulting

10:30 - 11:00

Networking Coffee Break

11:00 - 12:30

SECOND SESSION

New retail formats - vehicles to adapt to changing shopping habits

Urban planning & Real Estate development. Formality or deal breaker?
The challenges of brick-and-mortar stores in the age of online shopping
Sellecting the right retailers for the right shopping center
The importance of diferentiation to secure success
The impact of inovation. What are the technologies to consider?
Risks and opportunities of multichannel retailing

Speakers:

Roxana Dudau - Associated Partner, Noerr
Daniel Boaje - Country Manager, McDonalds
Cornelia Nicolae - Country Manager, Stefanel
Mirel Jarnea - Business Development Manager, Philips Lighting
Radu Savopol - General Manager, "5 to go"
Adrian Urda - Vicepresident ALTEX Romania

12:30 - 13:30

Networking Lunch
Speakers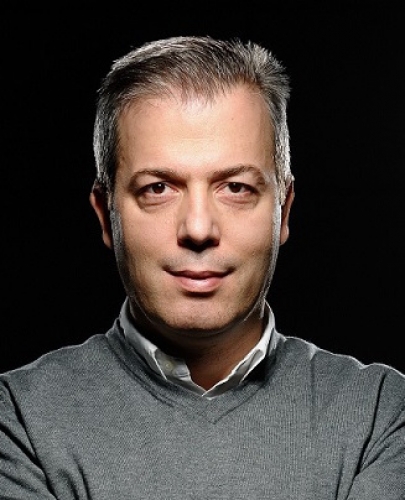 Ali Ergun Ergen
General Manager, TBE Solutions
Ali Ergun Ergen comes with a vast experience of more than 15 years in real estate, acquired both on the local market and internationally. Ali Ergun Ergen was also Chairman of ICSC Romanian National Committee (2008-2011) and part of ICSC European Advisory Board, time spent to bring substance to the retail industry. In 1998, he decisively contributes to the launch of the first modern shopping center in Romania, Bucuresti Mall as Technical Manager of Bayindir – Fiba Bucharest. Later on, he dedicates his efforts to building the second mall of Anchor Grup, implementing the project Plaza Romania and its own Movieplex cinema. Due to his management abilities and know-how of the real estate and retail market, he is offered the position of General Manager of Anchor Grup. In 2005 Ali Ergun Ergen initiates, as Chief Executive Officer, a new move on the mall chess table: head of strategy of Băneasa Developments, company that operates Băneasa Shopping City.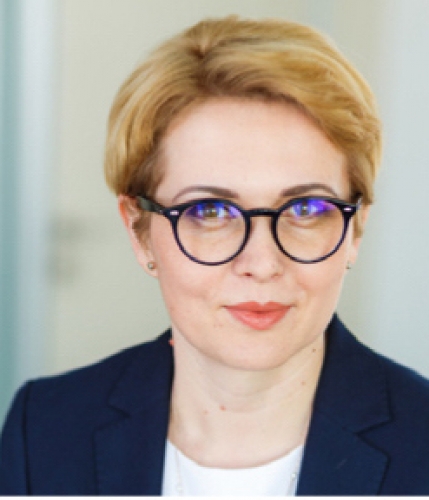 Roxana Dudau
Associated Partner, NOERR
Roxana Dudau heads the Real Estate & Energy Department of the Noerr Bucharest office. She is specialized in advising major foreign investors active in the field of retail and construction, as well as banks and major investors predominantly in the automotive sector in their Greenfield investments in Romania. Mrs. Dudau has a large experience in construction and real estate, especially in retail transactions, advising the firm's clients on their market entry and expansion in Romania.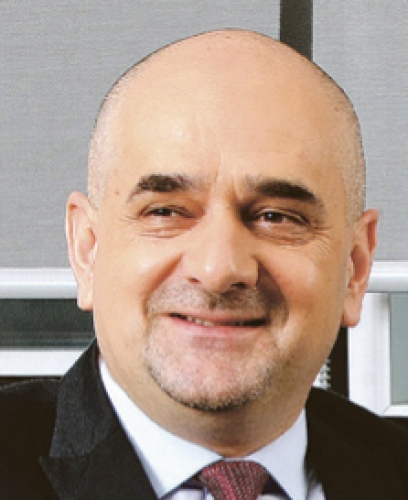 Razvan Gaita
Country Manager of Portico Investments
Razvan Gaita is the Country Manager of Portico Investments. Razvan is an expercienced real estate professional, with strong expertise in the retail segment. Previoussly he was general manager of Anchor Grup. Gaita previously worked in the real estate arm of Volksbank, Rosegur Cash Services and also served as managing director of the German company ECE Projektmanagement Romania. Between 2004 and 2006, he was Director of Development at Kaufland Romania and previously held the same position at Billa Romania.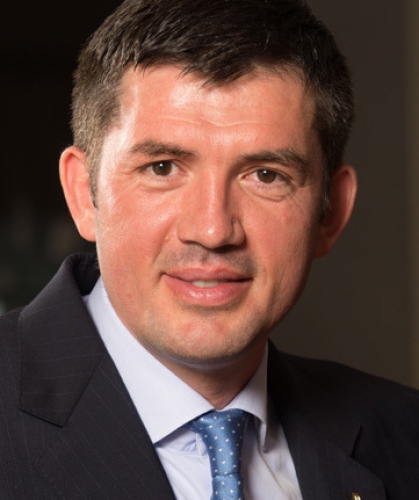 Daniel Boaje
General manager, McDonalds Romania
Daniel Boaje is the General manager of fast food industry giant McDonald's. He holds this position for the last five years, since 2011.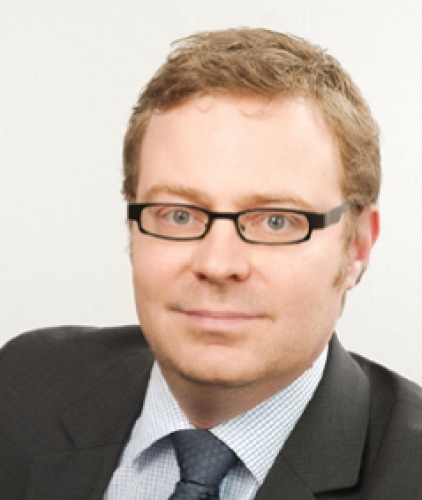 Christopher Kiermayr
Partner in ERM and leads ERM Central Europe's Transaction Services Practice
Christopher has 15 years of experience in a number of environmental consulting fields including mergers and acquisitions related due diligence (both buy-side and sell-side), environmental social safety and health compliance audits and impact assessments, environment, health and safety management systems, contaminated land investigations and remediation, as well as corporate strategic support. Christopher has provided environmental consulting support to national and multinational investors, developers, and manufacturers, across all industrial sectors. His projects have ranged from large multi-site, multi-jurisdictional transactions to developing corporate strategy around sustainability, corporate governance and EHS management system development and implementation through to providing specific EHS-compliance and contaminated land related solutions.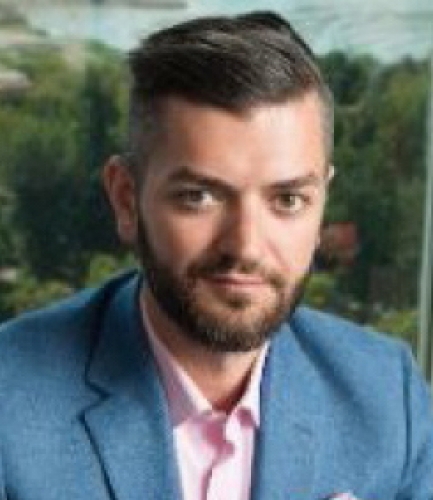 Mirel Jarnea
Business Development Manager Retail, Philips Lighting CEE
Mirel is an experienced Business Development Manager with strong expertise in Connected Lighting solutions for the Retail industry. A creative and inventive thinker, who craves a challenge and who is not afraid to work outside his comfort zone, he is eager to enhance customer experiences through inspiring light. Always ready to leverage market knowledge and expertise to facilitate customers in maximizing their return on innovative lighting solutions investment. With more than 10 years of experience in large Shopping Centers, DYI, Hyper / Super Markets and Cinemas, he delivered on projects demonstrating a wide array of benefits Retail customers, gain from choosing energy efficient LED lighting but also the new generation of indoor positioning technology, allowing the next level in modern shoppers user experience.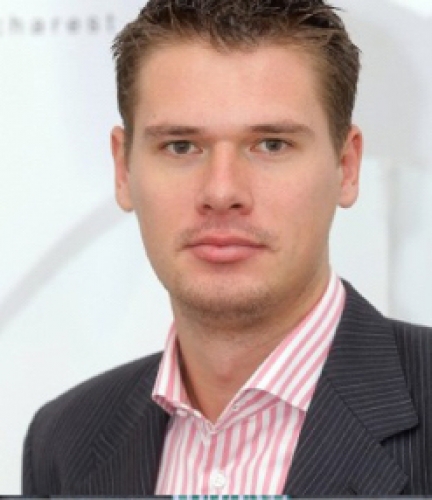 Florin Popa
General Manager, Vitalis Consulting
Florin Popa is the General manager and owner of Vitalis Consulting, a compnay he established in 2006. Previoussly he was construction project manager at Gleeds Romania between 2004 and 2006. His experience includes planningand coordination for a wide variety of construction projects, including the building of all types of residential, commercial, and industrial structures, roads, bridges, wastewater treatment plants, and schools and hospitals.
Tudor Popp
Managing Director, REC immplus
Tudor Popp is Managing Partner of REC immpuls, having 20 years of experience in real estate. Tudor is active for 10 years in the Romanian market and has been involved in consulting and project management for commercial development and refurbishment projects.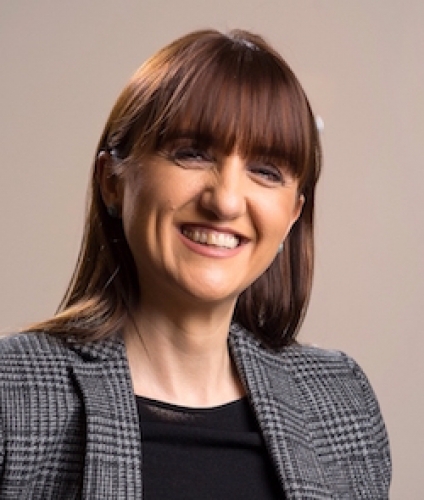 Cornelia Nicolae
Country Manager, Stefanel Romania
Cornelia Nicolae holds the position of Country Manager for Stefanel Romania since September 2011. Her previous professional experience includes the position of Country Manager for BSB Fashion. She holds a bachelor degree in accounting and finance as well as banking, finance and securities law from Artifex University in Bucharest.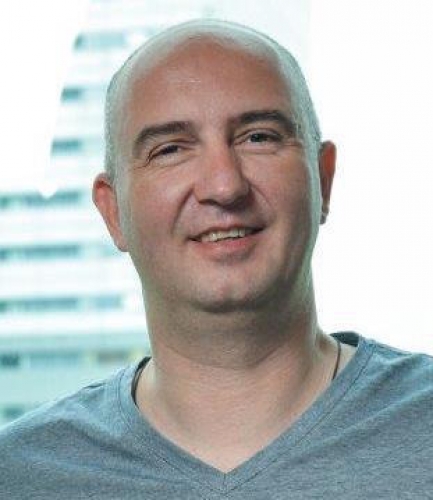 Radu Savopol
Founder "5 to go"
Radu Savopol is the founder of 5 to go chain of coffee shops. An interior designer and architect, who 15 years ago left the capital for Sinaia, where he decided to open his first business - Old Nick Pub. His business is estimated to reach 5 million euro in turnover in 2016 and 23 locations. The business model of "5 to go" brought for the first time in Romania the concept of fixed price of coffee and other products sold.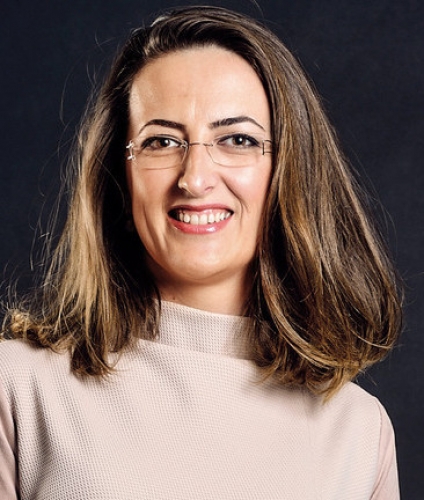 Raluca Crisan
Marketig Manager, IMMOCHAN
Raluca Crisan is the marketing manager of Immochan, since June 2013. She holds a master degree in marketing from Skema Buciness School and a bachelor degree from Louis Pasteur University in Strasbourg.
Cristian Vasiliu
Managing Director, ROFMA – the Romanian Association of Facility Management
Cristian Vasiliu coordinates ROFMA – the Romanian Association of Facility Management as Managing Director, being actively involved in many development projects of this sector in Romania. Cristian is also managing the sole officially approved training course in facility management, being a lecturer and one of the first Romanian PhD student in facility management as well. Additionally, he is the initiator and the manager of the ROFMA educational platform, in due course to become operational.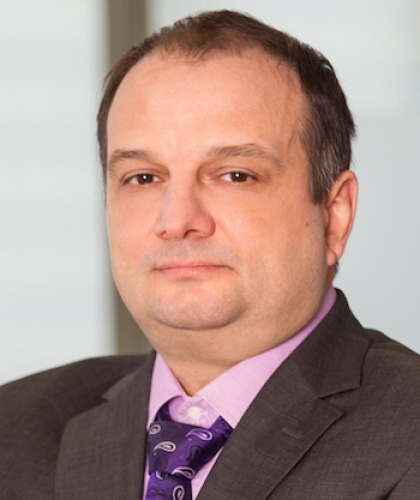 Adrian Urdă
Vicepresident ALTEX România
Adrian Urdă is part of the ALTEX Romania team since the company's first years of experience, over 20 years ago, when he started his activity as a Store Manager in the city of Craiova. Along time, he has held key roles in the development of ALTEX and managed to maintain a steady business growth rate, higher than the market average. This has led to strengthening the company's leadership position in the local electro-IT market. As ALTEX Romania Vicepresident, he presently coordinates the whole retailer network activity, formed of over 120 national shops as well as the online shops of the company, www.altex.ro and www.mediagalaxy.ro.
Sponsors
Supporting Partners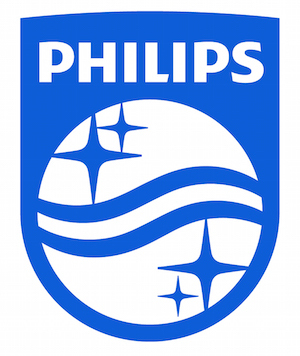 PHILIPS
With main focus on meaningful innovation, we serve professional and consumer markets through three overlapping sectors: Lighting, Healthcare and Consumer Lifestyle. Throughout our portfolio, we demonstrate our innovation capacity by translating customer insights into meaningful technology and applications that improve the quality of people's lives. We've been in the lighting business for over 100 years but if someone told us in 1891 that one day light would be controlled from the palm of our hand, we wouldn't have been surprised. That's because we're always looking to tomorrow to understand how light will improve and influence our lives in the future.

ROPECO
ROPECO Bucharest offers state-of-the-art solutions and equipment with 28 years of experience on the specialized market.
ROPECO is a company for which success is a challenge in the realization of future projects, experiencing a successful expansion in several fields of activity. ROPECO's activity is based on a young, dynamic team, made up of professionals in the true sense of the word, who identify with successful solutions for our clients.
We have a competitive management system with a well-structured company organization chart on departments made up of staff trained by prestigious international manufacturing companies.
Media partners
Venue
Hotel Intercontinental
BUCHAREST
Phone:
The Romanian Retail Real Estate Forum will be organized at the InterContinental Hotel in Bucharest.

InterContinental Bucharest is a five star hotel that provides a highclass background for conferences, receptions and other types of events. Located right in the center of Bucharest, it is within walking distance from the Old City – Bucurestiul Vechi. The main subway station and the central bus station are just across the street. There are also taxi ranks directly in front of the hotel.


Registration: Conference participation fee is 89 € + VAT/ person.

The fee includes the participation in the conference sessions, coffee breaks and lunch, as well as the conference proceedings documents.
All registration fees mentioned above exclude 20% Romanian VAT.
Data protection and sharing of contact details
The Conference Organizer will collect and store your personal datafor the preparation and execution of the conference as well as to inform you about future projects related to your sector and line of work. Your contact data will only be passed on to partners directly involved in the conference organization process as partners for follow-up purposes. If you have any questions about our privacy policy and the processing of your e-mail and related personal data, do not hesitate to write us at sales@govnet.ro