Events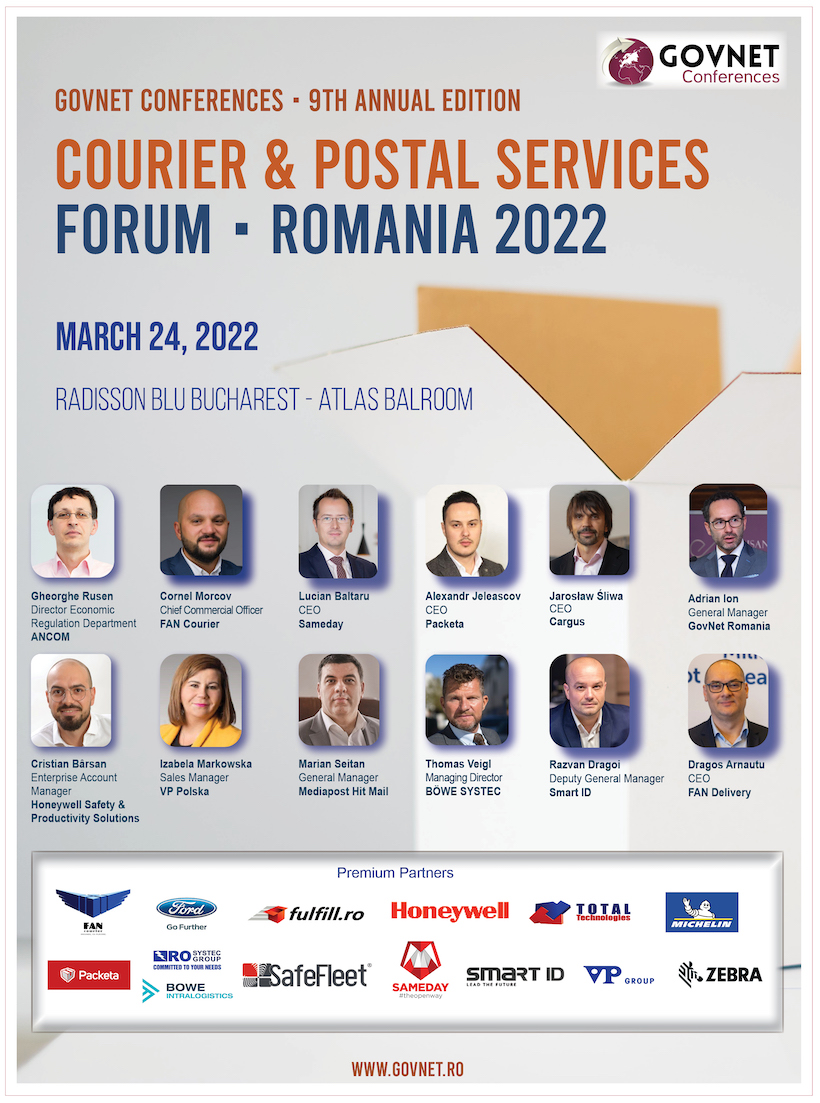 Romanian Courier Services and Postal Services Forum 2022
March 24, 2022, HOTEL RADISSON BLU , BUCHAREST
Romanian Courier Services and Postal Services Forum 2022
March 24, 2022 at the Radisson BLU Hotel Bucharest, Atlas Ballroom
In recent years, courier and delivery services have grown exponentially, but the COVID-19 pandemic has also highlighted the weaknesses of the supply chain and made us aware of what we can do better.
We invite you to this 2022 edition to learn from each other, to share ideas and strategies for increasing the quality of delivery services, to talk about the latest trends in the courier and postal industry.
We bring together in 2022, at the 9th annual edition of the conference, postal service providers, courier and express delivery, as well as e-commerce companies and service providers.
The Romanian Forum of Courier and Postal Services is the only event dedicated to the industry and the perfect meeting platform for the postal, parcel and express courier industry.
Who will attend the conference:
Representatives of the management of courier and postal services companies

Clients for the courier services industry

Representatives of the authorities that regulate postal services in Romania

Representatives of banks, card issuers, payment service providers and technology companies
Participation return policy:
- if the request for cancellation is made up to 45 calendar days before the event, the amount paid will be returned in full;
- if the request for cancellation is made up to 30 calendar days before the event, 70% of the amount paid is returned;
- if the request for cancellation is made up to 15 calendar days before the event, 50% of the amount paid is returned;
- if the request for cancellation is made less than 7 days before the event, the amount paid will not be returned:
If the conference is canceled due to force majeure, unavailability of the conference venue, the organizer reserves the right to cancel the conference. In case of cancellation, all participants will be informed promptly. In this case, all registration fees will be refunded.
Data protection and sharing of contact details
The conference organizer will collect and store your personal data for the preparation and execution of the conference, as well as to inform you about future projects related to your industry. Your contact details will only be passed on to partners directly involved in the conference organization as partners for follow-up purposes. If you have any questions about our privacy policy and about the processing of email and related personal data, please feel free to email us at sales@govnet.ro
Program
08:30 - 09:00

REGISTRATION

Participants Registration and Welcome Networking Coffee




09:00 - 09:15

OPENING ADDRESS

The Courier & Postal Services in Romania: The regulatory perspective

Gheorghe Rusen - Director Economic Regulation Department ANCOM




09:15 - 11:00

FIRST SESSION

Key developments for delivery services in Romania

Addressing current challenges - transformations in delivery services
The Romanian Courier market in 2022 in terms of three indicators - demand / supply / quality
How can companies better manage this steady increase in demand?
The main factors that influence and redefine this courier market today

Challenges of cross-border

The approach to Sustainability - how can the industry decrease the carbon footprint and the journey to Zero Carbon

11:00 - 11:30

SESSION BREAK

Networking Coffee Break and Individual Meetings




11:30 - 13:30

SECOND SESSION

Emerging Trends and the impact of technology on Delivery Services

The Impact of Technology and Process Automation trends in Delivery Services
Understanding the changing expectations and demand of the end-consumer - last mile and first mile development
Strategies for repositioning delivery services - the development of personal shopping services
Outsourcing e-commerce logistics - trends and advantages
Mobility solutions to help increase sustainability targets and optimize costs
Lockers - a sustainable solution with cost-reductions benefits. Local market trends.

13:30 - 14:30

NETWORKING LUNCH

Networking Lunch and Individual Meetings



Speakers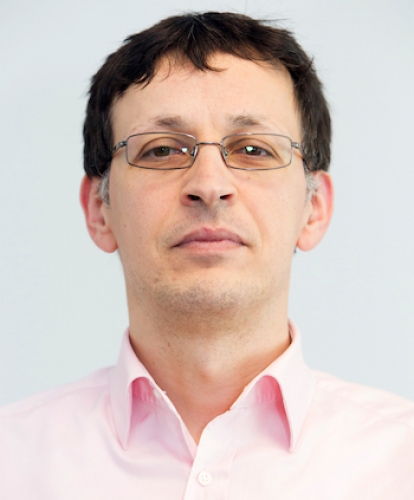 Gheorghe Rusen
Director of the Economic Regulation Department at ANCOM
Gheorghe RUSEN has been leading, as director, the Economic Regulation Division within ANCOM for over 15 years. In this capacity he oversees the activity of economic regulation in the field of electronic communications and postal services.
Gheorghe RUSEN is a graduate of both the Academy of Economic Studies in Bucharest and the University of Bucharest, specializing in Legal Sciences.
Cornel Morcov
Chief Commercial Officer at FAN Courier
Cornel Morcov is the Chief Commercial Officer of FAN Courier, the leader of the courier market in Romania. He joined the company in 2007 and his main role was to develop the company's international services. He also managed the implementation of Eurocargo, the transport brokerage service - shipping company - thus offering customers the opportunity to transport not only envelopes and packages, but also larger goods by road, air or sea.
Cornel Morcov currently coordinates the business activities of FAN Courier and is responsible for establishing and implementing the business strategy, leading the Bulgarian branch of the company and managing the relationship with international partners.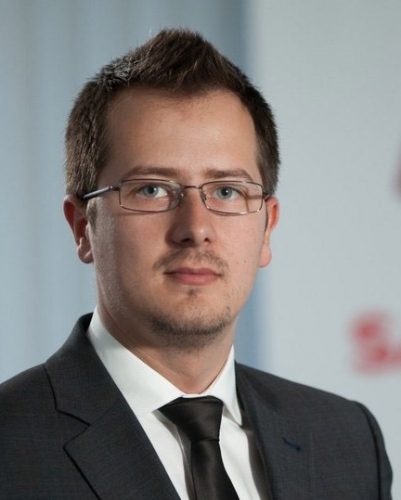 Lucian Baltaru
Chief Executive Officer of Sameday
Lucian Baltaru is the founder and CEO of SAMEDAY, the courier company that has seen the most spectacular growth in recent years. With the DNA of an entrepreneur, Lucian founded Sameday 14 years ago, out of a desire to identify "a different way of doing courier" and to offer his customers services to the standards he himself expects. The company currently operates the largest network of lockers nationwide, aiming to reinvent the day-to-day delivery experience.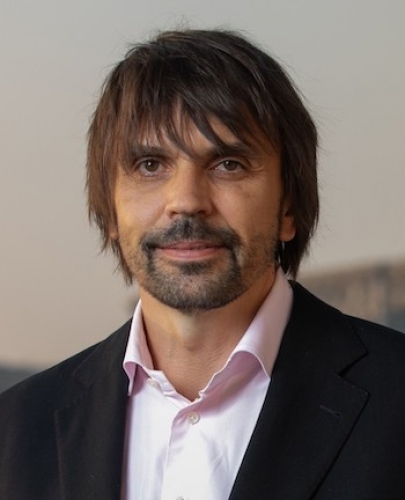 Jarosław Śliwa
CEO of Cargus
Jarosław is the CEO of Cargus, a leading courier, express and parcel service provider in Romania. He has over 20 years of experience in Courier, Express and Parcel (CEP) markets with a primary focus on Poland and Romania. Previously, he spent 15 years at Siódemka, of which for 7 years he acted as COO and 6 years as CEO. Under his leadership, Siódemka has become one of the most important players on the polish CEP market. Jarosław is a performance oriented executive who transformed and transit the companies that he managed to achieve excellence in service performance.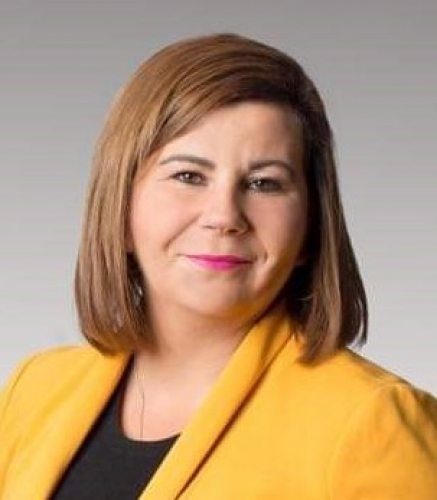 Izabela Markowska
Sales Manager Packaging Department at  VP Polska
Izabela Markowska – from 10 years Sales Manager Packaging Department at VP Polska, leader in Europe in production of self-adhesives document pouches, air bubble envelopes, paper bags and medical packaging.
Izabela is an expert in e-commerce packaging materials and for many years she successfully developed sales in Poland and Southern Europe.
Alexandr Jeleascov
CEO of Packeta Romania
Alexandr coordinates the expansion of the Packeta group in Eastern Europe. With over 10,000 own pick-up points in countries such as the Czech Republic, Slovakia, Poland, Hungary and Romania and with over 92,000 partner pick-up points, is the largest pick-up points network in Europe. At the same time, Packeta Group is a global digital platform that connects over 32,000 e-shops with customers in Europe, USA and UAE.
Răzvan Drăgoi
Deputy General Manager, Smart ID
Răzvan Drăgoi, is Deputy General Manager in Smart ID. In this role, Razvan is responsible for designing new development strategies for the company, especially in the logistics, production and retail sectors.
Răzvan Drăgoi comes with over 17 years of experience in management and strategic management, and over 8 years of experience in B2B / B2C sales. Until December 2019, Răzvan held key roles within the FAN Courier company where he successfully developed and implemented the Regional Franchise Management mechanism, the first Romanian Courier School, the first mobile application and the first delivery payment service dedicated to FAN Courier customers. .
With a solid background in Business Intelligence and Lean Six Sigma certificate (Black Belt), Răzvan Drăgoi participated, also within the FAN Courier company, in the development, coordination and implementation of two consecutive cycles of strategic management - Balance Scorecard, played a role active in the design, construction and launch of the new Vanderlande sorting HUB.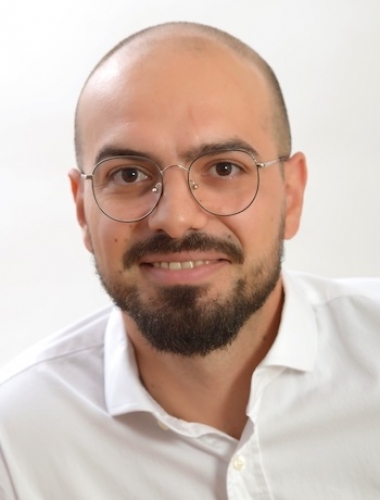 Cristian Bârsan
Enterprise Account Manager Eastern Europe la Honeywell Safety & Productivity Solutions
Cristian Bârsan is Enterprise Account Manager Eastern Europe at Honeywell Safety & Productivity Solutions, Productivity Products Division and manages the direct relationship with Honeywell customers in Romania, including the main players in the courier industry.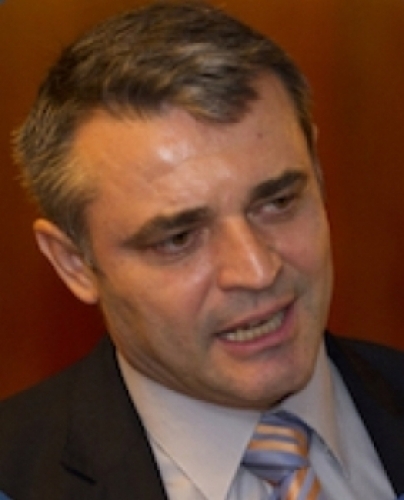 Dan Turcu
General manager Ro SYSTEC Group
After completing a challenging military career, such as the First Gulf War and Romania's accession to NATO, Mr. Turcu entered civilian and business life, especially logistics, as director of operations, and developed a multinational company in Romania. French . After graduating Executive MBA in 2005, Mr. Turcu founded RO SYSTEC GROUP and became the Romanian representative for several foreign companies that produce equipment and postal and logistics solutions: BOWE SYSTEC, SIEMENS, NEOPOST, VIPS FRANCE.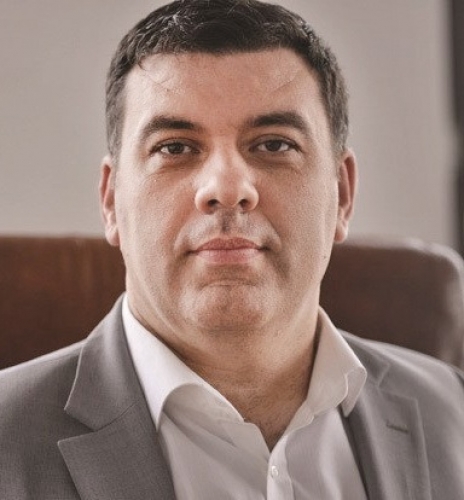 Marian Seitan
General Manager of the Mediapost Hit Mail
Marian Seitan, MBA, is the General Manager of the Mediapost Hit Mail group. He founded the Hit Mail company in 1997 and was one of the pioneers of direct marketing in Romania. Under his leadership, Hit Mail has launched year after year the main direct marketing tools in Romania and has become a veritable direct marketing school for many marketers. He is also the president of ARMAD (the Romanian Direct Marketing Association). Mediapost Hit Mail group is currently the biggest direct and relationship marketing group in Romania, with a turnover of 23 million Euro in 2018. It is owned 100% by the French Post. Marian Seitan is also an investor in 5 companies from different fields of activity. His expertise is situated at the interdisciplinary intersection between logistics, marketing and IT.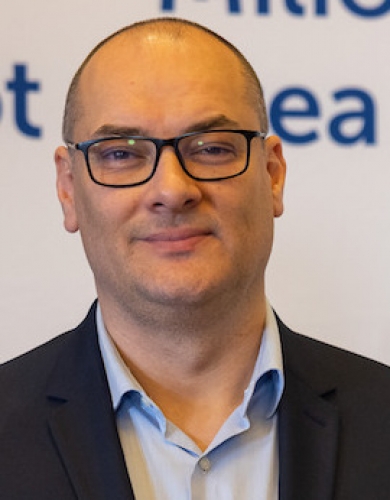 Dragoș Arnăutu
CEO of FAN Delivery
Although he graduated from law school, Dragoș Arnăutu chose to follow a completely different path. And "road" is a word that could not be more appropriate, because his entire career is related to transport, logistics and courier.
With over 20 years of experience in the field, Dragoș has worked in renowned companies in the courier industry and has been with the FAN Courier team since 2020. In 2021, he accepted the challenge of coordinating the FAN Delivery project as CEO. His expertise in logistics, but also his entrepreneurial spirit helps him to transform FAN Delivery from a pilot project to a national one.
Sponsors
Supporting Partners
VP Group
The VP Group is one of Europe's leading manufacturers of reliable and innovative packaging solutions for various applications. Founded in 1896, we are now successfully in our fourth generation as a family-owned company. We provide security, reliability and partnership for customers, employees and suppliers as the centre of our businesses. As a 100% climate neutral group, we pursue ambitious goals in order to consolidate our pioneering role in climate protection.
Media partners
Venue
Hotel Radisson Blu
BUCHAREST
Phone: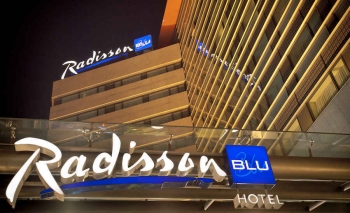 Forumul Român de Servicii de Curierat și Servicii Poștale va avea loc la Hotel Radisson BLU sala Atlas
Opțiuni de participare:

Taxa de participare este de 59 € + TVA / persoană.