Events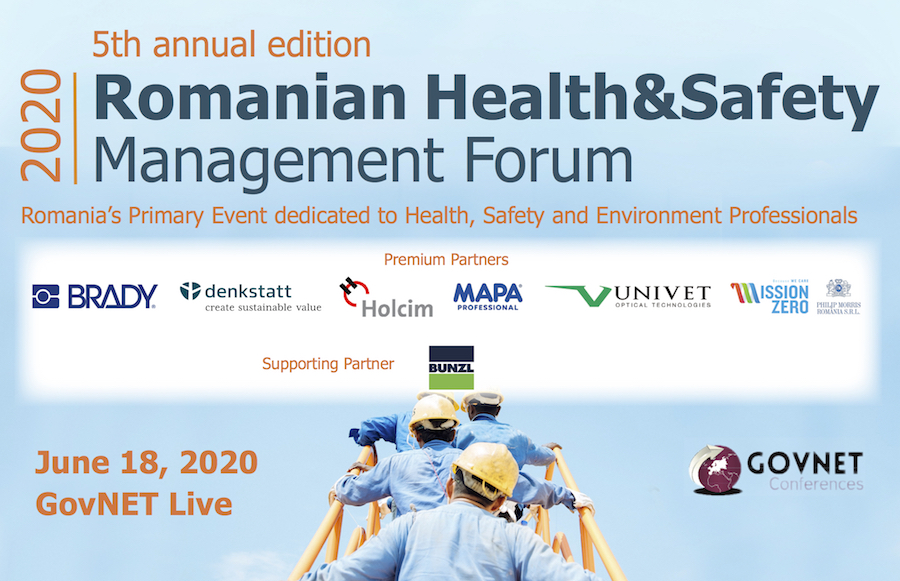 Romanian Health and Safety Management Forum 2020
June 18, 2020, E-CONFERINTA PLATFORMA ZOOM,
Romania's must attend e-conference for Health, Safety and Environment Professionals
Health and safety environment is undergoing through dramatic challenges this year. The way people work, interact and stay healty have changed forever.
This year, at the 5th edition of the Romanian HSE Management Forum we bring you in a novel online format industry experts, managers, health and safety decision-makers and service providers to discuss current challenges and how to overcome current obstacles and implement new ideas.
We invite you to be part of our 2020 HSE Management Forum and share information and innovative ideas with your peers.
KEY ASPECTS
The 2020 HSE Management Conference is set to be a must-attend event for everyone across the industry and beyond. It is expected to attract international and local industry specialists, operational and HSE staff, key service providers, government representatives and regulators.
It provides an essential forum for the industry to share knowledge, lessons and expertise and work together to achieve high HSE standards across all of the industry's activities.
"The future of H&S management through performance and innovation"
Who Should Attend
Health, safety, and environment specialists
Health, safety, and environment engineers
Safety and operations managers
Compliance officers
Environmental professionals
Business development managers
Other professionals concerned with health, safety, or the environment
Registration conditions:
The program and the speakers are subject to change. Should the conference be cancelled due to force majeure, unavailability of the conference venue, speakers being prevented or for other good cause, the organizer reserves the right to cancel the conference.
Data protection and sharing of contact details
The Conference Organizer will collect and store your personal datafor the preparation and execution of the conference as well as to inform you about future projects related to your sector and line of work. Your contact data will only be passed on to partners directly involved in the conference organization process as partners for follow-up purposes. If you have any questions about our privacy policy and the processing of your e-mail and related personal data, do not hesitate to write us at sales@govnet.ro
Program
10:00 - 10:05

E-conference start

Participants welcome and introduction of speakers

10:05 - 11:00

PRIMA SESIUNE

Modul în care profesioniștii în domeniul SSM trebuie să gestioneze actualul context pandemic

Radu MUICĂ

- HSE Director la E.ON Romania si Delgaz Grid

Provocările unui mediu în schimbare pentru sănătate și siguranță in muncă​

Gino LAIOS

- Senior Manager Security & Market Safety – Regiunea EU, Philip Morris International

Adaptarea - punte între doua lumi

Madalina GOGORICI

- Health & Safety Manager, Holcim

Siguranța in contactul cu furnizorii

Alin MOLDOVAN

- Country Manager Romania & Bulgaria, Mapa Professional

​Soluții pentru sănătatea oamenilor și a locului de muncă

Raluca DINA

- Project Manager, ID Process

11:00 - 11:30

Guest Speaker

PERSOANA in cultura de siguranță și sănătate

De ce leadershipul va fi și mai important in perioada post Covid și cum trebuie implementat

Unde se încadrează bunăstarea și sănătatea mintală​

Dr. Tim Marsh

- Founding Partner, Anker & Marsh




11:30 - 12:30

A DOUA SESIUNE

Provocări actuale în gestionarea sănătății și siguranței lucrătorilor

2020 - Jurnal de Revizie

Felicia ANDREI -

QHSE Director – BU Refining, Rompetrol Rafinare

​Protecția ochilor - vitală in contextul actual

Simona DINCA

- Country Manager, Univet

Provocarile tranziției catre un nou mod de lucru - Teleworking

Gabriela FISTIS

- Managing Director, denkstatt Romania

Noi riscuri care apar în timpul și post pandemie și moduri de a le depăși

Eugen MUNTEANU

- Health and Safety Manager, Vodafone

12:30 - 13:00

SESIUNE Q&A

Sesiune finala de intrebari si raspunsuri
Speakers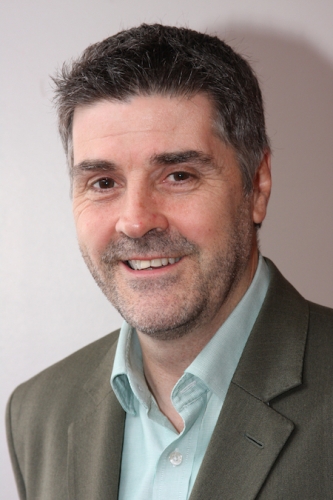 Prof. Tim Marsh PhD MSc CFIOSH CPsychol SFIIRSM
Founding Partner at Anker & Marsh
Professor Tim Marsh is considered a world authority on the subject of behavioural safety, safety leadership and organisational culture, was awarded a "President's Commendation" in 2008 by the International Institute of Risk and Safety Management and was selected to be their first ever 'Specialist Fellow' in 2010.
Prof. Marsh was one of the team leaders of the original UK research into behavioural safety (in construction) in the early 1990s and is one of only a few Chartered Psychologists who are also Chartered Fellows of IOSH.
He has worked with more than 400 major organisations around the world, including many international oil and gas, utility, chemical, transport and manufacturing organisations as well as the European Space Agency, the BBC, the National Theatre and Sky.
He ran the "Behavioural Safety" and "Pro-Active Safety Culture" courses for IOSH and created the award winning "Affective Safety Management" concept for the IIRSM. The book of the same name is now one of Europe's best ever selling safety book – as is the second of Tim's books "Talking Safety". Recent books include "Total Safety Culture", "Safety Savvy" and "A Definitive Guide to Behavioural Safety". Previously a visiting lecturer at Manchester University and Loughborough University. Chair, Safer Highways 2017-19.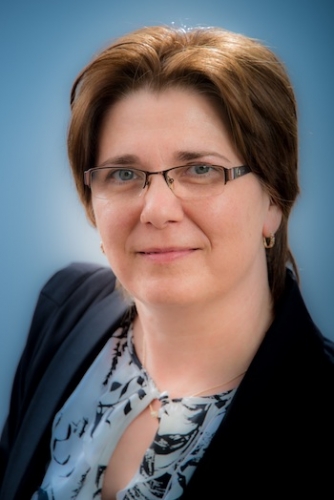 Gabriela Fistis
Managing Director, denkstatt Romania
Mrs. Gabriela Fistis has a bachelor's degree in chemical engineering and a master's in non-polluting technologies from Polytechnic University of Timisoara. She has successfully finished her PhD Studies in 2018 in Engineering and Management area with the thesis named" Sustainability of Organizational Systems - a possible strategic model". With relevant experience in industry and consultancy Gabriela Fistis has over 21 years' experience in sustainability consultancy and training (capacity building), using her expertise in different types of projects as Project Manager and expert related to sustainable development. With a vast experience of more than 21 years who has gone through both the research, industrial and management consulting sectors, she is currently focusing on finding solutions to achieve sustainability management performance with both private organizations and state institutions. She is a professional trainer for the European ECQA Certified Sustainability Manager training program and has been part of the international team of trainers who have trained the first Sustainable Managers in Romania.
She believes that respect for the environment and respect for people is essential when it comes to evolution. She strongly believes that evolution requires change, and when it comes to sustainability, we are talking about principles, values ​​and behavioral changes. She is among those who promote change and focuses its efforts on supporting those who understand or do not understand the need for change. It fights for the needs of future generations and believes that their needs will be very different from the current ones, that our responsibility is to create the evolutionary context conducive to a balanced future.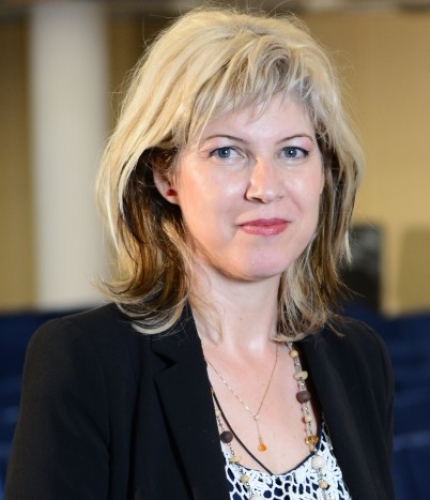 Felicia Andrei
DIRECTOR QHSE – ROMPETROL RAFINARE
Ms. Felicia Andrei is a graduate of the Polytechnic Institute of Iasi, Faculty of Industrial Chemistry, section Technology of High Molecular Compounds. She began working on the Petromidia platform in 1988 as a trainee engineer and became a member of the commissioning team for the LDPE Unit, collaborating with Romanian and foreign prestigious companies. Since 2010, Ms Andrei has been providing QHSE management for Rompetrol Rafinare- Petromidia Navodari and Vega Ploiesti refineries, while also being responsible for coordinating the project to improve the safety culture at industrial sites, LDAR project, REACH registration for chemical substances, CO2 management, etc.
She holds certificates for ISO 9001, ISO 14001 and OHSAS 18001 auditor/lead auditor (IRCA, Germanisher Lloyd) and also received training in other additional courses necessary for successful work in the current position - Leadership & Software for research HAZOP, SIX SIGMA, etc. She also received the General International Certificate for Health and Safety NEBOSH and the Technical International Certificate for Industrial Safety in the oil and gas industry.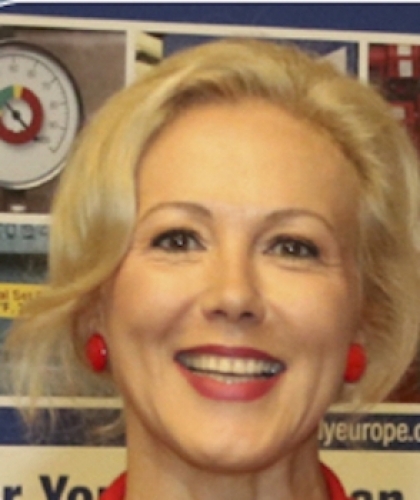 Simona Dinca
Country Manager, Univet
Simona Dinca graduated the Polytechnic Faculty of Bucharest as Automotive Engineer and holds a Master diploma in Business Administration of IDE CNAM.She has an overall sales and management experience of 26 years out of that 20 years in security systems/ integration and 6 years in labour, health and environmental security.
Simona has been during 2013-2018 Territory Sales Manager Romania and Bulgaria for Brady Corporation https://www.bradyid.com, managing over 20 strategic direct accounts and 9 distributors over 2 countries, she has set the basis of stable and sustainable growth of the Brady business, throughout its entire solution and product portfolio.
Starting 2019 Simona started the cooperation with the Italian safety glasses producer Univet https://www.univet.it as Country Manager. Univet is one of the leading European manufacturers of safety eyewear, having remarkable competences in the field of design, technology and reliability.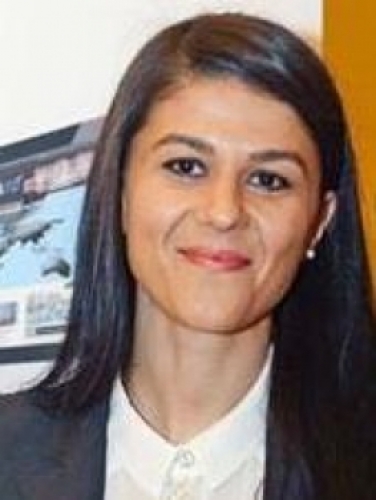 Raluca Dina
Project Manager at ID Process
Raluca Dina has more than 8 years of professional experience in health and safety solutions linked with Lockout Tagout, safety ID, working at height, personal protective equipment, ISO labeling and services including supply, installation, user training, warranty and maintenance of all types of safety systems. She has lead the implementation of dozens of personalized projects for a variety of multinational corporations, covering a wide range of industrial sectors like Oil & Gas, Automotive, Utilities, Telecom, FoodBeverage, Wind Energy, Construction and metallurgical industry.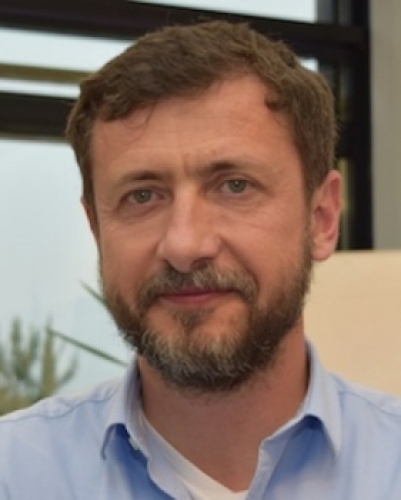 Gino Laios
Senior Manager Security & Market Safety – EU Region, Philip Morris
With over 20 years of experience, Gino has been directly involved in a series of international and local strategic projects in areas of operations, finance, investment, acquisitions and environment, health, safety and security. He started his career in the hotel industry, participated to the development and construction of the Philip Morris factory in Otopeni (Romania) and other Philip Morris factories within Europe and Asia as part of the management and project teams and also as coordinator from central function. Gino leads the environment, health, safety and security department of Philip Morris with responsibilities for the legal entities of the EU market.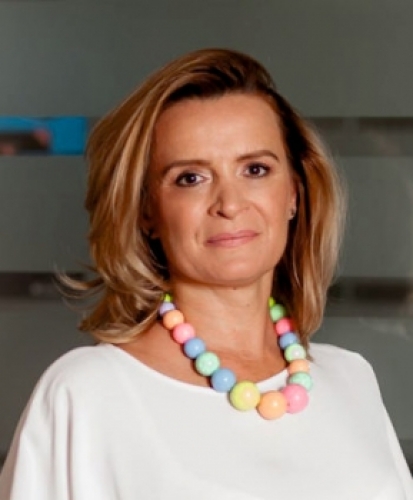 Madalina Gogorici
Health & Safety Manager at Holcim
Madalina Gogorici plays a key role with Holcim Romania as National Health and Safety Manager, since 2017.
With a strong academic background and over 20 years of experience in the industrial field, Mădălina coordinates the management program implementation for health and safety and such activities within Holcim Romania plants and locations for approximately 1600 employees. Previously to Holcim Romania, she held different positions as health, safety and environmental manager in large oil & gas companies. During her professional activity, she achieved significant performance in managing health and safety policies in a demanding environment."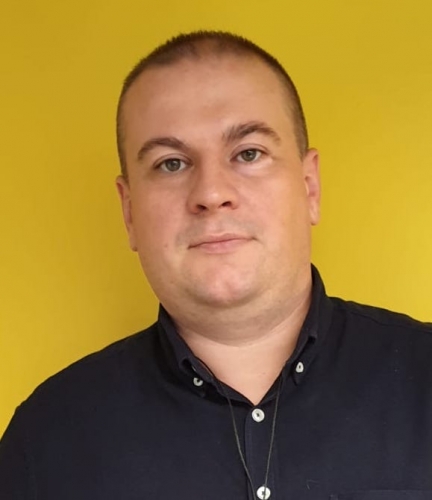 Eugen Munteanu
Health and Safety Manager Vodafone
Sociable, open and confident, Eugen has been working for 15 years in the fields of management systems, while gaining experience from the perspective of Quality, Environment, but also Health and Safety Management. Eugen is a graduate of the Gheorghe Asachi Technical University - Iasi, Department of Environmental Engineering within the Faculty of Hydrotechnics.In the approximately 8 years spent at Vodafone, he has contributed to improving the Health and Safety performance of the company and its main suppliers, but also to maintaining an adequate culture of safety and health at work, both by interpreting internal standards and specific legislation, and following recommendations of highly qualified specialists in the field of Health and Safety and telecom industry.
Radu Muică
HSE Director la E.ON Romania and Delgaz Grid
With over 15 years of experience in the onshore and offshore oil and gas industry he now occupies the Director of HSE for "E.ON Romania (Regional Unit)" position, starting with November 2017. Before joining E.ON, he held various management roles in QHSSE, in Romania and other challenging environments like West Africa and Middle East. With a strong focus on Behavior Based Safety and HSE culture, he now leads the continuous improvement of the HSE culture within the Regional Unit of E.ON Romania, covering both Energy Networks business area (Delgaz Grid SA - Power and Gas distribution networks) and Customer Solutions area (different companies with specific profiles based on business needs), with more than 6000 employees.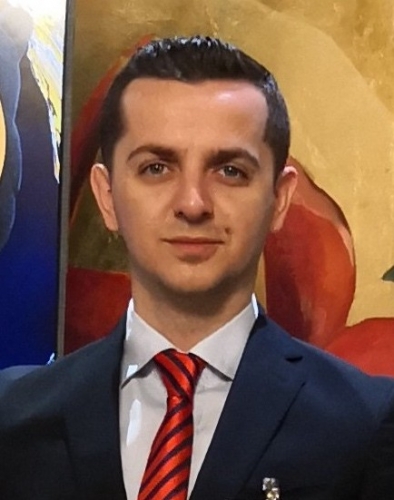 Alin Moldovan
Country Manager Romania and Bulgaria, MAPA Professional
Alin is a graduate of the Lucian Blaga University of Sibiu, International business administration. With +12 years of experience in testing and implementing industrial products, with the last 5 years implementing Mapa Professional products on the Romanian and Bulgarian market. He is managing all distributors and key accounts as a Country Manager for Romania and Bulgaria since 2015, with a wide range of industries as automotive, aviation, white appliance, utilities, aeronautical.
Sponsors
Co-organizer

GovNET Conferences
Partner with GovNET Live events and engage with a specialized audience of Health and Safety specialists and industry experts. Engage with prospects and gain a real understanding of their investment priorities in these special times.
Leverage on GovNET specialized database and relationship with Senior Executives, HSE Community and Industry Professional Associations.
Opportunities must be seized and challenges must be turned into growth.
Contact us at sales@govnet.ro to benefit from exposure and speaker opportunities
Supporting Partners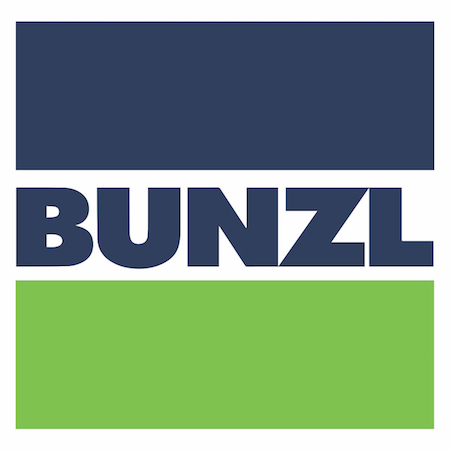 BUNZL
We are a focused and successful specialized international distribution group with activity in Romania since 2005. Our products covers four areas: personal protection, professional cleaning, packaging and gastro equipment. By outsourcing to us the purchasing, consolidation and distribution of a broad range of everyday items, our customers are able to focus on their core businesses. The value we are adding continuously to numerous businesses around the globe, has made from Bunzl a well-known and recognized international distribution company. Bunzl is adapting constantly to the evolving business environment and is focusing on organic growth, acquisitions and operating efficiencies.
Media partners
Venue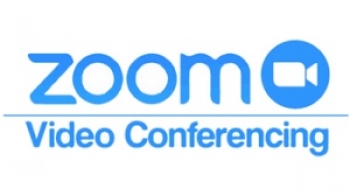 Procedura de accesare a videoconferinței pe platforma de webinar ZOOM
Accesare ZoomMeeting în browserul de internet
- Se accesează link-ul oferit de către GovNET pe e-mail, apoi click launch video
- Se introduc Meeting ID și parola (din mailul primit)
Se deschide aplicația ZOOM, unde ne putem conecta CU CONT existent, CONT NOU sau FĂRĂ CONT
This year's conference is over. For details and participation in the 2021 edition, please contact our conference department at sales@govnet.ro