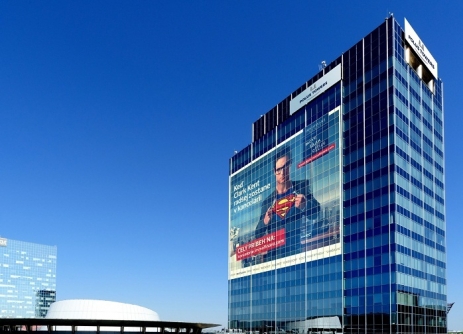 Based on the slogan launched last year – 'more than office', the real estate group Immofinanz starts the brand image campaign, 'Even Clark Kent prefers to stay at the office'. Having Warner Bros. Consumer Products Germania as partner, Immofinanz aims to identify with one of the most popular superheroes ever, the DC Comics character, Superman and his civil identity, Clark Kent shows a company release.
'Our asset management follows a clear customer-oriented approach that we already summarized last year through the slogan 'more than office'. We offer more than just an office space to rent, we focus on our tenant and his staff. The Superman campaign takes this idea and promises a recognition of the value of our offices and our knowledge that will go beyond the borders of a single country.', Dietmar Reindl, Offices and Logistics Director of Immofinanz Group, said.
Through this extensive campaign consisting of various promotion tools and that will be run in several countries where the company operates, the real estate group emphasizes its proficient services as well as the concept of a perfect office. So, there have been released three commercials recently, in collaboration with Warner Bros. Consumer Products (from DC Entertainment), in Austria, Poland, Czech Republic, Hungary, Slovakia and Romania. The campaign is mainly focused on online advertising and outdoor digital, the estimations indicating an audience of over 100 million views.
'Image campaigns have sought to protect real estate business until now. We've decided to make this change to identify Immofinanz as an international brand leading the real estate business. Our target is, that when someone thinks about offices, to associate it with Immofinanz, a companie widely present, flexible and customer-oriented', Karin Kernmayer, Marketing Director of Immofinanz Group also said.
Immofinanz Group is one of the Europe's most important investors and real estate developers. The Group's offices portfolio includes 100 existing properties with a market value of EUR2.61 billion, equivalent to 28.3% of the company's entire portfolio.