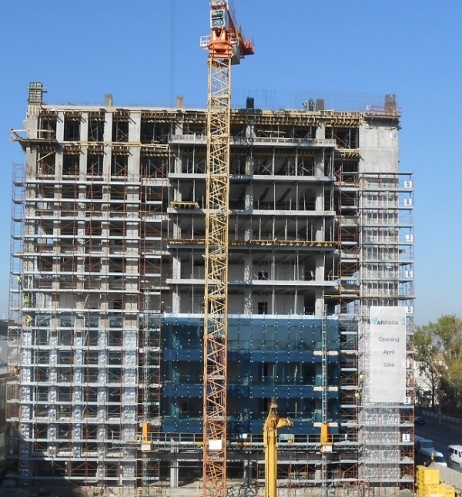 In a real estate market facing a decline lately, where investors moved their businesses away and the remaining ones struggle to keep afloat, AFI Europe succeeded to fully lease its office building, AFI Park 2 to Electronic Arts. This is AFI's biggest and most important lease in Romania this year, moreover since the building is still under construction. Afi Park 2 has a built area of 20.000 square meters and a leasable area of 12.000 square meters, being the second largest building out of the five that will be included in the AFI Park office complex located near AFI Palace Cotroceni shopping center.
The lease arrangement was intermediated by Jones Lang La Salle, the EA's exclusive global representative and The Advisors/ Kinght Frank, which has a corresponding position in relation with AFI Europe.
'We believe that this extensive lease concluded with a top U.S. company opeating in the dynamic and attractive technology field is the most important lease transaction for the Romanian maket in 2013 and a proof that Romania is ahead some competitive countries in Central and Eastern Europe, such as Poland, Hungary, or the Czech Republic when it comes to IT&C. AFI Park 2 provides differentiated solution for the tenants' specific needs.' Marius Scuta, Director of the Office Division at Jones Lang La Salle, said.
In fact, AFI Park 2 was designed according to the EA's technical specifications which provide high and specific electricity criteria, HVAC system as well as infomation security requirements, being a strong argument in the US company's decision to relocate and expand here, David Hay, AFI Europe Romania CEO, also explained. He further added that: `Due to an interest showed by multinational companies towards AFI Park and considering that the second building is fully leased and we already find ourselves in advanced negotiations for a pre-lease for a 6000 square meters area in the thirs building, AFI Park 3, currently under construction and to be completed by the end of 2014, AFI Europe plans to begin the construction of AFI Park 4 and 5 next year.'
AFI Park 2 is scheduled to be delivered in April 2014. Part of AFI Park and having a similar leasable area to AFI Park 1, the office building is equipped with six elevators, a cutting-edge energy saving system, has a 170 car parking lot in the underground and currently the building follows the procedures to obtain the LEED (Leadership in Energy and Environmental Design) Gold certification. The business park is located near AFI Palace Cotroceni, becoming the largest retail and office complex in Romania and in Europe, at the same time.
AFI Europe is a leading real estate development and investment company operating in Central and Eastern Europe and focusing on the development of large-scale commercial and residential projects.