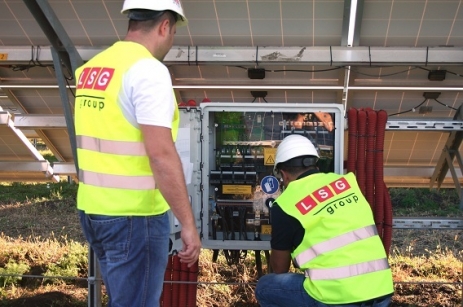 Source: Skytron Energy
Skytron Energy has been awarded a 50MWp photovoltaic project by Romanian EPC company LSG Building to provide monitoring and controlling services. Given the challenging Romanian specifications related to the construction of PV power plants, the German company's support is essential so that the afferent requirements are met. Besides this new project scheduled for commissioning by the end of this year, Skytron and LSG checked two other PV projects together – a 45MWp plant and a 20MWp plant, both in Giurgiu district, these projects being in accordance with the special requirements of the Romanian grid system. The same is the new one that by benefitting from Skytron's expertise will meet the requirement for power feed set by local authorities and the need for frequency support by providing balancing power, now mandatory in Romania, with retrospective effect.
Based on these requirements, Skytron energy implemented its power plant controller which provides control services at various levels to PV plants. For instance: 'For balancing power, the controller adapts the active power feed into the grid in response not only to changes in the grid frequency, but also with respect to the photovoltaic power the plant can generate at that instant. This requires calculating the available PV power on the basis of the plant status information provided by Skytron's real-time condition monitoring system. This frequency stabilization function is unique in that it has been implemented without the need for expensive energy storage facilities. This is a first for photovoltaic power generation.' is explained in a Skytron's press release.
All three plants which benefit from Skytron's closed-loop active and reactive power control are connected to Transelectrica's 110 kV high-voltage grid communicating with the grid operator's own SCADA system.
Skytron energy is one of the world's leading developers of monitoring, control and supervision systems for renewable energy power plants operating in this branch since 1997. Being specialized in plant condition monitoring, power plant control, remote plant supervision or PV asset management, amid others, Skytron has installed monitoring and control systems in more than 600 plants with a total capacity of over 4.5GWp.