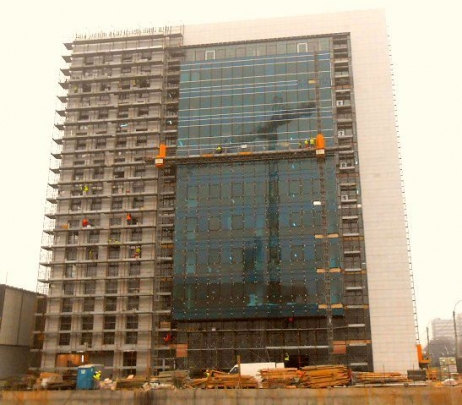 AFI Europe Romania rents out almost half of the leasable area in its new office building, AFI Park 3, to the British IT company, Endava. The contract was concluded for 40 percent (5000 m2) of the total area, being the first one AFI signed in 2014, a company release informs. This agreement includes the lease of four floors of this third office building part of the AFI Park project, as well as the possibility to extend to other areas, according to Endava's development plan. As the company currently runs its operations from AFI Park 1, once the new building will be completed, in December 2014, it will be relocated there.
"Endava is one of our key strategic partners on long term and we are happy that AFI Park manages to meet the requirements of the company's business plans, providing suitable space, both in terms of technical specifications and development needs, as well as considering the delivery time required. The results we have with the leases - AFI Park 1 being 100 percent leased, AFI Park 2, having 96 percent of the available area leased, respectively, and the recent pre-lease contract for AFI Park 3 signed with Endava encourage us to start building other 27.000 m2 leasable area in AFI Park 4 and AFI Park 5 in the first quarter of this year.", David Hay, CEO AFI Europe Romania, said, as per the same source.
The IT company is one of the most active employers in this sector, having over 1000 employees working in the three offices it operates in Romania. With almost 300 people working in the Bucharest-based office, the company aims at increasing the number of its employees up to 400 by the end of the current year. Hence, it is expected an expansion of the leasable area AFI will provide in its new office building.
Besides Endava, AFI Park is of high interest to other companies in the IT&C industry, enjoying an outstanding demand for the project. Thus, the two floors Endava will release for relocation, have already been leased, together with the entire 3000 m2 area available on the ground floor of AFI Park 1.
AFI Europe is a leading real estate development and investment company operating in Central and Eastern Europe and focusing on the development of large-scale commercial and residential projects. In Romania, the company is one of the most dynamic investors in the real estate sector, developing shopping malls projects, such as AFI Palace Cotroceni, or the newer AFI Palace Ploiesti and business parks - AFI Park which is located near the Bucharest-based shopping mall.