Economics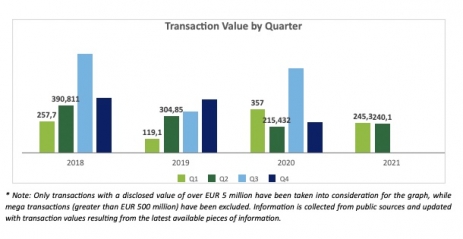 July 12, 2021 16:51
Romania's mergers and acquisitions (M&A) market recorded 54 transactions in the first half of the year, compared to 42 for the same period in 2020. Deloitte estimates total market value for both disclosed and undisclosed transactions at aroun
more »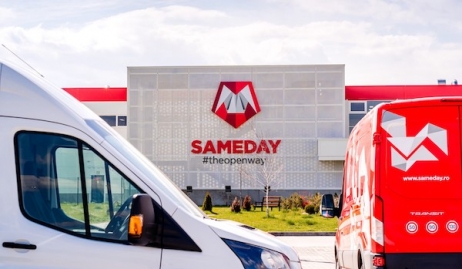 July 08, 2021 11:15
Sameday, one of the leaders of the courier market, celebrates 14 years since its founding and enters a stage of maturity, as the company pursues international development. "The 14 years that Sameday has turned are, for me, proof that, in order to
more »

June 30, 2021 10:24
CITR, part of Impetum Group, has been appointed judicial administrator of the Diverta bookstore network, the largest integrated retailer in the field of books, stationery and toys, which has requested its entry into insolvency as a result of diffic...
more »

June 29, 2021 15:28
Climate change risk is an increasingly significant driver in investment models and has been cited by almost 90% of institutional investors as the most significant ESG (environmental, social, governance) factor influencing their decisions to invest ...
more »

June 28, 2021 12:15
Axionet IoT, local company responsible for the development of the regional network of charging points for Polyfazer electric cars, with over 100 stations in Romania alone, announces the signing of a strategic partnership with the Altex Group in ord...
more »

June 18, 2021 09:34
The top five largest companies and the group of companies specialized in consultancy services to attract European funds and state aid experienced a fast-track increase in financial performance during 2020, also marking developments of more than 190...
more »

June 14, 2021 13:07
The Romanian Diversity Chamber of Commerce and the Embassy of Sweden in Romania have signed a Memorandum of Understanding to set out the framework for their cooperation in promoting equality, diversity & inclusion in Romania. The RDCC an...
more »

June 02, 2021 10:54
Arçelik, one of the main players in the electronics and home appliances industry, owner of Arctic, the largest home appliance manufacturer in Romania, announced the issuance of green bonds, a premiere on international markets from an industrial co...
more »

May 28, 2021 18:27
About 3,500 companies that are part of the "green list" for non-reimbursable financing, out of a total of 27,000, that applied for financial support through Measure 3 supporting investments in Romania, a project announced by the Romanian Government...
more »

May 25, 2021 11:01
In 2020, global renewable energy capacity investments grew 2% to US$303.5b, the second-highest annual figure recorded to date despite the impact of the global COVID-19 pandemic. However, the 57thEY Renewable Energy Country Attractiveness Index (REC...
more »