Economics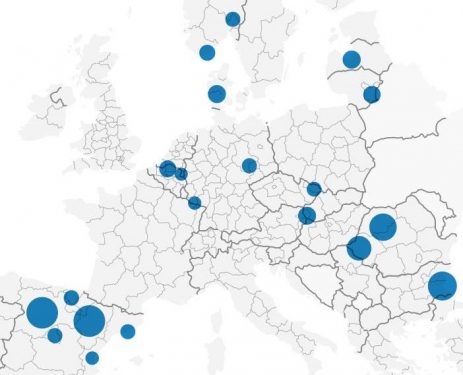 October 08, 2019 15:03
EU data reveals strong growth for freight trade airports in Eastern Europe. Three airport hubs in the Balkan region rank in the top 5 fastest growing over the last decade, and six airport hubs in the wider Eastern European region rank in the top 10.
more »

September 20, 2019 11:08
The bankruptcy of RAFO arises as a natural consequence of the fact that the investors' intentions did not materialize in a transaction, corroborated with the expiration, on August 22, a.c., of the company's reorganization plan, of 18 months. It is
more »

September 18, 2019 10:03
The European Commission has approved, under the EU Merger Regulation, the acquisition by E.ON of Innogy's distribution and consumer solutions business as well as certain of its electricity generation assets. The approval is conditional on full comp...
more »

September 17, 2019 11:38
Dunwell, the biggest Industrial Real-Estate agency in Romania, exceeded 35% of the total logistics and industrial transactions in the first half of 2019, with more than 45,000 sqm transacted, strengthening its position in the top brokerage agencies...
more »

September 13, 2019 16:06
Ingka Group, part of IKEA group declared the intention to buy an 80% stake in seven Romanian wind farms from Vestas for an estimated 136 million euros. Ingka Group said the acquisition, made through its investment arm, consists of 64 turbines with a total production capacity of 171 megawatts, and followed the purchase of a stake in Germany's second-biggest offshore wind farm earlier this year....
more »

September 13, 2019 15:54
by Iulian Sorescu, Financial Advisor, Auditor at NOERR On 12 September 2019, the Ministry of Public Finances published two new draft amendments to state aid legislation, specifically the state aid scheme governed by G.D. 807/2014 on investme...
more »

September 06, 2019 14:38
The 36% VAT collection deficit places Romania, for the 5th consecutive year, in the top spot in the ranking published by the European Commission (EC) on September 5, 2019. Compared to 2013 and 2014 when the difference between the amount actually co...
more »

July 23, 2019 10:13
The media and entertainment industry in Romania will reach the USD 3 billion threshold in 2019, 7.1% up from 2018, but remains the smallest market in Central and Eastern European (CEE), according to the 20th edition of PwC Global Entertainment &amp...
more »

July 17, 2019 12:05
Olympus, one of the largest dairy producers in Romania invested 4 million euros in a biogas plant, located on the platform of the Halchiu Olympus plant in Braşov County. The station produces an average of up to 600 cubic meters of biogas per hour ...
more »

July 15, 2019 12:12
The mergers and acquisitions market in Romania revealed a significant growth in the second quarter of the year, compared to the first quarter and to the same period in 2018 as well. According to Deloitte estimates, the total market value, including...
more »