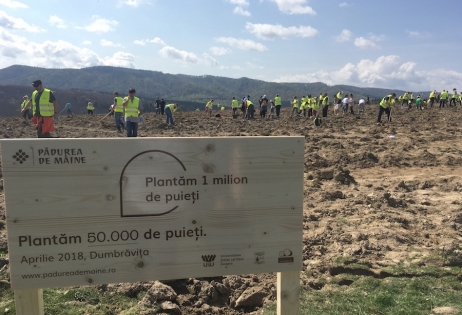 On April 14, the "Forest of Tomorrow" ( Padurea de Maine) project mobilized about 200 volunteers who helped reforest 10 hectares of the Dumbrăviţa village, Braşov county. Members of the local community joined the students of the Faculty of Forestry and Wood Engineering at Transilvania University from Braşov, forestry staff, volunteers coming from different parts of the county, and Holzindustrie Schweighofer employees from the Reci and Sebeş timber factories to plant some of the 50,000 sour cherry, ash and maple saplings. The "Forest of Tomorrow" was launched in September 2017 in partnership by the Association of Forest Administrators, "Stefan cel Mare" University in Suceava and Holzindustrie Schweighofer, in order to help private owners and local governments to reforest forest areas with regeneration difficulties.
The planting area in Dumbrăviţa, Braşov, was transformed into pasture land in the 1950s and 1960s and the land was again included in the forest fund in 2004, without the funds needed for reforestation. The City Hall managed to plant 16 hectares of oak and ash in 2016-2017, and the "Forest of Tomorrow" project continues these efforts.
The reforestation documentation was developed by the Local Public Authority of Măieruş R.A., which manages the area and will supervised the planting, completion and maintenance of the plantation, provided by a reforestation firm throughout the project, 2018-2023.
"It is the first of six areas selected for this year under the "Forest of Tomorrow" project. After Dumbrăviţa there will be areas from Suceava, Maramureş, Bistriţa-Năsăud, Covasna and Harghita, scheduled according to weather conditions" said Ionut Apostol, the coordinator of the project.
Under this project, over 21,000 seedlings were planted in 2017, and this year 142,640 seedlings will be planted on 34.9 hectares. The financial support amounts to over 1 million euros to plant 1 million seedlings during the 7th years of project, covering supplies saplings, planting material, logistics, volunteers and specialists.