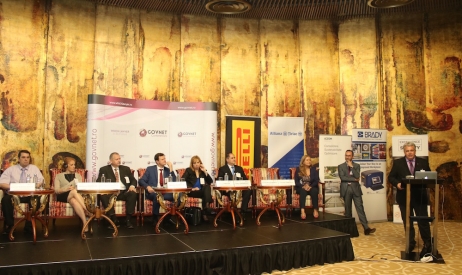 Source: 2016 HSE Management Conference
The 2016 HSE Management Conference organized on June 14 in Bucharest was the perfect discussion and networking place dedicated to specialists and experts in HSE, a platform of best practice sharing for those developing and integrating strategic safety and health programs within companies.
The event brought together industry, government, and academia to share best practice experience and innovative solutions to be compliant with rules and regulations, tailored as an essential forum for the industry to share knowledge, lessons and expertise and work together to achieve high HSE standards across all of the industry's activities.
Understanding the latest regulations and compliance issues is one of the keys in a H&S professional's everyday activity. That is why it is important to find out the view of the authorities on the changing approach to health and safety regulation.
Dantes Nicolae Bratu, General State Inspector within Labour Inspection, is aware that the regulations enacted in 2007 need to be changed, although the Health and Safety law fully corresponds to the European Union's H&S framework directive: "I wish the large companies had a much more interactive activity concerning the relationship with Labour Inspection. This way, we know what the market wants and how we can regulate it." Regarding the national map of incidents, he says: "The national trend is descendent- work accidents dropped by 40%. Last year we had 4000 accidents and over 180, deadly. (….)"Our purpose is not to penalize the companies. Over 90% of our inspection work consists of prevention, and only 10% fines, which are not a purpose themselves, and they are not promoted by our institution",he assures.
In Doru Darabont's opinion, General Manager of the National Institute for Research and Development in Occupational Health - the host of one of the 28 focal points of the European Agency for Health and Safety at work present in all member states, "The human being is the most important asset an organization has. Our research is mainly focused on knowledge transfer towards economic agents and most part of our activity consists of contracts with these. Security culture is an element any company needs, but unfortunately, we have to admit that this is a poor aspect for many of them."
Anca Pricop, Head of Department for Occupational Health and Safety Service within the Social Insurance Division of Ministry of Labour, Family and Social Protection, on the changes that were made by changing the H&S regulations in 2007: "in my point of view, the fact that this legislation allows the employer to take on whatever preventions he considers appropriate according to the work conditions is a benefit because we, as legislators, we cannot contour all cases, we cannot change the legislation once an element in the structure has changed."
According to Pricop, incident investigation and root cause analysis are some of the most important aspects. "Most of the state institutions regulating the field have a prevention function. 0 accidents in companies is not our purpose anymore. We want to reduce the absenteeism, and you should take a look at the causes of sick leaves because only like this you can prevent ulterior occupational diseases or work accidents", she says, adding on the novelties that "there is a European strategic framework for 2014-2020. We don't have to fully transpose it, we might elaborate a national strategy that will be subject to public consultations and that will take into consideration the European objectives, but also the national interests. We were evaluated altogether with the other member states by the European Commission 2 years ago and Romania is not doing badly."
Mihnea Samoila, Health Manager at OMV Petrom, talked about the leading change for building a health culture: "The hope for healthy life, that is number of years without disabilities is 57.7%. OMV Petrom developed in 2014 a health management strategy, a platform called Health: ON! that provides a clear overview of the health benefits available to employees, increases health culture, literacy and awareness and underlines employer's care. According to a survey we made, 96% of our employees wish they had health programmes, but only 65% are willing to take responsibility for being involved",he highlights the striking facts.
Daniela Ionescu, National Sales Director Health Insurance, Allianz-Tiriac presented the Integrated solutions for companies and team protection within The Employee Benefits Insurance "The market of health insurances increases from one year to another. There are 600 million EUR that are spinning in the private medical services market and 35 million in the private health insurance market. In Allianz, we are talking about 80 000 insured employees. Most large employers have purchased such insurances. You should remember it is fiscally deductible for both employer and employee, in the limit of 400 EUR/year for each one", she advises.
Shaping a strong H&S culture starts from the top, because management influences safety practices. It engages all stakeholders from senior management, supervisors to the workforce.
Sorin Martian Popescu, HSE Manager Pirelli Tyres Romania and Stefania Iandolo, HSE Manager Pirelli EMEA, talked about the worldwide programme Pirelli developed with the help of Dupont and implemented in 17 plants, "Excellence in Safety Rational" a programme that changed drastically the behavior of their employees, starting with the management: "the involvement of the management is the first thing to do. After that, we can change also the behavior of the people that are working with us", says Iandolo. "The most important target for us is 0 accidents. What is important is to focus our attention on prevention, not to reaction. Safety is not a priority for us because priorities can change. For us, safety is a value", she adds. "The reason of the programme was to harmonize and strengthen safety culture globally, ensure sustainability of results, build a clear roadmap for global safety improvement with standard set of activities and the flexibility to adapt the approach to local needs, as well as adopt a consistent approach globally, to internally benchmark site safety performance",explains Martian.
Cornel Marius Radulescu, IH&S and Fire Protection Leader for Procter& Gamble Urlati tackled the change management within companies: "Any change or modification that affects any installation, physical or technical processes and the installations of the companies is made according to the QA, HS&E standards, in addition to legal requests. Everything affects the safety systems and you're vulnerable."
Collonel Zara, ISU Bucuresti Ilfov, brought an insight into the newest updates regarding former Government's decision no. 1739 on measures for fire protection. "The value of reference for surfaces was enlarged for most of the destinations at 600 sqm. Also, exceptions from the advice regarding fire security are system construction and temporary establishments that are direct subject to authorization. Imposing a minimum area of 100 meters for basement or attic public spaces that so far were destinations regardless their surface and the ones serving students (scholars, preschoolers) have been increased to 200m. Historical monuments were exempted (…) a value of reference of minimum 250 kg GPL was introduced for the supply points. "
Building a sustainable safety culture is only possible with advance training and coaching strategies.
"It is very important to set your objectives before implementing certain training programmes. Learning is not the passive storage of information but the active creation of knowledge. The benefits of advanced training & coaching strategies are reaching relevant target groups, retention of enhanced information, addressing and building lasting competencies, becoming more resource effective"- Dana Afrenie, Principal Consultant, Environmental Resource Management ERM, on how to build a sustainable safety culture with advanced training & coaching strategies.
"Everyday, frontline people on the shop floor in your organisation make thousands of situational decisions that affect safety. In some instances, these decisions lead to accidents. In some instances, they lead to lucky outcomes. In most cases, these decisions lead to desired safe outcomes. Looking at safety from a new angle will help accumulate individual skills into an organizational culture of making situational safe decisions. It will drive a safety culture characterized by empowerment, involvement and continuous learning",Annette Nienhaus, Technical Director, Environmental Resource Management ERM.
Raluca Dina, Project Manager ID Process, authorized distributor of BRADY products, raised awareness on how important it is for the safety professional to choose quality products for workplace safety and compliance, focusing on lockout/tagout solutions and fall protection systems – "Our products and solutions perform in ways that others simply can't match. Our people perform in ways that regularly exceed your expectations, and our focus and discipline work toward solid, long-term performance for our customers."
Elaine Huurman, EMIA BA-SHE Systems & Training Manager at AECOM presented their "Safety for Life" programme that helped them improve their safety performances: "this is a comprehensive internal program that integrates high standards, innovative tools and techniques, and a collaborative, caring culture into the work we do every day. After all, health, safety and environment is not something isolated within the company, it is tackled in every single area from financial, from HR perspective",she explains. "We have expectations of our employees concerning safe working. Our contractors must understand those same expectations and commit to them. Contract terms must be specific – either in our contracts or the contracts of our clients", she adds.
Bogdan Alangiu, 3M Senior Sales Representative at 3M, highlighted the importance of research in safety equipment "5.8% of our annual turnover is invested in R&D that sums up to 1.8 billion." Their first innovation center in Bucharest and the 54thglobally just opened this year - "it is an active museum where most of our technology is incorporated. The professionals can visit it and watch demonstrations."
Preventing incidents? Or managing statistics? OMV Petrom's "Road Safety" programme that got the Praise Award 2015 from the European Transport Safety Council ETSC was explained by Mihail Frasineanu, HSSE CEO Senior Safety Department Manager. "Every 4 days an employee dies in a work-related roadway crash (…) However performant are the technologies, however good is the infrastructure, the one that changes the course of an accident is the user. That is why we tried to define this project, in order to influence the road behavior."
With more than 100 million km driven each year, OMV Petrom manages a significant fleet of more than 4,500 light and heavy vehicles (leased or owned) and more than 7,000 professional and non-professional active drivers on road, every month. OMV provides prevention classes for its drivers that are organized for new employees and repeat every 3 years for revalidation of the skills.
Together with Horia Mihai Nicolescu, President of Sicura and Vice-president Association for Fire Safety, the guests tried to figure out What can be done in Romania for an efficient organizational culture and proactive fire safety "people wonder how regulated this area is. Truth is, it is super regulated. Sometimes, regulations are contradictory. The concept and the mindset need to change. Investments in fire safety education are very important and this is proved by recent tragic events. The concept for fire safety has to be developed from the moment a building is projected. There are two big players – the constructor and the insurer. The reality shows up in exploitation."
Duncan McGinley, Operations Manager Safety Academy, confesses "I think it is time for a change in Romania when it comes to health and safety. Prevention is much better than cure." Oana Dobre, Sales Manager, Safety Academy introduced the audience to the first training center for working at height in the industrial field in South East Europe "there is a lack of awareness when it comes to working at height. That is the reason why this academy was conceived. Unfortunately, the legislation is pretty lacunar when it comes to working at height. All the notions should be explained for professionals to know how to best do their jobs and what equipment to use. With these classes, they figure out what to use, when to use, they learn how to be a supervisor and how to save their colleagues in certain situations."Safety Academy has a training center in Otopeni and organizes personalized workshops and demonstrations for different industrial fields.
by Mihaela Constantin