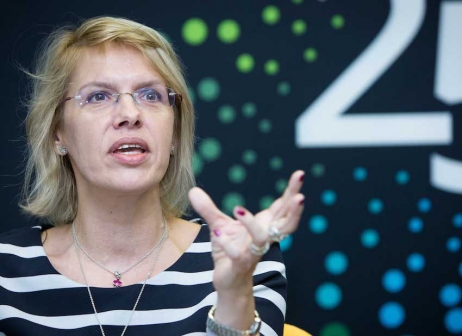 Source: Alina Mirea, Partner Deloitte Romania
Trencadis, Tremend, APSISWARE and Qualitance represent Romania in this year's Deloitte's Technology Fast 500™ rankings for Europe, the Middle East, and Africa (EMEA). Now in its 17th year, the list is compiled by Deloitte Global's Technology, Media & Telecommunications (TMT) industry group.
The four Romanian companies are part of the 62 Central European group of companies that have made it to the ranking.
Systems integrator Trencadis of Baia Mare ranked 176th with a 710% growth. The next ranked was Bucharest-based Tremend, who came 371st with a growth of 324%, followed by APSISWARE, place 467 after a growth of 241% and Qualitance, position 493 with a growth of 226%. Both Trencadis and Tremend were also included in this year's CEE ranking Fast 50.
"I would like to congratulate the Romanian winners of the competition and we are looking to see their continued successes in the years to come," said Alina Mirea, Partner Deloitte Romania and local coordinator of the program. "Being part of the Fast 500 ranking is a testimony that Romanian companies are highly competitive internationally. Through this initiative Deloitte is at the heart of the most dynamic industry and thus walks hands in hand with the future."
Deliveroo, a UK company, was the number-one ranked company on the 2017 EMEA Technology Fast 500 list, with an exceptional increase of 107,117%. Deliveroo grants consumers the ability to order food from local restaurants, both private and chain, who otherwise may not offer delivery.=
Overall, this year's Technology Fast 500 list for the region features winners from 18 countries, with an average growth rate of 1,377%, up from 967% in 2016. Growth for individual companies on the list ranged from 220% to 107,117%.
Most companies in the ranking came from software, media, hardware and communication.