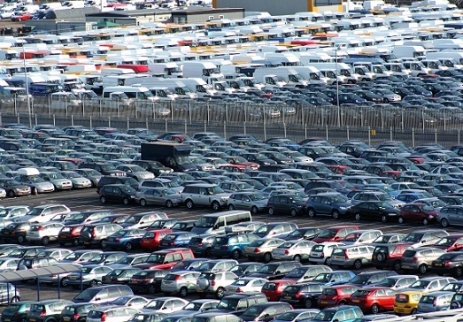 Romanian car market keeps up the positive evolution, the overall sales of passenger cars and commercial vehicles increasing by close to 22 percent in Q1 in 2014 over the same interval last year. Passenger cars, solely, have seen growing sales by 19 percent year-on-year (YoY), these results leading to a premiere in the past five years, as it is the first time when sales in the first quarter have recorded an improvement compared to the previous year, situation last happened in 2009. Also, the first three months of the current year have registered the higher YoY growth since 2007, according to Romania's Automobile Manufacturers and Importers Association (APIA).
The domestic production amounted to 107.600 units, a similar level compared with January-March 2013 period, although there has been registered a slight decrease by 0.1 percent. Dacia and Ford are the major and only players in the market - Dacia covers 83 percent of the cars manufactured in Romania, Ford accounting for the remaining 17 percent.
Last month was the most dynamic in terms of sales of new cars which totaled over 8000 units, an advance by 31 percent over February 2014, translated in a 21.7 percent improvement at three months. The passenger cars sector has driven the growth, domestic cars remaining the top choice – sales of cars manufactured in Romania went up by 29 percent, while sales of imported cars rose by nearly 16 percent).
Dacia stays the best-selling brand, accounting for almost 31 percent of the total passenger car units sold. Next are Volkswagen and Skoda, each making up some 10 percent of the total, then Ford (7.5 percent), Renault (5 percent) and Opel (4.2 percent). Based on car models, Dacia Logan is leading the top, both in March and in Q1, top which includes Dacia Sandero, Skoda Octavia, Dacia Duster and Volkswagen Golf, in this order.
Used car registrations, on the other hand, are still significantly higher than the new ones (46.800 units in Q1, about 3.5 times more), although there is a drop by 11.6 percent in used car sales over Q1 in 2013.
Increasing sales have been reported in the export area, as well. With over 36.000 units exported in March, total units sold abroad come to approximately 98.000 at three months, a 9.3 percent YoY growth. Dacia strengthens is leading position in the beginning of this year, with Dacia Duster and Dacia Logan models in top two positions of the most exported vehicles (some 32.000 and 26.000 units, respectively), followed by Ford B-Max (around 6000 units).
Member of Renault Group, the company has remarkable results in the European Union market, where its sales have jumped in 2014, according to the data released by the European Automobile Manufacturer's Association. In the last month, Dacia has sold 53 percent more units than in March 2013, which resulted in a nearly 43 percent YoY increase on the entire interval assessed. With these figures, Dacia is the best-performing car manufacturer within the EU based on new passenger car registrations.
After increasing sales for the third month in a row, APIA anticipates an extension of the growth period in Q2, with significant increases in sales, which will be triggered by the launch of the "Rabla Auto Programme".