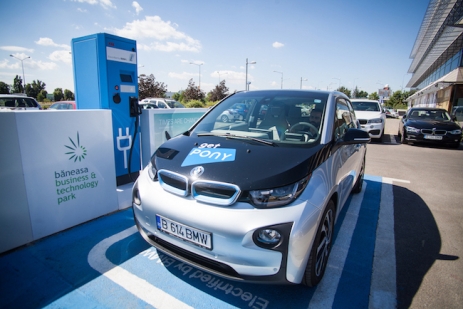 Pony Car Sharing, the first car sharing company in Romania established in Cluj in 2015 is now developing a program dedicated to the business environment that will allow employees from partnering buildings to drive and return a car in a station based car sharing for daily business trips.
The company plans to purchase 15 BMWs i3 by the end of the year that will be used in a series of programs in Cluj and Bucharest, a record in Romania for this type of acquisition so far, becoming the first sharing company in the country that owns an electric fleet.
"Our objective is to ensure a monthly cost below a lease rate . Plus, our advantage is that our system of applications offers transparency, clarity and flexibility. We consider the service to have growth potential for Bucharest and we also take into account building similar formulas for residential areas around Bucharest. After working hours and in the weekends, the cars could be used in a private system also", explains Demis Ghindeanu, one of the founders of Pony.
The Business Car Sharing program was tested for free for 3 weeks by over 60 employees from the Baneasa Business & Technology Park, with Get Pony app. This summer, the park inaugurated the most powerful public electric charging station in Bucharest, available for all users.
Pony Car Sharing has a 50 cars fleet, and in the first 6 months from the launch of the service over 2500 users took over 15 000 trips.
by Mihaela Constantin