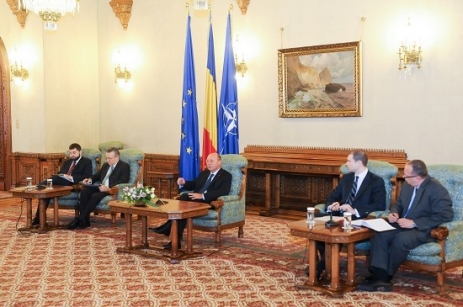 Basescu reconfirmed his position against the introduction of the excise duty on fuel during this morning meeting with the IMF delegation, as previously announced. However, the Romanian President said that despite not supporting the Government's decision on introducing a new 7 eurocents tax, he will not obstruct the arrangement between the Executive and the International Monetary Fund, yet he should not be expected to sign the agreement.
He explained his position stating that 'I am looking at government expenditure and there is a relaxed budget from this point of view. Due to inefficient tax collection, new ones have been introduced. I consider they are a big mistake, especially those taxes in the energy and fuel sectors, except however, the broadening of tax base. The new taxes will affect both the economy and the people. It is yours and the Government's responsibility. I will not publicly support such taxes because I do not think it is a reasonable solution.'
Basescu concluded by saying to the IMF delegates that 'I will not obstruct the decision you take together with the Government, but do not ask me to sign the agreement you negotiate on.'
Last November, the Romanian Government announced there will be introduced an additional 7 eurocents excise duty on fuel, decision which was categorically criticized by Basescu. Based on that, the President refused to approve the IMF Memorandum for the 2 billion euro worth precautionary arrangement. He further rejected the 2014 state budget, yet he later backtracked on his initial decision and approved the budget after the Prime Minister, Victor Ponta, promised to postpone the introduction of the new tax until April 1, 2014.