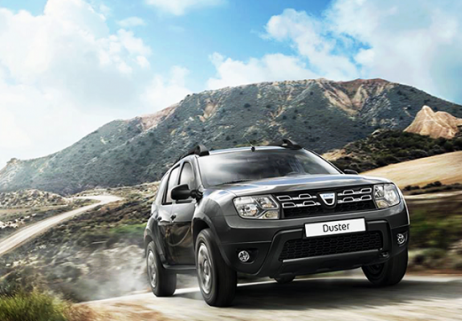 Source: Dacia Romania
After reaching record-high sales in 2012, last year was even better for Dacia which managed to improve the previous year performance by recording a 19.3 percent growth in sales, hence amounting to nearly 430.000 units sold throughout the world.
Dacia reaches a 31 percent market share in Romania
Although smaller, the Romanian car producer registered an advance on the domestic market, too, where increased its sales by 12.4 percent, last year being the first one since 2007 when the sales volume grew, according to a press release. Thus, Dacia sold in Romania almost 24.900 units determining an expansion of its market share up to 31.6 percent, the largest of all markets where the automotive company operates.
These results are explained by the same informing which states that Dacia's performance was supported enhanced by the full renewal of its model range, as the new Logan MCV and the new Duster were launched on the market last year.
Another growth factor was the major increase of legal persons' share in the overall market, which currently accounts for 77 percent of clients, Dacia tailoring its strategy based on this important change on the Romanian market. However, an advance was also recorded in the fleet sales and natural persons' sales segments.
The Renault Group company went, thereby, on top, leading the main market segments: Sandero, Logan sedan, Logan MCV, Lodgy, Dokker and Duster are each leaders on their respective market segments. Moreover, Logan sedan, Sandero and Duster lead, in this order, the top in terms of sales per models on the domestic market.
Logan sedan remains the best-selling Dacia model in Romania, with over 10.000 units sold - almost 40 percent of the total brand sales. Sandero Stepway dominates the B-hatch segment, with more than 4.700 units sold, being the second best-selling model, followed by Duster – nearly 4650 vehicles sold.
Strong results on foreign markets
Last year was one of the most productive years given the sales results, Dacia achieving a new record by selling over 404.000 units.
While the European market fell by 1.7 percent over 2012, Dacia boosted its sales which grew by almost 26 percent. Exceeding 290.000 units sold, Dacia increased its market share up to 2.1 percent.
Dacia's main foreign market remains France, where holds a market share of 4.3 percent after selling about 94.000 vehicles last year. The next one is Germany, where the Romanian brand sold over 47.000 units, followed by Algerian, Turkish, Spanish and Moroccan markets, each registering sales of more than 30.000 cars.
In Spain, Dacia recorded the most impressive advance in sales, which rose by 80 percent, Sandero ranking first in the preferences of natural persons who bought a vehicle last year. Also, in the United Kingdom, where Dacia started its deliveries only last year with two models, Duster and Sandero, were sold over 17.000 units, thus, the UK market becoming the 8th largest destination for the Romanian car producer, as per the same source.
This year, Dacia aims at consolidating its results on the domestic market, supported by its full young range of models – 'Following the renewal of its range of models Dacia will launch a new large scale construction site in 2014. The complete trade network of Dacia will be gradually renewed. Thus a new set of signs and a new presentation will be introduced, as well as new standards, new services and new facilities provided to the brand's clients. The first show rooms to adopt the new look will be opened during the first quarter of 2014. Dacia aims to complete the transformation of its trade network in Romania in 2015.'is stated by the press release in question.