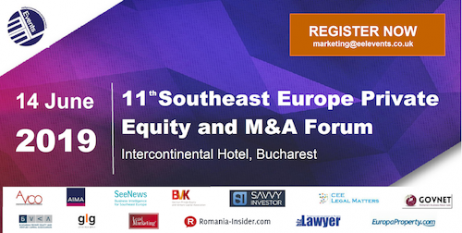 Up to 150 international investors will meet in Bucharest, on the occasion of the 11thSEE Private Equity and M&A Forum -14thJune 2019, to discuss the capacity of the local private equity market as well as what does the future deal flow look like in Southeast Europe region.
The event has been set up to find out more about the latest transaction trends and future investment prospects for private equity and venture capital in SEE. The programme offers leadership panel discussions and real life case studies including recent transactions: C. Flowers and EBRD acquisition of Piraeus Bank Romania, Manufacturing completion by Mezzanine Management and CEECATCapital's Brikston Construction exit deal.
Some of confirmed speakers include:
Marius Ghenea,Partner, 3TS Capital

Florian Huth, Partner,CEECAT Capital

Stepan A.Karpukhin, Managing Director,TRG

Kerim Turkmen, Partner,Mid Europa

Chris Buckle, Managing Partner, Mezzanine Management

Andrei Gemeneanu,Managing Partner, Morphosis Capital

Pantelis Papageorgiou,Partner,Elikonos

Matei Paun,Managing Partner,Black Sea Fund

Cristian Nacu, Senior Country Officer for Romania and Moldova, IFC

Markus Kriegler, Managing Director, Head of Corporate Finance,Erste Group Bank

Adrian Stanculescu, Investment Director, Abris Capital

Razvan Lefter, Advisor,KJK Capital

Dan Mihaescu, Founding Partner, Gapminder

Yordan Zarev, Investment Manager, Neveq Capital Partners
"It is no coincidence that Romania has been chosen as a host country for our conference. Recently we have seen there some big deals including:acquisition of Zentiva Group,UiPath, Agricost or the sale ofUrgent Cargusby Abris investment fund to Mid Europa. We are getting lots of interest and we do count on a very strong local and international presence – says Agnieszka Pawlowska, Head of Events at EEL Events, the organiser of the forum.
Event website:http://eelevents.co.uk/upcoming-events/peromania19
To request brochure, please contact:marketing@eelevents.co.uk