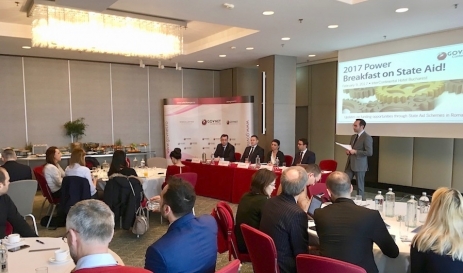 Govnet Conferences organized on February 9 another exclusive Power Breakfast on State Aid, focusing on practical aspects regarding the implementation of State Aid Schemes in Romania.
It was a great opportunity for potentially eligible companies to find more about financing of investments from non-reimbursable funds directly from the people involved in the process: representatives of the Directorate for State Aid department in the Ministry of Finance, representatives of companies that already benefited from state aid and consultants that assisted investment projects in the past.
Speakers in the event were Irina Avram the General Director, General Directorate for State Aid, Ministry of Public Finance, Lucian Dumbravieanu, Principal Banker, leading the EBRD activities on Manufacturing & Services in Romania, Iulian Sorescu Associated Partner, Head of Financial Department Noerr Finance&Tax and Daniel Varzaru, Director of Finance & Accounting, Universal Alloy Corporation Europe.
Presentations focused on the State Aid scheme for financing investments in assets (GD 807/2014), the State Aid scheme for financing salary costs (GD 332/2014)
A summary and application calendar for the current state aid schemes was also detailed, together with practical advice on the application process, technicalities for the implementation of the state aid scheme and a case study from a beneficiary of state aid financing.