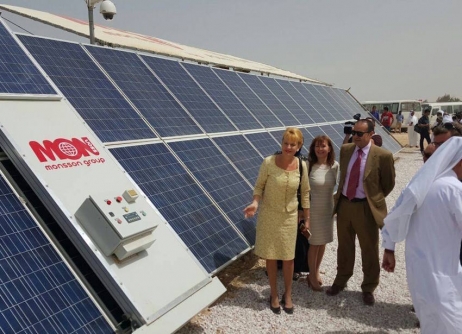 Source: www.monssongroup.com
The first desalinization station through reverse osmosis powered by renewable energy sources and entirely automatic was launched by Monsson Middle-East in Qatar, on 16th of March. The beneficiaries will be able to access desalinized fresh water with lower expenses for energy and consumption, and they are sure this is the perfect solution to deal with increasing energy requests without utilizing fossil fuel, but only nature force.
According to Monsson, the desalinization station has numerous advantages compared to traditional stations because the costs of producing drinking water are significantly lower, and this technology is applicable to any desert area with access to salty water.
The equipment is a revolutionary progress in desalinization and it could be a possible solution in the future in obtaining drinkable water and tenable energy, in Qatar, but also in all the desert areas in the word.
Monsson is present in 25 countries on 4 continents and it is the leading developer of wind power plants in the EU, selling different energy capacities towards OMV Petrom, Butan Gas, STEAG.
by Mihaela Constantin