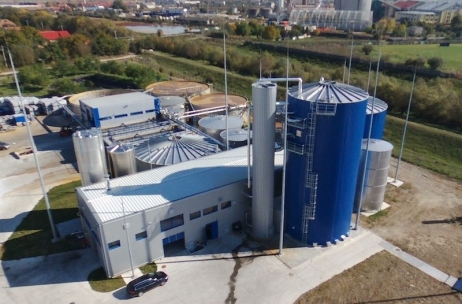 Olympus, one of the largest dairy producers in Romania invested 4 million euros in a biogas plant, located on the platform of the Halchiu Olympus plant in Braşov County. The station produces an average of up to 600 cubic meters of biogas per hour and has a storage capacity of 2,000 cubic meters.
The technology used at the new plant transforms lactose and wastewater from dairy production into biogas and contributes to significantly reducing the plant's carbon dioxide emissions. The biogas is captured by means of a balloon, then it is dried by means of a chiller, to be finally introduced into a steam boiler, where it is used to produce heat energy.
The plant allows efficient use of natural resources, reducing methane gas, but also significant cost savings in the production process of the Olympus plant in Halchiu. Thus, the energy independence of the production unit was ensured as a result of the reduction of the methane gas requirement used in the domestic consumption of the plant by up to 60%.
Since the start of production, the biogas plant has generated more than five million cubic meters of volume by reducing the amount of methane burned in the plant.
"Through our investments in the Hălchiu factory, we are committed to becoming one of the largest dairy producers and, at the same time, to be a model of sustainability through our strategy of environmental protection and energy efficiency, "said Dimitris Kelas, General Manager of Olympus Romania.
Olympus factory in Halchiu is part of the Hellenic Dairies group and is the most modern and technologically advanced dairy production plant in Southeastern Europe. With an area of 35,000 square meters, the production unit benefits from state-of-the-art equipment for milk reception and processing as well as for packaging products. With a total milk collection capacity of 75 tons per hour, the Braşov factory produces yogurt, fresh milk and UHT, cheese and cream. The products are distributed in hypermarkets and supermarkets in Romania, but also in Italy, Germany, Austria, England, France and Sweden.