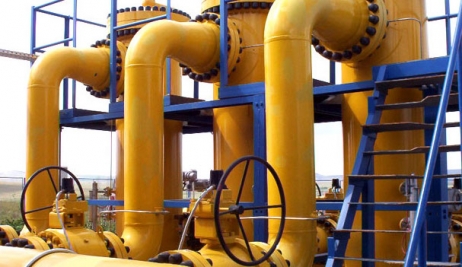 Source: www.transgaz.ro
The Government hails the partnership relation between EBRD and Transgaz, as the signing of the loan agreement of BRUA pipeline is a confidence signal sent to investors with respect to business opportunities that Romania is offering, Vice Prime Minister Viorel Stefan stated in London, on the signing ceremony of the loan agreement between Transgaz and EBRD, worth 278 million lei (EUR 60 million dedicated to building the Romanian section of the BRUA natural gas pipeline).
Vice Prime Minister Viorel Stefan emphasized that a new funding source of BRUA gas pipeline on Romanian territory is thus secured, alongside Transgaz investment of EUR 149 million, EU grant of EUR 179 million, EIB loan of EUR 50 million, as well other financiers. The total cost of the project amounts to EUR 479 million.
"The Romanian segment of BRUA is significant as length and functionality. The EBRD support in funding the execution stages of the first phase will bring additional guarantee that the standards will be observed and that the first phase of the project will be completed on time, therefore, by December 31, 2019 at the latest", the Vice Prime Minister stated.
With a total length of 1318 km, the natural gas pipeline between Romania, Bulgaria, Hungary and Austria is a project that will ensure an extended integration of European gas markets and a diversification of routes and sources of supply.
By promoting diversification of routes and supply sources, the BRUA pipeline will also support the development of local economies and competition on regional energy markets for the benefit of consumers.
The first phase of the project includes the construction of a pipeline of 478- km between the Podişor technological hub near Bucharest and that of Recaş, about 30 km away from Timişoara, in the west of the country, as well as the installation of hardware and software surveillance systems, communication technologies, and three gas compressor stations that will be placed along the route.
With a total length of 1,318 km, the so-called BRUA gas corridor will offer better interconnection between the countries along its route. It will boost the energy market by enabling new links with major gas infrastructure projects such as the Southern Gas Corridor, through TAP and TANAP, other central European gas hubs and future offshore production sites in the Black Sea.
The project will also ensure a greater integration of European gas markets and increase the security of supply.
Ion Sterian, Director General of Transgaz said: "This is a truly special event, for our company and for the EBRD, as well. We are proud to have partnered with the EBRD in better securing the financing of the Romanian section of the BRUA project. As one of the currently largest infrastructure projects backed by the European Commission, BRUA is going to bring much-needed connectivity between Bulgaria, Romania, Hungary and Austria. Transgaz attaches high value to the EBRD's powerful drive to create significant opportunities for the natural gas transmission system operators along the BRUA route that will help bridge the gap between the east-west and the north-south gas corridors."