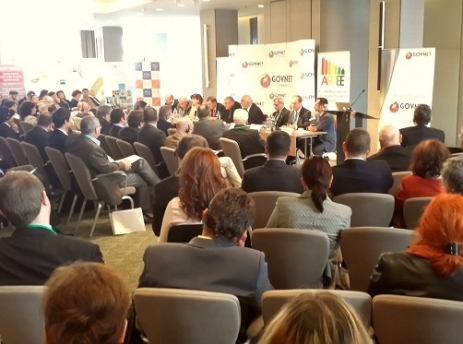 With the enaction of the Law No. 121/2014 on energy efficiency, Romania needs to establish a new plan of action in this sector for implementing measures aimed at improving energy efficiency which becomes a strategic goal of the national energy policy. The challenges and opportunities generated by following the directions set by the 2012/27/EU Directive have been debated during the Energy Efficiency Forum 2014 organized by the Romanian Association for Promoting Energy Efficiency (ARPEE) and GOVNET Conferences, attended by more than 30 speakers and about 180 decision-making delegates.
"Romania targets primary energy savings of 10 million toe (tonnes of oil equivalent) by 2020, which represent an anticipated decrease by 19 percent in terms of primary energy consumption", explained Mihnea Constantinescu, Ambassador with Special Assignments for Energy Security Romania.
These targets are assumed by Romania, as any official ones are yet to be imposed by the European Union and they could be changed, according to Corneliu Rotaru, Director of the National Energy Regulatory Authority (ANRE): "The evolution of domestic consumption of energy could radically change the set target". The reason is that the said targets were established by reference to some studies carried out before the economic crisis which significantly influenced the energy consumption in Romania, hence, based on the current data, the amount of primary energy which would be saved would be much smaller.
The updated National Action Plan for Energy Efficiency which will be finalized shortly is expected to resolve the shortcomings of the previous versions, so that Romania's potential in terms of energy efficiency can be exploited.
"Implementing energy efficiency measures as provided by the National Action Plan for Energy Efficiency could generate long-term benefits of 5 to 7 billion euro, which would represent an increase of the GDP by 4 to 6 percent", said Dan Ioan Gheorghiu, Counsellor of the Prime-Minister for Energy and President of ISPE.
Mihnea Constantinescu has additionally highlighted the importance of energy efficiency in the economic context, emphasizing the need for a stable regulatory framework, to provide predictability: "Stimulating investment in energy efficiency, as well as adopting laws that are stable, predictable, transparent and easy to apply can help attract major investments in this field and develop sustainable business".
Besides the legislative aspects destined to create proper conditions for running such projects, the discussions within the Forum focused on three major sectors with the potential to realize significant improvements as regards energy efficiency: industry, buildings and lighting. Talks concerned both technological solutions such as cogeneration systems for producing energy, that are energy efficient and, consequently, economically efficient, or LEDs, in the lighting field, but also financing solutions, as Romania has access to some related-programmes supported by the EU through the European Bank for Development and Reconstruction.
The partners of the Energy Efficiency Forum 2014 were: AB Energy, ALRO, ArcelorMittal, Bosch, Electromagnetica, EnergoBit ESCO, Philips, Renault, RoSEFF, Tractebel Engineering, Valeg.