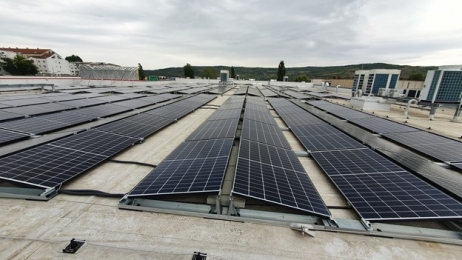 Axionet IoT, a local service company for Machine to Machine (M2M) services, Internet of Things (IoT), electro-mobility and green energy production, announces the completion of a large project for the ALTEX group, which aimed to implement modern power solutions with energy from renewable sources. Thus, in 2021, Axionet installed more than 2,500 photovoltaic panels, with a total power of over 1MWp, on three of the stores inaugurated by ALTEX Romania. As a result, over 60% of the energy consumption of the new stores is provided by photovoltaic power plants. During the same period, areas for charging stations for electric vehicles were installed in the ALTEX national network. The collaboration with ALTEX will continue in 2022, through the installation and commissioning of new photovoltaic power plants, with a total capacity of over 5 MWp, as well as areas for charging stations for electric vehicles. In addition, Axionet wants to deliver similar services to external partners.
Axionet started in 2021 a project for the implementation, management and operation of green energy solutions and services in the ALTEX network of stores, for the group's internal and external customers. In just a few months, Axionet has implemented state-of-the-art solutions in the field nationwide.
"Solutions for the production and supply of renewable energy, complemented by digitalization will be the key to sustainable business. Together with ALTEX we can accelerate the development of green solutions, in order to offer integrated services to companies in the country. We will accelerate the partnership with ALTEX by equipping several network stores with charging areas for electric vehicles and installing photovoltaic power plants with a total capacity of 5 MWp ", said Gabriel Ioniță, founder and CEO of Axionet IoT.
Axionet has signed and started similar projects this year for external beneficiaries. Other partnerships are in the discussion phase.