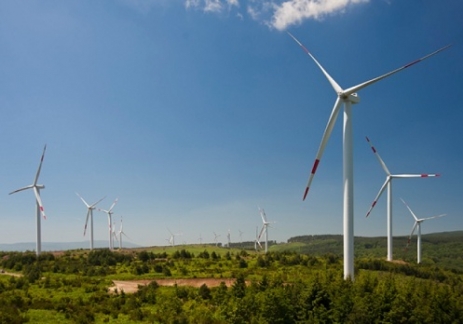 Source: ERG Renew
LUKERG Renew, a joint venture between ERG Renew (part of Italian group ERG) and LUKOIL- Ecoenergo (Russia), concluded a finance agreement with Raiffeisen Bank International AG and ING Bank NV for the 70 MW Gebelesis wind farm located in Galati region, according to a press release. The contract corresponding to the 67 million euro loan was signed through LUKERG's subsidiary, Corni Eolian, and has a validity period of 11 years.
The wind project was purchased from Vestas, last summer, in a transaction worth some 109 million euro (enterprise value) which additionally included a wind park of 14 MW in Bulgaria. Gebelesis wind farm comprises of 35 turbines with an installed capacity of 2 MW each and is fully operational since February 2013, its average annual production being expected to exceed 165 GWh.
LUKERG Renew entered the Romania market in December 2012 when took over Land Power, a company formerly owned by Inergia SpA, which held the land rights and required permits for developing a wind power project of 84 MW in Tulcea region. The investment estimated at 135 million euro was completed in the final quarter of 2013 and was connected in November to the national grid, the turbine testing activities being currently underway.