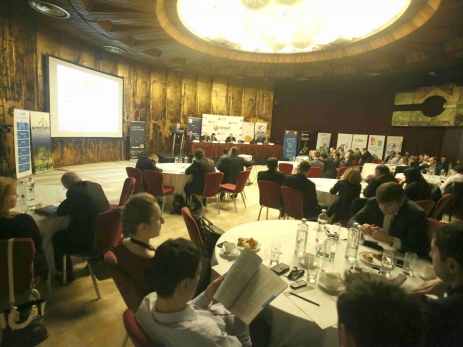 Seen as a fundamental solution to improve energy efficiency, modern lighting is also an extremely important tool to increase operational efficiency.
Thus, given that Romania has committed to align to European standards in terms of energy efficiency, the implementation of modern lighting projects becomes a priority, especially in the segment of public lighting.
The development opportunities in this area, both in terms of efficient use of electricity and in terms of reducing operational costs, were debated at Govnet Conferences' Romanian Lighting Industry Forum 2015 held on March 5, 2015 at the InterContinental Hotel in Bucharest.
The event brought together delegates of the Romanian Government, local authorities or regulatory bodies; associations, private companies, manufacturers of lighting equipment, developers of integrated projects, beneficiaries or lighting waste management experts.
Maricel Popa, Secretary of State within the Ministry of Economy, stressed the importance of adopting efficient lighting solutions: "Implementing LED lighting systems, modern lighting, will help you lower your bills and invest in other sectors. There are many energy efficiency projects which in the 2007-2013 and 2014-2020 frameworks received energy efficiency grants. Right next week, the second call for energy efficiency projects with Norwegian funds will be launched by the Ministry of Economy".
The positive results from the implementation of such systems were confirmed by Valentin Littera, Head of Public Lighting Department within the Bucharest City Hall, who explained that after installing LED luminaires to replace the old ones, the electricity consumption in the areas concerned in Bucharest was reduced by 25 to 40 percent annually.
In addition to the installation of LED lighting systems, Dorin Beu, President of the Romanian National Lighting Committee explained that the implementation of control systems is crucial: "Control is extremely important. The chance that we have now with LED equipments must be supported by a control system, too".
This way, be it public or interior lighting, besides an improved energy efficiency, there is obtained a significant reduction in maintenance costs, but also an increased flexibility in terms of management of lighting systems.
Control solutions, connected lighting or other integrated system, modern lighting technologies, as well as aspects concerning waste management of lighting equipment were presented and discussed during the event, along with Govnet Conferences' partners: Adrem Automation, Adrem Invest, Amiras, Energobit Schreder, Lighting Luxten, Philips, Recolamp, and Steinel Management.