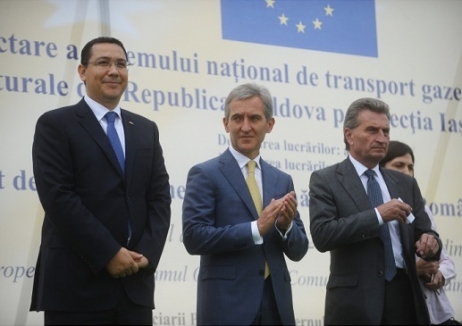 Prime Minister Victor Ponta attended the inauguration ceremony of the Iasi-Ungheni pipeline, along with his Moldavian counterpart, Iurie Leanca and Gunther Oettinger, European commissioner for energy. The project is aimed at providing the Republic of Moldova with an alternative to the gas supplied by Gazprom, thus ensuring a greater level of independence, as Moldavians will have access to gas providers from Romania.
Ponta saluted the completion of this project, albeit not fully operational yet, saying that it conveys a clear message that: "For Moldova and Romania to be truly independent, they need energy, too, as well as we need all the other resources. Together, we can be truly independent (...)".
He further added that he is positive that in addition to cheaper gas, the pipeline construction gives Moldavians a reliable gas source and so they will no longer feel the pressure of running out of energy.
The gas pipeline construction was officially commissioned, however full completion of the project requires additional works which are expected to be carried out in two years. Romania has to finish construction of two compressor stations, whilst Moldova has to ensure connection between Ungheni and Chisinau through an independent pipeline controlled by the Moldavian State.