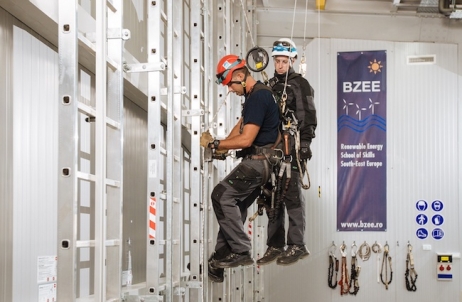 Monsson Operation, a company member of Monsson Group, which offers services like wind turbine operation, maintenance and service in Europe, Africa, America and New Zealand, plans to hire 200 technicians and engineers by the end of 2017 .
Monsson has been focusing on renewable energy since 2004 and has become an important player in the world, with over 2.4 GW of projects in its portfolio. Monsson Operation is now active in more than 20 countries, having several offices in Sweden, Ireland, Qatar, Poland, Germany, USA and South Africa.
"With the international development of our activity, the need for skilled workforce has increased. Thus, Monsson has set up its own training center for specialized personnel, a center operating in Romania, in Constanta, annually coordinating the professional training of over 750 technicians" says Sebastian Enache, Business Development Manager of Monsson Operation.
After an investment of more than 2 million EUR in a training center in South-East Europe, Monsson has succeeded in becoming an international standard in terms of specialized training for the operation, maintenance and servicing of wind turbines. Thus, RESS - Renewable Energy School of Skills Center can train wind turbine maintenance technicians, wind turbine installation technicians, wind farm operators as well as many other positions.
With its own high demand for employment, Monsson has proposed itself that, by the end of the year, the company will hire specialized staff, with or without experience, for the works already contracted for the next 3 years. Thus, Monsson will soon launch a massive employment campaign for selecting over 200 technicians for projects in Germany, Italy, Greece and Brazil, technicians to specialize and train with the necessary skills.
"It is unlikely to find specialized personnel in the labor market, so this is why we will take care of their new technical training through our training center in Constanta. We will initiate a national recruitment campaign to find young people, English speakers, aged between 22 and 30, eager to learn a new job, " says Enache.
Constanţa has become an important center for the renewable industry. Here are more than 70% of the wind capacity installed in Romania and most of the existing technicians have made a professional reconversion from another highly widespread field: the maritime sector.