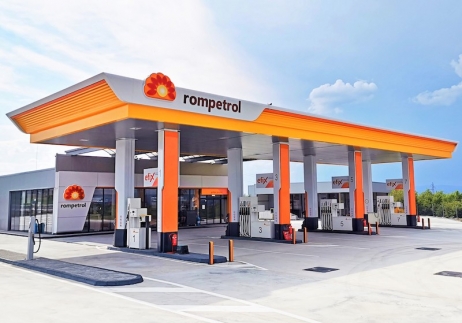 KMG International Group continued for the first four months of the year to consolidate and develop its retail activities in the Black Sea region, by opening 12 new fuel stations, but also expanding the range of products and services offered. Thus, the Group's subsidiaries managed in January - April to open a total of 12 new Rompetrol fuel stations in Romania, Bulgaria and Georgia, own fuel stations, as well as Rompetrol Expres and Rompetrol Partner fuel stations. In the next two months, they set out to complete and open 19 units (Romania - 11, Bulgaria - 1, Georgia – 4, Moldova - 3).
In Romania, Rompetrol Downstream - the retail division, managed to increase its distribution network with 7 new fuel stations, to which are added two new trading points of liquefied petroleum gas. The network operated by the company internally, currently, amounts 395 fuel stations (153 - own fuel stations, 242 - Rompetrol Partner and Rompetrol Express).
At the same time, the company has expanded its range of services and products offered to customers by opening 3 new car washes near its fuel stations in Cluj, Bistrita and Sfantu Gheorghe, implementation in 25 stations of the cashback service as well as by concluding partnerships with the largest online stores - Emag and Elefant. Thus, together with Emag, 25 delivery points Easybox were installed in Rompetrol fuel stations, and with Elefant, 25 points of sale were created through which new products were introduced in the station's portfolio (cosmetics, perfumes, books and games).
In order to reduce and optimize the time spent at the fuel station by customers, in conditions of safety and social distancing, the company has a "ZERO CONTACT", concept through which clients can request and obtain a fuel supply card Fill & Go, can refuel directly at the pump and can use online methods of payment of current invoices. In addition, the Group's retail subsidiaries proposed to customers in March a revised product portfolio offered by Rompetrol fuel stations, emphasizing the categories of basic-needs products, cosmetics and hygiene products.
Given the measures to limit domestic and international travel and subsequently to establish emergencies in the region, fuel sales through Rompetrol stations have been on a downward trend since mid-March, both compared to previous months, as well as a similar period last year.
Under these circumstances, the 4 retail subsidiaries of the Group managed in the first quarter of the year an increase of over 9% of the volumes sold in retail. In Romania - the main market, Rompetrol Downstream recorded a 12% increase in fuel sales in the retail segment.