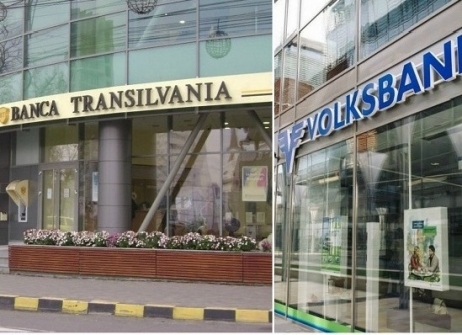 Banca Transilvania has reached an agreement to acquire the entire shareholding of Volksbank Romania (VBRO) from Austria's Volksbank AG, Groupe BPCE (Banque Populaire Caisse d'Epargne), DZ Bank AG and WGZ Bank AG, states a press release of the Romanian bank.
The Board of Directors of BT approved the acquisition on December 9, while today, December 10, 2014 the related binding agreement will be signed. Hence, the announcement comes after two week since Banca Transilvania confirmed negotiations on a potential deal for taking over VBRO.
As the closing of the transaction is subject to approvals from the Romanian Competition Authority and the National Bank of Romania, BT and VBRO will operate as separate entities until the deal is successfully settled. Subsequently, Volksbank network will be fully integrated into BT's existing structure.
"The acquisition of Volksbank Romania is part of our bank's growth and consolidation strategy, reaffirming our commitment as an active market player and supporter of the Romanian economy. After the integration, considering the market shares of the two banks, BT aims to become the 2nd largest bank in Romania. Banca Transilvania is well capitalized, enjoys high liquidity, an increasing market share and positive financial results", commented Horia Ciorcila, Chairman of the Board of Directors of Banca Transilvania.
Banca Transilvania's consultants in this transaction whose value has not been disclosed yet were law firm Peli Filip, KPMG, and VCP Vienna Capital Partners, while Volksbank worked with Schoenherr & Asociatii and investment banking company Rothschild.
Volksbank Romania is controlled by a special vehicle, VBI Beteiligungs GmbH, which incorporates Austria's Volksbank AG, which holds a 51 percent stake, while the remaining shares are divided between DZ Bank AG and WGZ Bank AG and Banque Populaire Caisse d'Epargne, the minority shareholders. Its sale is included in Volksbank AG's restructuring plan approved in September 2012 by the EU Commission for helping the Austrian bank recover after successive loss recorded since the economic crisis. According to the plan, the sale shall be completed by the end of the next year.
Since 2009, Volksbank Romania has cumulated financial loss of about 2.7 billion lei, yet, last year it has seen some improvement, as the annual loss almost halved to about 458 million lei from some 821 million lei in 2012.
Banca Transilvania is the third largest bank in terms of assets on the Romanian market, its main shareholders being the European Bank for Reconstruction and Development (15 percent of the share capital), Bank of Cyprus (9.7 percent) and the International Finance Corporation (5.36 percent). Following an advance by 30 percent in its net profit (nearly 375 million lei) in 2013, the bank has recorded a 38.5 percent growth at nine months this year, posting a net profit of about 338 million lei.