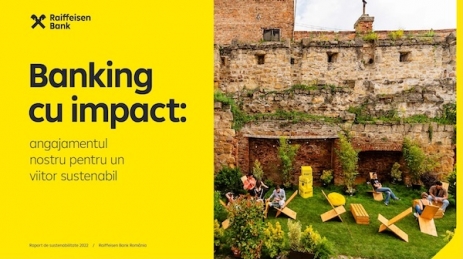 For the 14th consecutive year, Raiffeisen Bank Romania publishes its Sustainability Report, which presents information on the company's non-financial performance and economic, social, and environmental impact in 2022. Last year's results indicate a strengthening of the bank's role as a facilitator in the transition to a green economy and a sustainable community, by increasing resources for investments that stimulate the development of a sustainable economic model.
"We are committed to a sustainable future, and we are pioneering this in our market. The launch of our latest Sustainability Report reaffirms our commitment to a sustainable future, to striking the right balance between profitable business and caring for the environment and the communities in which we operate. We are one of the pioneers of sustainability reporting and have been reporting our non-financial results annually for more than 14 years. We are mindful of the social and environmental impact we create, both through the way we operate and by mobilizing resources for projects that aim to achieve sustainable and inclusive growth, mitigate climate change, and strengthen education and financial stability." - Zdenek Romanek, President & CEO, Raiffeisen Bank Romania.
Responsible Banking
The total value of the green product portfolio for corporate customers is € 435 million, 26% more than in 2021. Raiffeisen Bank is the first bank in Romania to offer individual customers a green mortgage loan for the purchase of green-houses certified by the Romanian Green Building Council. In 2022, more than 50% of mortgage loans will be granted for the financing of class A energy buildings.
For SME customers, Raiffeisen Bank offers dedicated sustainable loans for the implementation of sustainable practices and the purchase of energy efficient equipment.
In 2022, the total amount allocated to sustainable lending by Raiffeisen Bank amounted to €500.5 million.
In 2021, the bank's pioneering position in the field of sustainable financing was marked by the issuance of the first green bonds on the Romanian capital market. In 2022, Raiffeisen Bank continued to innovate by issuing the first sustainability bonds on the Romanian market. In two years, the bank issued a total of 6 bonds with a cumulative nominal value of € 673 million. The environmental impact of the green bond issuance measures 17,635 tons of CO2 saved annually through the green loan portfolio (green buildings, green transport, and renewable energy) and 18,000 MWh - annual electricity production from solar PV.
Social impact measures the financing of 1,700 SMEs in underdeveloped regions, creating jobs for 28,489 people.
Community Involvement
Raiffeisen Bank Romania has invested, according to the methodology developed by the London Benchmarking Group, €1.3 million to support community projects. Education programs received 40% of this amount.
In 2022, 9,223 Raiffeisen Bank customers donated over 2 million lei via Direct Debit. At the same time, volunteering remains a key resource that bank employees invest in their communities.
For 13 years, Raiffeisen Bank, together with Junior Achievement Romania, has been offering financial education courses for primary and high school students, with lessons tailored to the age of the students. In 2022, more than 40,000 students from over 900 schools participated.
Since 2018, Raiffeisen Bank has been developing the Money Bistro platform, ranked top in financial education programs, and named best digital communication project in the "Finance" category at the Digital Communication Awards 2019 in Berlin. To encourage Romanians to use digital banking services, Raiffeisen Bank launched the SMART edition of the Money Bistro financial education program in 2022.
In 2022, Raiffeisen launched Planeta R, the first corporate podcast about sustainability in Romania. The podcast serves as an educational resource on sustainability, aiming to raise awareness and deepen understanding of sustainability topics.
During 2022, 4,360 Raiffeisen Bank employees attended at least one training course and the average number of training hours per employee was 40.56. At the same time, 440 employees completed at least one module of the ESG course available on the bank's e-learning platform.
Banking for our people and communities
In 2022, Raiffeisen Bank Romania invested over 1.6 million lei for the replacement of air conditioning equipment, and in 2020 - 2022, 4.1 million lei were invested for the replacement of fluorescent light bulbs and tubes with LED panels in all bank branches. Measures to reduce the negative impact on the natural environment include the use of electricity from renewable resources (33.26% of total electricity consumed) and the purchase of vehicles with low greenhouse gas emissions.
The measures taken in the digitalization strategy have led to a 24% reduction in paper consumption compared to 2021. At Raiffeisen Romania level, in 2022, emissions were calculated, from Scope 1 and Scope 2 based on the Greenhouse Gas Protocol Corporate Standard.
Raiffeisen Bank Romania's Sustainability Report for 2022 can be read in full here.