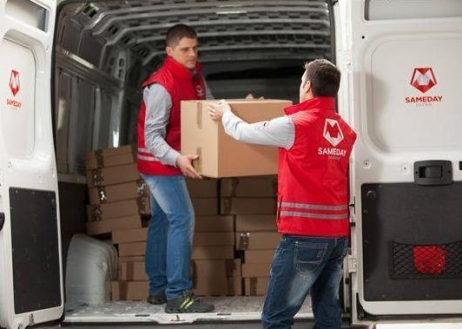 Source: Sameday Courier
Delivery Solutions, the operator of courier company Sameday, is preparing for its listing on the new alternative trading system of the Bucharest Stock Exchange (BVB), AeRO, thus becoming the first company of its kind to enter the capital market.
The AeRO market is the equity segment of the BVB's alternative trading system, designed for listing of early stage companies, start-ups and SMEs. It is based on the BVB alternative trading system existing since 2010 and it will be launched under a redesigned and reconstructed concept on February 25, 2015.
"We've initiated the necessary procedures for our listing and they are most likely going to be carried out within this month," said Octavian Badescu, Sameday Courier's Founder.
The announced listing comes after the company turned into a stock company in late 2014. In this view, the shareholders will renounce to about 10 percent of their stakes. They also consider an eventual share capital increase in the future, states a company release.
"With our listing we could achieve several goals: it outlines a recognized market value of the company, it can generate capital for development, it increases the company's credibility with all subsequent effects, as well as its exposure (...) When we, the shareholders, decided to float the company we took into consideration all these aspects," commented Lucian Baltaru, General Performance Manager of the company.
Sameday Courier's shareholders are Octavian Badescu, who controls the majority stake, and Lucian Baltaru.
The company entered the domestic courier market in 2007, the company being focused on the same-day delivery market niche. Last year, its turnover jumped by over 50 percent to about 1.7 million euro, while for 2015, Sameday projects revenues of around 2.5 million euro.