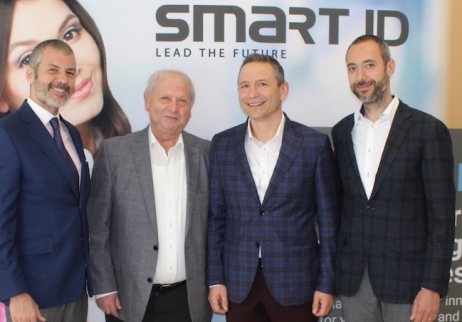 Smart ID Dynamics, an independent leading company in the industrial automation market, backed by private equity fund SARMIS Capital, has fully taken over Spectrum, a Brașov-based supplier of integrated software solutions with over 20 years' experience in the development of software, hardware, and post-implementation support solutions. The takeover was completed in May.
Smart ID supplies custom end-to-end process automation solutions for intensive business environments, designed to support cost optimization and to increase productivity. Business-critical solutions address the needs of the whole supply chain - from solution design and development to implementation and post-implementation maintenance and support services. With over 12 years' experience in the development of automation and mobility solutions, Smart ID has quickly become a recognized leader in the local IT market and the most prominent supplier and integrator of state-of-the-art technologies, mobile equipment, automation solutions, and robots for top industries.
As an integrator of cutting-edge technologies, Smart ID Dynamics prides itself on a remarkable client base of around 3,000 businesses and over 250 implemented projects. All business solutions are tailored to the needs of clients operating primarily in retail, logistics, manufacturing, utilities, and healthcare. Smart ID has developed an impressive client base which includes blue-chip multinational companies (Carrefour, Selgros, REWE, Leroy Merlin, British American Tobacco, JTI, Philip Morris, TNT, DHL, KLG, XPO, IDL, Dacia), large local companies (eMAG, Sameday, Cargus, Macromex), and reputable small and medium businesses. The company proactively anticipates the needs of top businesses in terms of innovative technology and is knowledgeable about trends in intensive business environments.
At the beginning of this year, SARMIS Capital acquired the majority stake in Smart ID from the founding shareholders of the company, Mr. Daniel Boangiu and Mr. Romeo Iacob, who have continued to remain involved in the business. At the time of the takeover, the parties announced their intention to strengthen the market position of the company through accelerating business growth, expanding the client base, and taking existing solutions to new sectors, as well as through strategic acquisitions of local and regional players, with constant focus on ESG (environmental, social, and governance), sustainability, and social responsibility. Now, just a few months later, the company is announcing its first strategic acquisition.
Spectrum was founded in 1999, in Brașov, by Mr. Emil Gall, and over the years it has become a major supplier of patented integrated software solutions in the region, with a wide range of products for retail, manufacturing, the meat industry, the hospitality industry, and the recycling sector. The client list of Spectrum includes Agra's, Annabella, Auchan, Bebe Tei, Dacia Market, Diana COM, Librăriile Humanitas, Moldovan Carmangerie, Prodlacta, Sergiana, Simigeria Petru, Transavia, Unicarm, and others. The most popular product is Sceptrum, a patented and flexible enterprise resource planning (ERP) solution that addresses business-critical needs, such as inventory management, accounting, and coordination between clients, sales teams, and support functions.
Cezar Scarlat, Managing Partner and co-founder of SARMIS Capital:
"We adhere to the strategy agreed with the founders of Smart ID Dynamics and focus on the strengthening of the market position of the company through organic growth and acquisitions. The acquisition of Spectrum by Smart ID Dynamics was a logical choice based on the powerful match between the two companies and their commitment to provide even better services to their mutual clients. Spectrum and Smart ID Dynamics have complementary profiles, which opens the way for the two companies to grow their offer, and to enhance their software development and diversification capabilities. Smart ID Dynamics reaffirms its position as the most significant independent market player in Romania, and SARMIS Capital provides the support needed in this expansion process."
Smart ID Dynamics and Spectrum are wholly Romanian-owned entrepreneurial companies that share a similar vision on business in the region and have a customer-centric culture. This new market approach involves the whole company both in terms of the development of complete hardware and software solutions and of the repositioning of the company in relation to its end clients. The purpose of this strategic investment is to secure a leading position in the IT and industrial automation market and also to support the diversification of solutions for food industry sectors - such as bakery, pastry, confectionery, pizza and fast-food facilities and restaurants – with a view to support innovation and to increase control.
Daniel Boangiu, CEO and co-founder of Smart ID:
"This is a crucial time for the future of our organization, and the acquisition of Spectrum is a first step in the development of Smart ID Dynamics after SARMIS Capital has become a shareholder. It is part of our vision to invest in companies that sell proprietary IP solutions and to create synergies that benefit our market. Spectrum is a team with 100 per cent Romanian DNA, and this acquisition helps us to develop our capabilities and competencies and to extend our scope and, at the same time, to enhance the presence of Smart ID Dynamics in the vertical retail and manufacturing segments. I believe that working together as an extended team we will be able to explore and seize new opportunities, and that this acquisition will allow Smart ID to combine its proven know-how in complex solutions with the software-scaling functionalities and capabilities developed by Spectrum."
The common objective of the solutions designed by Smart ID and Spectrum is to help their clients to efficiently address business management issues through workflow automation and as a result, to generate time savings which can be reinvested in other key business aspects. Another shared value that shapes and drives the organizational culture of the two companies is the maximization of the potential of each team member. We strongly believe that the transition period will benefit us in terms of the integration and even the merging of the teams of the two companies into a single, unified, and strong organization, and will boost cooperation with our partners. We will continue to provide high-quality consulting, technical, and post-implementation support services:
Emil Gall, founder of Spectrum:
"For us, the Spectrum team, the decision to join Smart ID Dynamics has come naturally. The approach promoted by Smart ID Dynamics and its stakeholders has set the direction for our future development. The solutions and the know-how developed across over 20 years of existence, as well as the consideration and care shown to the extraordinary people in the Spectrum family during the transfer make us confident that our activity and achievements are truly valued and will be brought to a new level."
Smart ID Dynamics was assisted in the acquisition by bpv Grigorescu Ștefănică (legal assistance), Dobrinescu Dobrev SCA (tax assistance), Path-Finder Corporate Finance (general consulting), and TS Partners (consulting and financial analysis). Spectrum was assisted in the sale by LC Legal Proof - Alex Lefter (legal assistance).