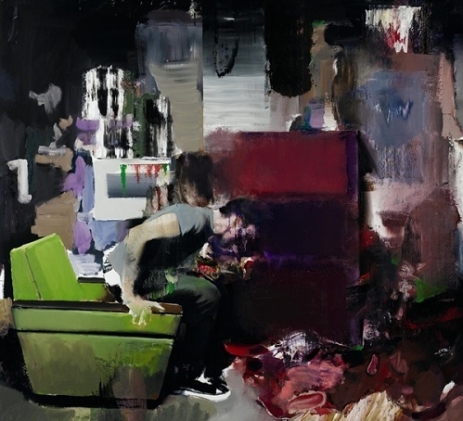 Source: www.artnet.com
Adrian Ghenie has produced a major surprise at Sotheby's auction in London, his work, "The Fake Rothko" sold for 1.43 mln pounds (about 1.79 million euro) becoming the most expensive artwork-ever of a Romanian painter.
The 2010 oil and canvas painting was estimated at 350,000 (the high end of the range) according to Sotheby's website, hence the impressiveness of the result of the auction which places Ghenie in a different league with premises of becoming one of the highly bankable artists, the few whom these actions concern, as Artnet.comcomments.
"The Fake Rothko" was presented at Galerie Judin in Berlin in fall of 2010 in an exhibition comprising ten paintings, entitled "The Hunted".
Born in 1997 in Baia Mare, Adrian Ghenie is a graduate of the University of Art and Design from Cluj-Napoca, currently splitting his time between the Transylvanian city and Berlin where he has his workshop.
In 2005 Ghenie co-founded Galeria Plan B in Cluj Napoca, a production and exhibition space for contemporary art where he presented his first solo exhibition, "If You Open It You'll Get Dirty". Since then, he has been subject to more than 15 solo exhibitions at museums such as the Museum of Contemporary Art in Denver (2012-2013), Stedelijk Museum voor Actuele Kuns (S.M.A.K.) in Ghent (2010–2011) or National Museum of Contemporary Art, Bucharest (2009–2010).
His work has also been included in group exhibitions at the Francois Pinault Foundation, Palazzo Grassi, Venice, San Francisco Museum of Modern Art, KW Institute for Contemporary Art, Berlin and Liverpool Biennale, Tate Liverpool, among others.
According to the art portal already mentioned, Artnet, Adrian Ghenie is already a global hit, Francois Pinault, the well-known French businessman and art collector being a fan of his artwork which is collected by Centre Georges Pompidou.