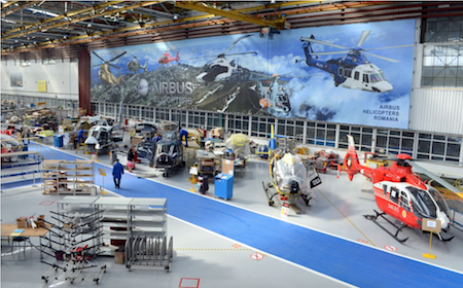 Source: www.airbushelicopters.ro
The recently created Airbus Helicopters Industries, a division of Airbus Group, is going to need 350 new employees for the H215 helicopter line of assembly in Brasov.
Airbus Helicopters Industries develops a helicopter plant in Ghimbav, and is responsible with building this line of assembly, and also sales and export worldwide. Airbus has partenered with the aeronautics industry in Romania to implement this new project: "2015 turned out to be a year of growth, since the new company Airbus Helicopters Industries was created and opened the road to a stronger collaboration and strengthened our connections with the Aeronautics Industry in Romania", says Serge Durand, general manager Airbus Helicopter in Romania.
According to the company, the development of the project is estimated to end in 2019, and by then, Airbus Helicopters Industries will hire 350 people and will manufacture 15 H215 helicopters/year. The first helicopter should be ready in 2017.
Companies like IAR, Aerostar, Aeroteh, and Turbomecanica have partnered with Airbus in order to develop the project together. The helicopter will be used in fields like defense and police, and can carry up to 22 passengers, but can also be adapted to a VIP regime.
The construction of the facilities for the assembling of helicopters have started in Ghimbav, Brasov county, following a 40 million euro investment by Airbus Helicopters. IAR Brasov, a company controlled by the state, provided Airbus Helicopters a land of 15,000 square meters with an industrial hall of 8,550 square meters for the production site in Romania.
With over 300 Pumas and Alouettes helicopters (IAR330 and IAR316) produced under licence in the 1970s for national and export markets, Airbus Helicopters has enjoyed a longstanding partnership with the Government of Romania. The helicopter manufacturer's presence in Brasov dates to 2002 through Eurocopter Romania, a joint-venture with the state-owned company Industria Aeronautică Română (now IAR S.A. Brasov).
by Mihaela Constantin