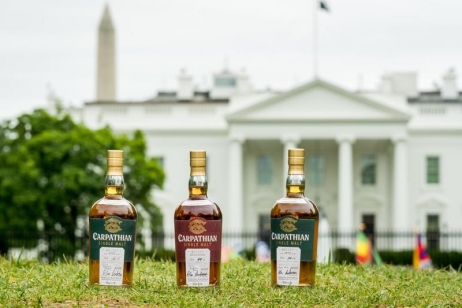 Alexandrion Group, the biggest producer and distributor of spirits and wines in Romania, kicked off an international tour for the presentation of the Carpathian Single Malt, through an event organized at Washington D.C., the United States of America (USA). The first Romanian single malt whisky was bottled in a limited edition of only 930 bottles, at the beginning of May, and began its journey around the world, on World Whisky Day, celebrated on May 21st every year, to mark this monumental occasion for the spirits industry.
The first stop on this global journey was in the United States where the whisky was showcased at a lavish event at the residence of H. E. the Romanian Ambassador to the United States in Washington D.C., on May 25th. The event was attended by diplomats representing the Embassies of various countries, key businesspeople, market influencers and US media.
"I was delighted to support, on behalf of the Romanian Embassy to the USA, the unveiling of the first Romanian single malt whisky in Washington D.C.. I am glad to see Romanian companies and groups of companies, such as Alexandrion Group, expanding outside Romania. I am sure that many whisky connoisseurs around the world, who will try Carpathian Single Malt, will be conquered by this unique taste. I wish Alexandrion Group a successful rewarding journey ahead.", said H.E. Mr. Dan-Andrei Muraru, the Ambassador of Romania to the United States of America.
Mr. Nawaf Salameh, Alexandrion Group's Founding Chairman said: "The unveiling of the Carpathian Single Malt in Washington was a very special day for the Alexandrion Group. In July, Romania and the USA will mark 25 years of strategic partnership, and this was a perfect context to unveil our Carpathian Single Malt Whisky, a 100 percent Romanian product, in the country where we are building a very large distillery, but, at the same time on Romanian land, at the residence of H.E. the Romanian Ambassador to the USA. I am grateful to H.E. Mr. Ambassador Muraru for his generosity in welcoming us all into his residence to celebrate one of the most important accomplishments in the history of our group."
Under the direction of Mr. Salameh, and his master distiller, Allan Anderson, the group has developed a high-quality product made using 100 percent malted barley produced in Romania. Made using pure Sub-Carpathian water, renowned for its quality, this single malt is distilled, matured and bottled at the Alexandrion Saber 1789 Distilleries, located in Bucov (Prahova county) near the Carpathian Mountains.
Carpathian Single Malt is natural colored, unchill filtered and bottled at 46 percent alcohol.
Matured in Romanian wine casks, a world premiere
Carpathian Single Malt was matured in Romanian wine casks, another world premiere in terms of single malt production. Alexandrion Group becomes, thus, one of the few companies in the world that use casks from their own wine production facilities to mature single malt whisky. Earlier this year, the Fetească Neagră variety was awarded the Double Gold medal in one of the most prestigious international competitions, Concours Mondial de Bruxelles, and is considered the best red Romanian wine, exhibiting spicy, smoky fruit characters and good tannin structure.
Three expressions of the first Romanian single malt will be presented during the tour: Fetească Neagră and Pinot Noir as part of the Romanian Wine Cask Selection, and Madeira, as part of the Spanish & Portuguese Wine Cask Selection. Fetească Neagră and Madeira were initially matured in first-fill Bourbon casks, while the Pinot Noir expression was exclusively matured in Romanian Pinot Noir casks.
"We have been quietly distilling and maturing our single malt whisky since 2017, sourcing casks from all over Europe and the United States. This is the first chance single malt enthusiasts will have to enjoy a Carpathian whisky," said Mr. Salameh.
Master Distiller with Scottish and Irish heritage and over 30 years of experience
The Master Distiller of the Carpathian Single Malt is Allan Anderson, with both Scottish and Irish heritage, who has more than 30 years of experience in producing both Scotch whisky (Loch Lomond, White & Mackay, Aberargie) and Irish whiskey (The Great Northern Distillery). He also designed the distillery of Slane Castle Ireland.
"This whisky perfectly showcases our distillery terroir. The huge flavor impact of our malted barley, the pure Sub-Carpathian water combined with the unique flavors of Romanian and Portuguese wine casks make Carpathian Single Malt an exquisite whisky, which without a doubt, will become one of the best in the world as it further matures. The maturation in warmer climate regions versus Scotland (+41°F on average) might explain the unique, milder character of this superb whisky," said Allan Anderson. "Carpathian Single Malt showcases this great potential and the clear quality advantage that we have, versus other single malt whiskies of the same age, and we want to share our enthusiasm with whisky connoisseurs worldwide" added Allan Anderson.
The visual identity of Carpathian Single Malt was created by the agency Appartement 103, member of Marie Claire Group.
Global Brand Ambassador who has lived in Romania for 15 years
To help promote Carpathian Single Malt internationally, Alexandrion Group has appointed Colin C. Lovering as Global Brand Ambassador. He is a seasoned international business performance professional, author, speaker and event moderator, president of The British Romanian Chamber of Commerce and an associate lecturer at The University of Bucharest, who has lived in Romania for almost 15 years.
In his role, Colin C. Lovering will be a key contributor in accelerating the global reach of Carpathian Single Malt through various initiatives and will be involved in the events that will be part of the international world tour of the first Romanian single malt whisky.
Carpathian Single Malt will launch its commercial edition in Romania this fall and later on, gradually, in other countries as well.
More details about Carpathian Single Malt on www.carpathian-singlemalt.com .