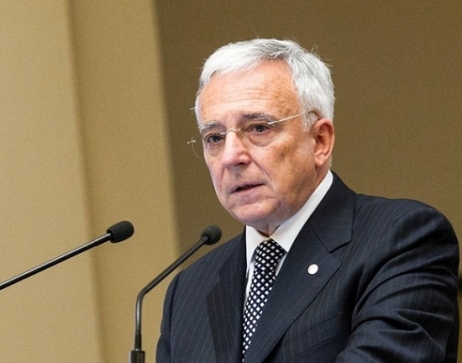 Source: www.bnr.ro
The new board of Romania's National Bank has been officially appointed, as the former members ended their mandates on October 10, 2014. Mugur Isarescu will lead the board whose major goals are to join the euro-area and to adhere to the European Banking Union.
Isarescu, who has been the BNR's governor for the past 24 years maintains his position for another five years. As are Florin Georgescu who was re-confirmed as first deputy governor and Bogdan Olteanu, deputy governor, following the Parliament vote this June.
The new entries comprises Liviu Voinea, the former Minister Delegate for Budget, whose nomination was publicly supported by PSD , Daniel Daianu (the resigning first vice president of the Financial Supervisory Authority) and Gheorghe Gherghina (State Secretary within the Ministry of Finance), while Dinu Marin, Agnes Nagy, Virgil Stoenescu will continue as board members after the expiration of their current mandates.
The BNR's board comprises nine members appointed for a five-year period under the governor's leadership. Four of them – the governor and the deputy governors – are senior executives, while the other five members ore not on the payroll of the BNR.