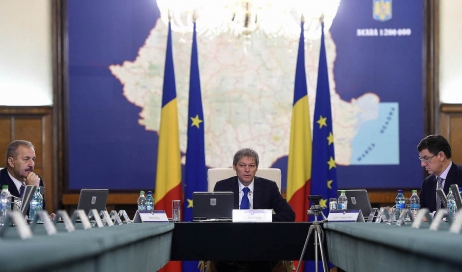 Source: www.gov.ro
Romania's budget for next year drafted by the former Ponta government is built on a deficit of 2.95 percent of GDP and 2.8 percent in cash, based on an economic growth of 4.1percent , fueled by mainly by consumption and investments, while GDP was estimated at 746.6 billion lei.
The annual average inflation is forecast at 0.5 percent and the average rate at 4.44 lei / euro. The economy will grow next year based on domestic demand, which will contribute 4.7pct compared to a percentage of 4.6pct estimated for 2015, whilst net exports are expected to have a negative contribution of 0.6pct from minus 1pct this year, shows the 2016 draft budget announced by the Public Finance Ministry.
However, the new Ciolos cabinet will have to overcome some fiscal challenges that will put pressure on the forecasted figures. Doctors' salaries will be increased by 25 percent, with 15 the salaries of teachers and the rest of the public sector will receive an extra 10percent. This translates into 5.3 billion lei in addition to the budget spending for 2016. Also due for next year, the VAT decrease to 20 percent, and VAT reduced for water to 9 percent as well as dividend tax decrease to 5 percent will add another 9 billion lei to the deficit.
In total, over 14 billion lei. In addition, the Minister of Labour publicly public promised an increase of all pensions by 5 percent next year. This is not however included in a law adopted by the Government or Parliament. Romania has a record economic growth this year, second behind the Czech Republic in the European Union. Fear is that even this is not enough to cover all the promises and ensure a sustainable budget deficit.