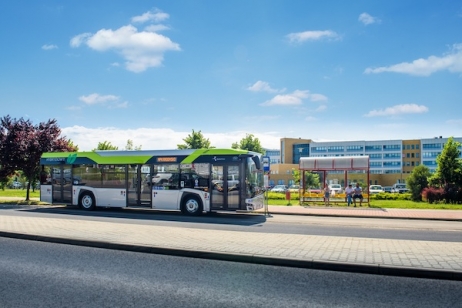 Solaris Bus & Coach, a global leader in the production of electric vehicles for public transport, delivered 37 vehicles on the local market this year, of which 26 trolleybuses in Brașov and 11 hybrid buses in Satu Mare. Thus, the company reached over 300 vehicles used in public transport in eight cities in Romania, about half of them being electrically powered.
For 2021, Solaris has planned for delivery 65 means of public transport: 16 electric buses in Craiova, 20 trolleybuses in Ploiești, 6 hybrid buses in Satu Mare, 3 trolleybuses in Mediaș and 20 hybrid buses in Galați.
Solaris Bus & Coach is one of the largest manufacturers of buses and trolleybuses in Europe. Since its launch in 1996, the Bolechowo plant near Poznan, Poland, has produced more than 19,000 vehicles, used today in public transport in hundreds of European cities. Currently, the company occupies the position of world leader in the segment of e-mobility for urban public transport, thanks to its extensive range of electric trolleybuses, battery-powered electric buses and hybrid buses delivered.
Present in Romania since 2006, the Solaris group accumulated on the local market a turnover worth approximately 85 million euros in the period 2014-2019. Also in the last 5 years, the company has participated in a series of tenders regarding public transport in cities such as: Cluj-Napoca, Pitești, Brașov, Baia Mare, Satu Mare, Galați, Craiova or within the Ministry of Public Works, Development and Administration (MRDPA).
Following the tenders won during the last five years, Solaris delivered in Craiova 29 diesel buses, in Cluj-Napoca 40 diesel buses, 41 electric buses and 50 trolleybuses, in Pitești 70 diesel buses, in Brașov 26 trolleybuses, in Satu Big 11 hybrid buses, and in Galați 17 trolleybuses. According to company representatives, Solaris provides points and service support in all cities where it has delivered vehicles. Currently, the Solaris car fleet in Romania has over 300 vehicles, the share of electric vehicles being about 50% of the total.
"Being present on the local market for almost 15 years, we can say that Romania is by far the most dynamic market at regional level for non-polluting means of transport due to the allocations of financing funds offered by the European Union and the Environment Fund. This year we delivered 37 vehicles to two important cities in the country, Brașov and Satu Mare, contributing through our products to the improvement of the local public transport infrastructure. For the next year we plan to deliver 65 vehicles and we aim to maintain our leading position in the area of ​​ecological transport solutions such as electric buses and trolleybuses ", said Daniel Ciolan, General Manager of Solaris Romania.