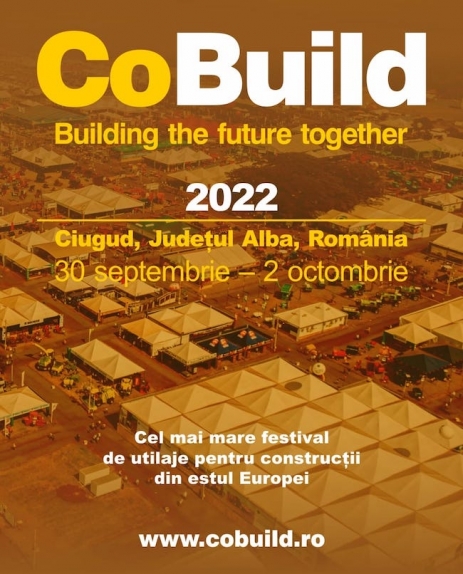 The last few years, dominated by the COVID-19 pandemic, have greatly reduced the direct interaction between producers and buyers in all sectors of the economy. Also, the current economic context and the transformations that the national economy as well as the European one are going through, makes the relationship with partners, the exchange of information and the direct meeting with buyers to be of more important than ever. In support of this idea, we created COBUILD – the first festival-type fair for construction machinery in Eastern Europe.
COBUILD is the most important event of the year in Romania and Central and Eastern Europe, dedicated to the construction machinery and technologies sector. During COBUILD, the exhibitors will present the newest and best performing technologies and machines in the field of construction, they will be able to give demonstrations in the specially created area, they will meet new business partners and they will be able to have constructive discussions during the conferences and presentations. Through this event, COBUILD wants to support the development of the construction sector and construction machinery, both nationally and regionally, bringing together the most important players in the market.
The COBUILD event will take place over three days (September 30 - October 2), and will cover an area of over 50,000 square meters in the town of Ciugud in Alba county, which thus becomes our logistics partner.
Ciugud commune, from Alba county, represents a benchmark in Romania in terms of the integration of new technologies and the efficient use of European funds for sustainable development. Ciugud is an example of good practices at the European level for the record absorption of European funds: approximately 35 million euros, which represents, with a population of approximately 3,500 inhabitants, 10,000 euros per inhabitant. Ciugud is the promoter of the "smart village" concept and since 2020 is the case study used by the Romanian Government for the development of this concept throughout the country. Ciugud is also a business destination with an economic development area where over 40 companies operate, offering almost 1000 jobs. The Ciugud - Drâmbar Economic Development Zone is one of the most well-defined "greenfield" industrial zones in central Romania. For all these reasons, but especially for the fact that it is an open and business-friendly community, we chose Ciugud Municipality as the host town for COBUILD.
The COBUILD event is organized by Audienza Generală AG SRL with over 16 years of experience in publishing commercial magazines and organizing events, the 11even Association with over 10 years of experience in organizing events and the Avanti Marketing Agency specialized in promoting construction equipment.