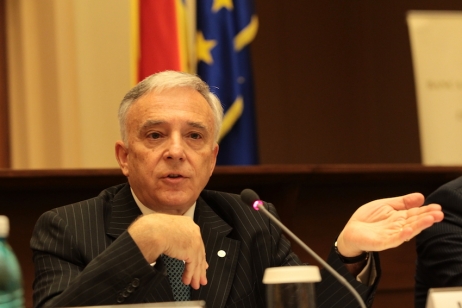 Governor of the National Bank of Romania Mugur Isarescu stated that he has never witnessed in 27 years a better macroeconomic situation in Romania, but at the same time a riskier one, at the "Financial Market Forum" organised by the Romanian Banking Association.
"In my rather-too-long career I have never ever witnessed, in 27 years, a better macroeconomic situation, but it is equally true that I have also not seen a riskier one. There is no contradiction, nor conflict. When you get so high, if I may use a metaphor, the risk of a fall is bigger and the effects are greater. In other words, we must persevere, we mustn't stagnate for fear of the risks, we should take risks under greater caution. This is not a contradictory message, either," said Mugur Isarescu.
He specified that from the point of view of several indicators one can talk about a relaunching of loans.
"After a financial crisis, it is known that the lending resumption is not usually the first one and in the beginning, the growth revival is not based on lending. This is how things happen in most countries and if we look at behaviour from other countries, this is how it went. The fact that in recent years there has been a decrease in financial intercession to record low levels, so to say, from a European point of view, does not belong outside of a scenario both European and international, so to say. This is what happens after a major financial crisis," Isarescu said.
The Governor of the central bank told bankers that they need to regain the credibility rightly or wrongly eroded in the last few years. He moreover requested banks to better explain to the public the fact that the banks were not helped with public money because otherwise they will not come out of this "muteness" that points to guilt.
According to him, the banks' solvency is high, about 18 percent, when it should be between 11 and 12 percent.