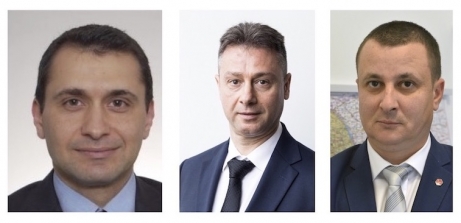 Source: Danail Danailov, Radu Stanescu and Mircea Cocosilă
DPD Romania, one of the most important players on the local parcel and express delivery market, announces strategic changes in the leadership team.
Danail Danailov, member of DPD Romania's Board of Directors, will assume the responsibilities of acting as interim Director for the next six to eight months. It will support the management team in recruiting a local candidate for the post of DPD Romania's general manager and will ensure proper guidance in taking over the job.
"I am honored to take over this important mission for our company. I am convinced that this strategic change will bring the necessary energy for the swift completion of the planned activities to improve DPD Romania operations. Thus, by the middle of the next year, these actions will enable the company to meet the high standards of DPDGroup, to become the preferred supplier of Romanian customers. In addition to these goals, my mission is to look, first and foremost in the company, for the best candidate for the CEO position, which will benefit from all my support for taking over this position, "said Danail Danailov, Romania.
Also starting with January 1, 2019, DPD Romania will have a new commercial director, Mircea Cocosilă. He has over 13 years of sales experience, of whom he has held Regional Sales Manager at DPD Romania for the last five years. Mircea Cocoşilă will take over the post of commercial director DPD Romania from Radu Dumitru Stănescu, who has been in office since September 2017. From the beginning of 2019, Radu Stănescu, together with the current financial director of DPD Romania, Karla Codrea, will become members of the Council of the Company's Administration.
During his term of office, Radu Stanescu dealt with the reorganization and definition of a strategic direction of the commercial department and the stimulation of the development of the human potential within the company for several key posts. Thus, one of the talents discovered was Mircea Cocosilă, who benefited from an active mentoring and training program organized and directed by Radu Stănescu.
"Mircea Cocoşila is a professional with a developed analytical sense, essential quality for the development of the strategic directions of the commercial department. Moreover, he is one of the managers who, without exception, has exceeded its month-to-month sales targets, "says Radu Dumitru Stanescu.
"Year 2019 will be challenging, and one of the most important will be to achieve a very ambitious annual sales target. In order to achieve these results, I will focus on two main areas of action: developing an innovation-oriented business environment and special services to strengthen the DPD partners' relationship through a better understanding of customer needs and the continuation of the development program of talents in the company, including mentoring sessions and training for the commercial team, "says Mircea Cocosilă, the new commercial director of DPD Romania.