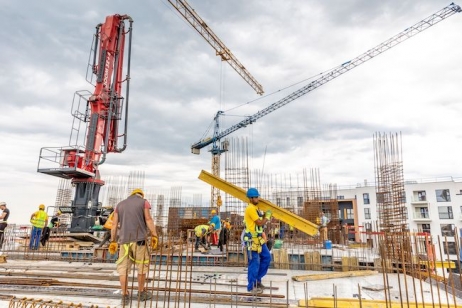 General contractor Concelex is the only manufacturer in Romania to neutralize its carbon emissions in 2020, thus reducing its impact on the environment. Starting in 2016, the company continues its "Zero Carbon" strategy, currently funding the Rainforest Community project in Peru, an initiative against deforestation in the Amazon Basin, certified by Verified Carbon Standard and The Climate, Community & Biodiversity (CCB). ) Standards. The construction sector has a significant impact on the environment, accounting for 36% of carbon emissions in Europe and 39% worldwide.
By providing integrated construction, civil engineering, infrastructure and energy services, Concelex continues its sustainability policy by calculating and equating annual carbon emissions. The carbon emissions resulting from the company's activity are calculated by authorized external partners - First Climate and Carbon Expert. Direct emissions from the burning of fossil fuels by the company's vehicle fleet, indirect emissions from electricity consumption, as well as other indirect emissions from business travel and employee commuting are taken into account. The resulting carbon footprint is then offset by investing in an equivalent number of carbon credits associated with this forestry project, a project with multiple environmental and social benefits.
Project of 100,000 hectares of tropical forest, supported by the Concelex approach
Offsetting carbon dioxide is based on the financial contribution in proportion to the tons of carbon dioxide emitted that could not be reduced by other means. The project selected for support this year is the Rainforest Community Project in Peru, an initiative that brings together a community of hundreds of families who harvest Brazil nuts in the Peruvian Amazon Basin. The project fights against illegal deforestation, while generating sustainable income for local communities by managing two forest areas of over 100,000 hectares of rainforest. Financing the project through the purchase of carbon certificates contributes to effective deforestation supervision.
"Every year, we take the company's mission - to deliver" excellence in construction "- one step further. We adhere to the concept of green business precisely in order to leave our mark not only on the constructions we build, but also on the environment, in a sustainable way. A strategy such as "Zero carbon emissions", initiated in Concelex since 2016, meets the European directives aimed at reducing greenhouse gas emissions in all sectors ", says Daniel Pițurlea, President of Concelex.
The carbon emissions process is currently managed by Carbon Expert and First Climate, one of the leading service providers in the fields of carbon dioxide and green energy management. With over 20 years of experience in the market, the company supports hundreds of companies globally to achieve its climate goals.
"Without the voluntary commitment of the private sector, the goal of the Paris Agreement to keep global warming well below 2 ° C is unattainable. By committing to climate change, Concelex is contributing to the fight against global warming, and First Climate will be happy to continue to support and facilitate their efforts, "said Julia Lobenwein, Climate Neutral and Green Energy Expert at First Climate. .
The effort to offset the company's carbon footprint by supporting a climate protection project comes in Concelex to complement a management plan through which the general contractor reduces its impact on the environment. Thus, sustainable measures include the selective collection of waste from construction sites, carried out exclusively by authorized companies, as well as the monitoring of environmental factors by performing periodic analyzes of wastewater.
At European level, the European Union aims to reduce greenhouse gas emissions by at least 55% by 2030 compared to 1990 levels, a target that will require emissions to fall faster in all sectors, from agriculture to heavy industry. The construction sector has a significant impact on the environment, accounting for 40% of energy consumption and 36% of carbon dioxide emissions, according to statistics.