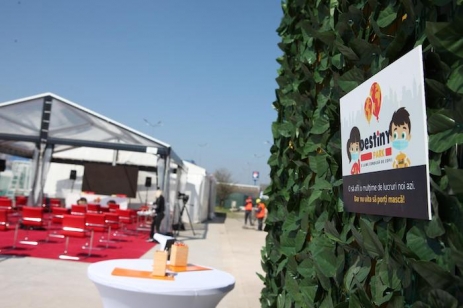 Destiny Park Băneasa the most important edutainment center in Eastern Europe will open its gates for children starting with September, if the regulations regarding the pandemic allow it.
Destiny Park is a project based on an investment of 5 million euros, which benefits from 8000 sqm in the north of the Capital, representing the place where children can be, for a day - depending on their own aspirations - aviators, doctors, television presenters, bankers, pilots, firefighters; over 50 activities await them here.
Applying the innovative concept of stimulating children to learn through play, Destiny Park aims to become a miniature city - with its own institutions, economy and money - where the talents and passions of the little ones are observed by education specialists, to discover, in time. , which are the areas in which they can excel.
"If I had to summarize Destiny Park in a few words, I would say that it is a miniature universe, in which the little ones can be adults for a day, having the jobs of adults, being paid with magic-money for them, having their own television news, its own hospital, its own bank, electing its representatives and so on. It's not just an amusement park, it's the perfect combination of play and learning. It is exactly how our children develop and meet their basic psychological needs. If we understood this at a deeper level - namely that education is done mainly through play, through play - when we are dealing with children we would increase a few levels. The Destiny Park concept is inspired by the famous theory of a Dutch cultural historian, Johan Huizinga, who argued that the game is the foundation of any culture and society, "said Urania Cremene, parenting expert and Destiny Park Ambassador.
Răzvan Stoian, marketing manager of Destiny Park, stated: "Destiny Park will only start in zero risk conditions for the little ones and for the parents. All the forecasts regarding the evolution of the pandemic until September show a relaxation of the restrictions on the background of the vaccination campaign. By September we will certainly have new protection rules, and we will apply them in the most careful form. The safety of every child who enters Destiny Park is our top priority. If in September the restrictions will involve measuring the temperature, the mask, the Covid test, the vaccination certificate, etc. - we will apply them all with the utmost rigor ".
The Destiny Park complex is being built these days in Calea Ion Zavoi no. 8, sector 1, Bucharest, near Băneasa Shopping City. More details can be found on www.destinypark.ro