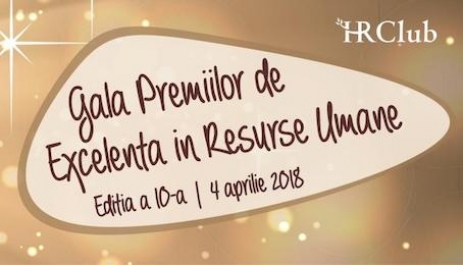 The 10thedition of the HR Excellence Awards Gala – one of the most prestigious HR events of the year and the only event that acknowledges and rewards excellence in Human Resources and people management – will take place on April 4th 2018, in Bucharest.
As we seek to recognize not only the large organizations with complex HR processes, but also the projects implemented in smaller companies that have a proven impact in the business, we will reward organizations depending on their size. Thus, we will offer awards for companies with a maximum of 499 employees and companies with over 500 employees.
The categories where the most valuable projects will be rewarded are:
Recruitment and Selection – includes projects on recruitment, internship, induction etc.

Reward and Performance Management – includes projects on performance evaluation, payroll, job grading etc.

Learning and Development – includes projects on training, coaching, mentoring, career plans, talent management, succession planning etc.

HR Strategy – includes projects on HR – strategic partner, employer branding, engagement, organizational design, cultural change, social dialogue etc.
By submitting your project for one of the above categories, you can also enter the competition for the special prize offered by Gianpiero Petriglieri – Developing Trustworthy Leaders Award, and for the prizes Manager of the Year, CEO – HR Team of the Year – companies with less than 499 employees, and CEO – HR Team of the Year – companies with over 500 employees.
Why enter your HR project in the competition of the HR Club Gala?
It is an opportunity for you to promote your employer brand and the projects that you implemented for your employees

You can acknowledge the colleagues that worked on these projects

If it wins, your project will be included in the Human Resources Best Practices Manual, 9th edition, edited by HR Club

You will enjoy free participation at the Gala, on April 4th, where you can meet over 200 Human Resources directors, general managers and business leaders from the most important companies in Romania.
How can you submit your project?
Read The Applicant's Guide, download the application forms from the competition page and send your project to the email address roxana.velicu@hr-club.ro by February 1st.