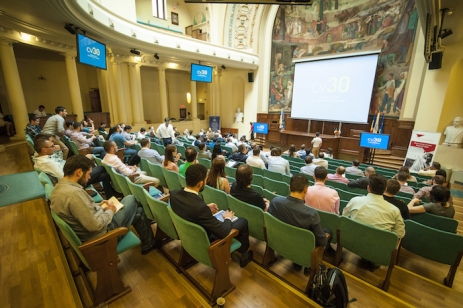 VentureConnect, the leading pitching and networking event in Romania, organized by
Govnet Conferences
together with
BirisGoran
Law firm hosted the 11th edition on June 3 in ASE's Aula Magna, Bucharest.
For the first time in Romania, VentureConnect welcomed for its pitching session Tina Baker, co-founder of JAG Shaw Baker and member of the Seedcamp Advisory Board. With over 20 years of experience representing venture capital funds and emerging technology companies with respect to international financings, exits and commercial transactions, Tina Baker discussed with VentureConnect's pitching start-ups and participants key issues regarding "How to make your company attractive to foreign investors".
Radu Georgescu, founding partner Gecad Group and member of Venture Connect Foundation spoke about the new business angels law that brings more clarity in the sector.VentureConnect included two pitching sessions with twelve projects presented to investors, business angels and investment funds by early-stage companies in search of seed investment as well as more mature companies in search of more substantial investments. Over 80 business angels, VC's and business mentors attended this year's edition.
Started in 2010, VentureConnect has welcomed over the last four years more than 400 projects and businesses from the CEE region and the US, with entrepreneurs having benefited from various special mentoring sessions to dedicated meetings with potential investors and business mentors.